Frontier Airlines Wants to Speak to Passengers on Second Ebola Nurse's Flight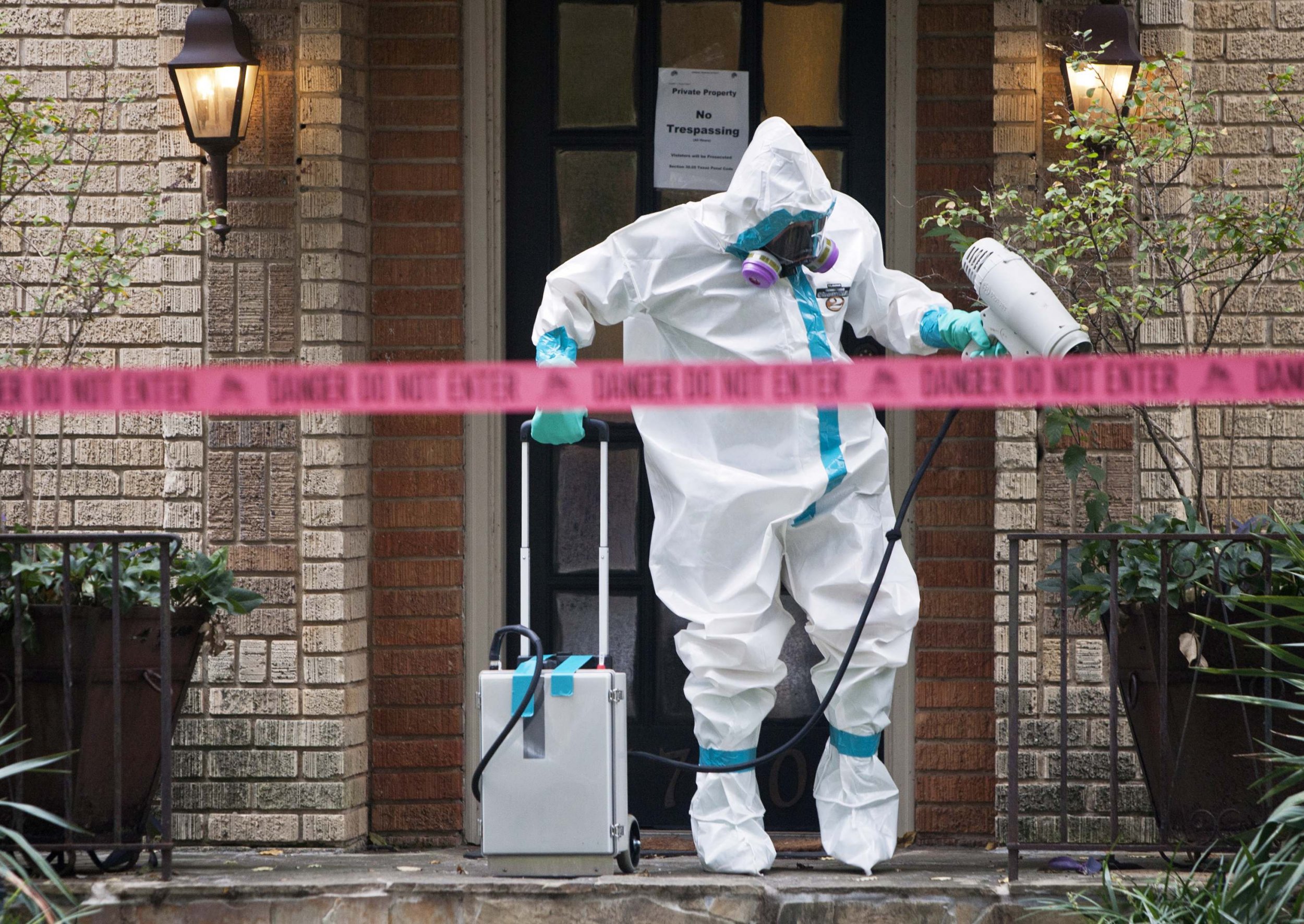 Health officials are trying to track down passengers who were on the same domestic flight as the second health care worker diagnosed with Ebola in Dallas, the Centers for Disease Control and Prevention (CDC) said Wednesday.
The CDC is looking to speak with 132 passengers who flew from Cleveland to Dallas/Fort Worth on Frontier Airlines Flight 1143 on October 13, the day before the health care worker reported her symptoms and was immediately isolated in Texas Health Presbyterian Hospital in Dallas.
The CDC confirmed early Wednesday morning that the health care worker was diagnosed with Ebola but did not name the patient. She is the second health care worker to be diagnosed with the virus after taking care of Thomas Eric Duncan, the Liberian man who died from Ebola at the hospital October 8. She lives alone without pets, Dallas Mayor Mike Rawlings said on Wednesday morning. The first health care worker, Nina Pham, has been in isolation since Monday and was reported to be in a stable condition Tuesday.
"[The] customer exhibited no symptoms or sign or illness while on Flight 1143, according to the crew," Frontier Airlines said in a statement issued Wednesday. When the plane landed in Dallas, it "received a thorough cleaning per our normal procedures, which is consistent with CDC guidelines," before returning to service the next day, October 14, and flying to Cleveland, where it was cleaned again.
Public health officials will begin interviewing passengers about the flight after 1 p.m. ET on Wednesday, according to the CDC. Passengers who are determined to be a risk will be "actively monitored."
The White House announced on Wednesday that President Barack Obama has canceled travel plans to New Jersey and Connecticut. It's not immediately clear whether that decision is in response to the second nurse testing positive for Ebola in Dallas. Obama will be holding a meeting on the government's response to Ebola later this afternoon, the reason for canceling his trip, The New York Times reports.
Deborah Burger, co-president of National Nurses United (NNU), on Wednesday criticized Texas Health Presbyterian Hospital for its care of Duncan, the first Ebola patient to be diagnosed in the U.S. In a statement Wednesday, she claimed he was left in an open emergency room area for hours, The Associated Press reports.
Health care workers had to work without proper protective gear and had to use medical tape to hold together gaps in work wear, Burger said. The NNU is the largest union of registered nurses in the United States.
Burger held a conference call with reporters Tuesday during which she relayed the concerns of nurses, who were concerned about exposed skin while dealing with Duncan, whose symptoms included the vomiting and diarrhea typical of those infected with Ebola.
The NNU will hold a press briefing later on Wednesday. RoseAnn DeMoro, executive director of the NNU, said in a separate statement Wednesday that nurses and other frontline hospital personnel "must have the highest level of protective equipment, such as the hazmat suits Emory University or the CDC use while transporting patients and hands-on training and drills for all RNs and other hospital personnel, including putting on and taking off the optimal equipment."
"The time to act is long overdue," said DeMoro.
The statement quoted a survey by the NNU that found 85 percent of nurses said their hospital has not provided education on Ebola, while 40 percent said their hospital doesn't have enough supplies of eye protection for daily use, as of Monday afternoon.
The United Nations and the World Health Organization (WHO) have both issued dire warnings about the Ebola virus outbreak in recent days. The WHO warned there could be as many as 10,000 cases a week by early December. Speaking at a press conference in Geneva, Dr. Bruce Aylward, assistant director-general of the WHO, said the Ebola mortality rate is now 70 percent, up from the previously reported 50 percent.
On Tuesday, the U.N. gave a 60-day timeline to stop Ebola, which is "winning the race" against all attempts to contain it. Anthony Banbury, head of the United Nations Mission for Ebola Emergency Response (UNMEER), said the WHO recommended that 60 days from October 1, the first operating day of UNMEER, 70 percent of the infected must be in a hospital and 70 percent of the victims must be safely buried. If these targets aren't met, Ebola figures could increase "dramatically."
"This is what we are fighting for now: We are fighting to prevent unavoidable deaths. We are fighting for people who are alive and healthy today but will become infected…and die if we do not put in place the necessary emergency response," Banbury said.
More than 4,490 have died from Ebola in West Africa, and nearly 9,000 have been infected with the virus, according to the latest WHO figures.
If you were a passenger on Frontier Airlines Flight 1143 on October 13, or know someone who was, call 1-800-CDC-INFO (1-800-232-4636).