Frontier Defends Throwing Woman off Plane After She Refuses To Sit by Dog
Frontier Airlines has defended its decision to throw a woman off a plane for refusing to sit by a dog after the pet and its owner had allegedly taken her window seat prior to her boarding.
At the beginning of February, Massieka Holness posted a series of videos on TikTok in which she shared her story of how the airline escorted her off the aircraft, for a reason that is to this day still not clear to her. The videos show recordings from onboard the plane, as the passenger tries to talk this out with members of the crew, unsuccessfully.
Holness told Newsweek that after finding her seat occupied by another passenger and agreeing to sit somewhere else to avoid creating conflict, she was told off by a member of the crew, who, at the same time, did not say anything to the other two passengers in her row who were involved in the episode.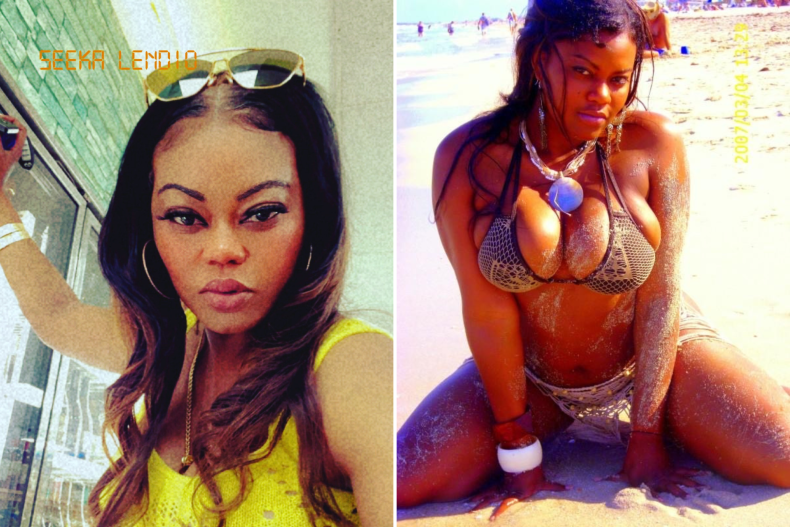 She said: "Well I got [on] the plane, a white woman with a dog was in my seat, another man that was in the aisle seat had a problem with the dog and started arguing with the flight attendant. However, she moved the man that was yelling at her and said nothing [to] the woman in my seat, she then started harassing me about my seat...
"I stated I didn't want to sit next to the dog myself because I have allergies and all hell broke loose, [they] never said anything to the lady in my seat."
Defending the airline's decision, Jennifer F. de la Cruz, senior director of corporate communications at Frontier Airlines, told Newsweek: "On April 25, 2022, the customer arrived late to the gate and missed her flight. She was rebooked for the following day, April 26, 2022.
"Prior to departure for that flight, the customer was asked to deplane for refusing to comply with crew member instructions related to her seat assignment. After repeated refusals on her part to exit the aircraft, law enforcement assistance was requested. The customer was provided a refund for her flight."
When asked to comment on Holness' claim that while another passenger was moved without issue, "all hell broke loose" after she refused to sit next to the dog, the airline referred Newsweek back to the above statement.
According to Holness' recollections of the events, the other two passengers involved in the seat exchange were never questioned or given an issue, and she claims she was racially targeted.
"They didn't give them an issue. I think this was racially motivated, I think [the flight attendant] did not like the Black Panther T-shirt I had on. There was only one other Black person on a plane of hundreds of white people and she thought it was ok to degrade me and throw me off," she said.
Data published by the FBI shows that 64.5 percent of hate crime victims in America during 2021 were targeted because of their race, ethnicity, or ancestry bias, and about 14.1 percent of victims were targeted due to their religion and beliefs. Moreover, reported hate crime incidents rose from 8,120 in 2020 to 9,065 in 2021.
Holness went on to say that as she was asking for clarifications as to what the problem was with switching seats, and why she was the only one who was getting blamed, since it wasn't her idea to switch seats in the first place, the flight attendant reported her to the captain, who immediately decided to throw her off the plane.
She said: "I was very polite about it, I did not go crazy, and to be honest I still don't understand what happened, why I was thrown off the plane. I was actually on a business trip and I never got there, this was costing me my business."
According to Holness, the other passengers on the plane who witnessed the incident and the officers who escorted her off the aircraft were on her side, thinking that she had done nothing wrong and were sorry for her but there was nothing they could do to help her.
"I did nothing wrong, honestly, I was ashamed to post the video because I have never been treated like this. I've never been put off the plane. I have never had the police called on me. I did absolutely nothing, I mean it's just ridiculous, no one should have to go through this. I call myself the Rosa Park of the airline because guess what, I refused to give up my seat to a dog," she said.
Her videos have been watched by thousands of social media users who have sympathized with her, offering their support. One user, Emily, commented: "They treated you so [unfairly], I'm so sorry." And Cristal Bear said: "The audacity that they said they're not saying you did something wrong, yet they're putting you off? That's so sad."
Voni85 wrote: "I don't understand why no one spoke up for you, I just couldn't sit there and be quiet!!!" And Chels added: "I am beyond disgusted. I am beyond sorry. I will do everything I can to support this and get your story heard."
Have you had a similar issue while traveling? Let us know via life@newsweek.com. We can ask experts for advice, and your story could be featured on Newsweek.