'Frozen 2' End Credits Scene: Is There a Scene After the Credits of the Disney Movie?
After Anna (voiced by Kristen Bell) and Elsa (Idina Menzel) go "into the unknown" in Frozen 2, the credits see three of the movie's biggest songs performed by Panic! At the Disco, Kacey Musgraves and Weezer. However, Disney have put in a treat for fans after those credits have ended.
In a post-credits scene, Frozen 2 brings back one of the best jokes from the film (Warning: spoilers ahead). Earlier in the film, we see Olaf (Josh Gad) recap the events of the original Frozen in a madcap mime, after the crew meet a group of soldiers and the Northuldra and wonder what they are doing there and how Olaf is able to walk and talk.
This leads to him recreating all the most famous moments of the first film right up to the present day, when Anna and Elsa are in an enchanted forest outside of Arendelle.
Then, in the after credit scene, he does exactly the same thing for the events of Frozen 2 right up to the closing moments, where Elsa brings him back to life after he melted away earlier in the movie. We also see him bring back up his idea that "water has memory," a theory that seems initially ridiculous but turns out to be key to the whole movie.
We also see Olaf say "And thus, I live, and so do you," before the camera pans back and reveals he is not talking to the cinema audience but a group of baby snowmen, plus the first film's gigantic snow monster Marshmallow.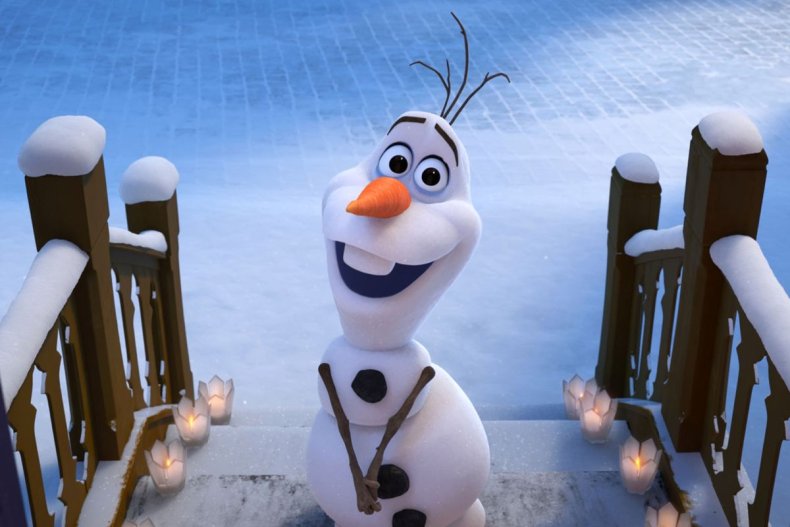 Marshmallow, of course, was also the star of the original Frozen post-credit scene, which sees him lose his fearsome spikes, while the snowbabies, known in the world of Frozen as "snowgie," are from short film Frozen Fever (streaming now on Netflix), where Elsa has a cold which brings a snow baby to life. At the end of this short, these snowgie are sent to live with Marshmallow.
Last year, Frozen 2 also appeared in the post-credits scene of another Disney film. At the end of Ralph Breaks the Internet (or Wreck-It Ralph 2), we see a screen that says "Frozen 2 sneak peek." A mouse clicks on it, and what plays is not a glimpse into the continuing adventures of Anna and Elsa but a "Rick Roll," with Ralph performing Rick Astley's "Never Gonna Give You Up."
Frozen 2 is in cinemas now