'Frozen' Cat Miraculously Brought Back to Life by Vets in Montana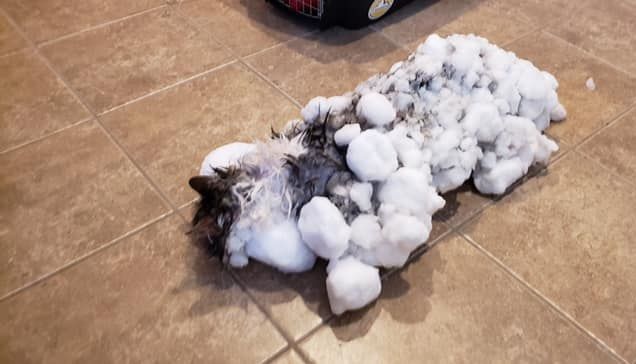 An incredibly fortunate cat that was "essentially frozen" after being left outside in sub-freezing temperatures has made a miraculous recovery, according to vets.
Fluffy was found by her worried owners—who live in Kalispell, Montana—completely buried in a snow bank on January 31, ABC News reported.
Temperatures in the area on the day had dropped to as low as eight degrees Fahrenheit and Fluffy was unresponsive when the owners took her to the Animal Clinic of Kalispell.
Jevon Clark, a veterinarian at the clinic, said he was shocked when he first saw the cat, noting that her body temperature was so low it didn't even produce a reading on their thermometer. This is far below the normal body temperature for cats, which usually hovers around 101 degrees, Clark said.
"I've never seen this," he told KULR. "I've been in practice for almost 24 years and she was actually caked in ice, like those ice balls were caked on her all the way around her, 360 degrees all the way around her. Her temperature was so low our thermometer wouldn't read it, so we know it was less than 90."
In an attempt to revive the cat, clinic vets first covered her in blankets and poured warm water over her for two hours. They then used specialized heating pads and heated cages, which helped her to regain consciousness. However, her temperature remained very low.
It was only after Fluffy was taken to an emergency room a few hours later that she began to show real signs of recovery. Despite her harrowing encounter, clinic vets told KULR that by the evening, Fluffy was seemingly back to her normal self and currently appears to be recovering.
The clinic posted several images of the cat on its Facebook account, which were subsequently shared widely.
"Amazing success and survival story from this week," the post read. "Some clients found their injured cat buried in snow. They brought her to us essentially frozen and unresponsive. Her temperature was very low but after many hours she recovered and is now completely normal. Fluffy is amazing!"
The lucky escape serves as a warning to pet owners who allow their pets outside in freezing cold winter temperatures.