Frozen Dead Pigs Spotted Suspended Above City Streets in Bizarre Incident
The mystery of three frozen pigs suspended above different streets in Montréal, Canada, may have been solved as police officers continue to investigate.
The pig carcasses were all found hanging from overpasses relatively close to each other on Thursday morning in the borough of Rosemont–La Petite-Patrie, local media reported. Police investigators initially said that they did not have a motive for the action nor evidence to suggest that this was a hateful act.
But on Friday, local French-language daily Le Journal de Montréal reported that a spokesperson claiming to represent the international animal-rights organization DxE (Direct Action Everywhere) said that its members had carried out the act.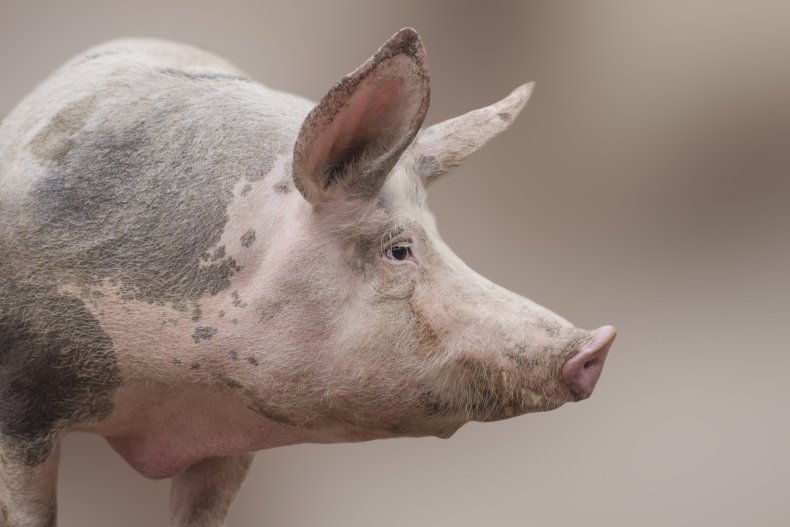 According to the Food and Agriculture Organization of the United Nations, the rearing of livestock generates 14.5 per cent of all global carbon emissions every year. This is similar to the amount generated by all transport put together.
The Journal article contains an image apparently provided by DxE's Montréal chapter. The photograph shows one of the pigs hanging upside down from an overpass, as well as a sign written in French that reads: "Tu payes, ils meurent." This translates as "You pay, they die"—a slogan that the group has used before.
Early Thursday morning, Montréal police received a 911 call from a member of the public about the first carcass. Officers went to this location, CTV News Montreal reported, arriving at around 3:30 a.m. They discovered another two frozen pigs hanging from separate overpasses within the next two hours. City public works employees then removed the suspended carcasses.
The DxE individual, who identified themselves only as Nathe, said the motive behind the action was to protest about the consumption of meat.
"It is really an action of denunciation towards cruelties made to animals. We want it to be a clear message. When people pay to kill animals, it comes with a lot of unnecessary suffering that we are able to avoid," Nathe told the Journal.
DxE says that its mission is to achieve revolutionary social and political change for animals in one generation.
"We reject the speciesism that enables the mass torture and killing of non-human animals and the blatant disregard for their home—our planet—as well as the unjust and oppressive institutions and ideologies that harm all animals including humans," the group said in a mission statement.
In September 2022, Dave Dinesen, CEO of an agricultural tech firm, told Newsweek that "changing human diets on a global scale is unlikely to happen; a more realistic, and effective, approach is to change what is fed to the animals that produce the world's food."
Regarding the incident on Thursday, the Montréal police department told Newsweek: "The investigation of this case is still ongoing. With rare exceptions, the Service de police de la Ville de Montréal never comments on ongoing investigations so as not to interfere with their progress."
Newsweek has contacted the DxE for comment.