'Frustrated' GOP Rep. John Curtis Wants Voters to Abandon Trump Allies Gaetz, Greene, Boebert
As the Republican Party battles with its post-Donald Trump identity crisis, traditional conservative Rep. John Curtis advocated for voters to oust hard-right members of his party who are closely aligned with the divisive former GOP president's brand of conservatism.
Reps. Marjorie Taylor Greene of Georgia, Matt Gaetz of Florida, and Lauren Boebert of Colorado are the most prominent members of a small group of staunch Republicans who have backed Trump's baseless claims of voter fraud and espoused his incendiary political rhetoric.
"It stuns me and surprises me that some of the voters still send these people back. But that's their choice and, as frustrating as that is to me, if that's who they sent, then their voices are going to be heard here," said Curtis, a Utah Republican, on Sunday, reported The Washington Post. "It's the job of the voters to discipline—it's the job of the voters to decide who gets to come [to Congress] and who doesn't get to come."
After 13 House Republicans crossed party lines to help Democrats pass the sweeping $1.2 trillion bipartisan infrastructure bill earlier this month—handing Biden a significant victory as he faced declining approval ratings—the MAGA squad hit back, vowing to oust those who broke with the party.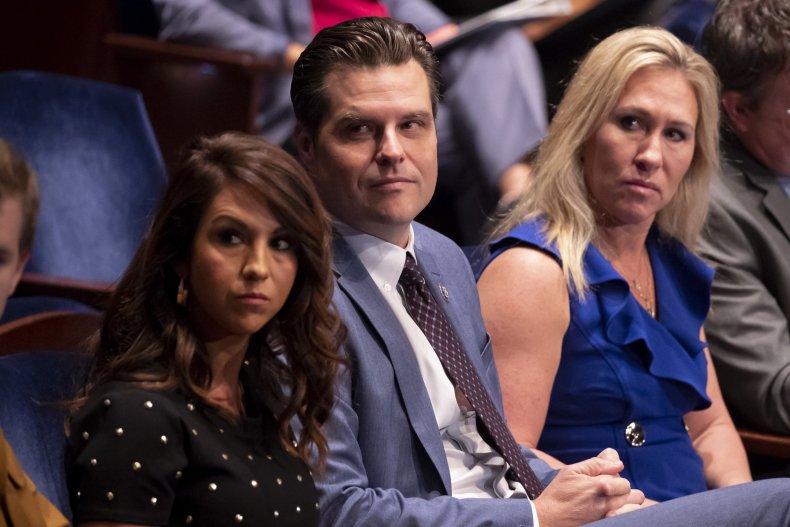 Among the major investments, the "hard" infrastructure bill allocates funding for roads and highways, bridges, broadband development, water support, and airport projects. In voting for the bill, the 13 House Republican defectors appeared to buck their party to embark down the traditional Republican route of supporting infrastructure above partisan politics.
"Traitor Republicans," tweeted Greene, a Georgia Republican, adding that those who "hand over their voting card to Nancy Pelosi to pass Biden's Communist takeover of America will feel the anger of the GOP voter."
Boebert called the GOP defectors "RINOS," an acronym for Republicans in name only.
"Pelosi did not have the votes in her party to pass this garbage. Time to name names and hold these fake republicans accountable," the Colorado Republican tweeted.
"I can't believe Republicans just gave the Democrats their socialism bill," added Gaetz, a Florida Republican.
Rep. Madison Cawthorn, a North Carolina Republican, vowed to "primary the hell" out of all 13 Republicans who supported the legislation.
These MAGA Republicans are made of a group of mostly first-term lawmakers who have soared to fame through their controversial Trump-ist political maneuvers, such as developing a sizable social media base in launching partisan attacks on congressional enemies and echoing the former president's inflammatory rhetoric.
By aligning with Trump, they also enjoy the power of his endorsement and support, often appearing with him at events.
Yet, these members do not hold any positions of power or leadership roles, which allows them to push boundaries without fear of censure or removal from a key congressional role.
Newsweek reached out to Curtis' office for further comment.