Tensions in Ottawa are reaching a breaking point as local residents have become exasperated by the anti-vaccine mandate protesters, who have remained in the city nearly a week after the Freedom Convoy rally.
Residents and local businesses in the nation's capital have become frustrated by the disturbance the protesters have caused as they have prolonged their stays, including reports of harassment and constant noise disruptions, which have put many on edge and forced businesses to either shutter or close early. What complicates matters for some residents is that while the mandate that started the protest was federal mask orders and lockdowns are provincial.
Despite pleas from residents and local, provincial and federal officials, organizers of the Freedom Convoy have indicated their plan to stay until their demands to have all pandemic-related measures reversed are met.
In response to the continuing disruptions, Ottawa Police is deploying approximately 150 additional officers to downtown neighborhoods, where they will be solely focused on patrolling and addressing unlawful or threatening conduct by protesters.
Police are also expanding the perimeter of the "red zone," erecting new barricades to block access to roadways and threatening to close interprovincial bridges and highways if necessary.
On Friday, a week after protesters arrived, Ottawa Police declared: "This remains a very volatile and very dangerous demonstration."
"In connection with ongoing demonstrations, #Ottawa's downtown residents and businesses continue to be severely impacted by unlawful acts, including harassment, mischief, hate crimes, and noise violations," the department tweeted. "We know that additional demonstrators are coming, and we are significantly increasing our policing resources to respond."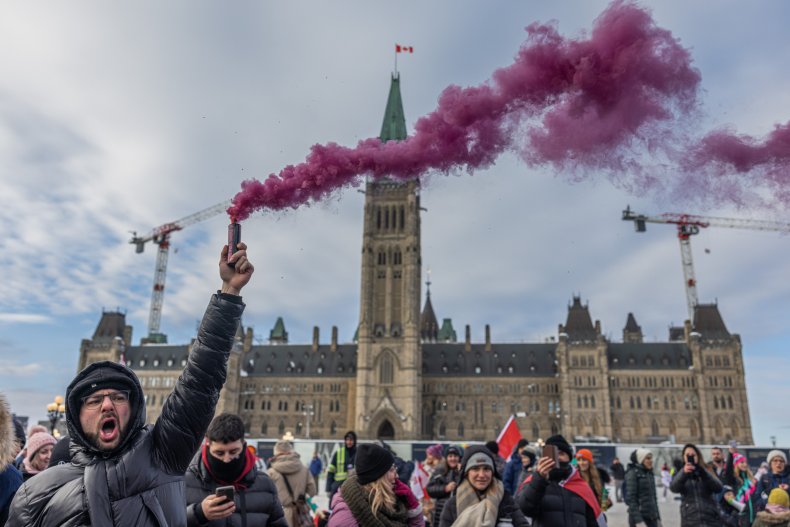 Last weekend, truck drivers protesting the federal vaccine mandate for cross-border truckers made their way across the country in a week-long convoy to protest on Parliament Hill.
While some protesters remained peaceful, video footage from last Saturday captured others defacing memorial sites, stealing food from homeless shelters and arguing with hotel staff, who refused to serve people who did not follow the provincial mask mandate.
After a disorderly weekend of demonstrations that resulted in a number of police investigations, protesters appeared to continue causing a nuisance in Ottawa and refused to leave the city.
Video footage posted to social media has alleged constant honking, music, fireworks and other loud noise disruptions throughout the city by protesters.
Businesses in Ottawa, who were excited to see their first day of reopening on Monday—when some restrictions were finally being lifted, have also been forced to remain closed due to the downtown gridlock caused by the truckers and fears of harassment from protesters.
"Most of the businesses around us, which are struggling enough as it is, have had to close due to safety concerns and road closures. And the ones that remain open? Their employees are faced with harassment by protesters who refuse to wear masks," Ottawa blogger Maddy, who runs The Ottawa Diaries, wrote in an Instagram post on Tuesday.
"Even our grocery store had to close early," she said. "Let that sink in. Our essential businesses, which have been operating throughout this pandemic, are closing their doors."
Pleading with the protesters who refuse to leave Ottawa, Maddy wrote, "We are not responsible for the public health mandates you hate so much. The Parliament building you enjoy yelling at is empty. Not to mention the fact that vaccine passports and lockdowns are provincial, not federal, so if that's what you're protesting, you've come to the wrong city."
The provincial capital of Ontario is Toronto.
Despite the frustrations of residents and the warnings from city officials, the convoy is expected to remain in Ottawa over the weekend with even more protesters to join.
According to a Facebook group with nearly 2,000 followers, a convoy is being planned from nearby Alexandria to Ottawa on Saturday in support of the initial protest. Similar convoys have allegedly been planned in Toronto and Quebec City.
Prime Minister Justin Trudeau has reiterated that he will not meet with anyone involved in the protests and continued to denounce the group.
However, on Thursday, he also dismissed the idea of sending in the military.
"That is unacceptable. It's time for these people to go home," Trudeau told reporters.