Fry's Electronics fans remember their favorite themed stores following news that the company is going out of business. KRON4 has reported that Fry's Electronics will be closing its stores nationwide.
Fry's Electronics has 14 stores in California, eight in Texas, and two in Arizona, while Georgia, Illinois, Indiana, Nevada, Oregon, and Washington each have one store.
California's Campbell store closed in November 2020, which prompted speculation over the future of the chain, following the closure of stores in Anaheim and Palo Alto earlier. In recent months, customers have reported seeing bare shelves in-store, after Fry's moved to a consignment model.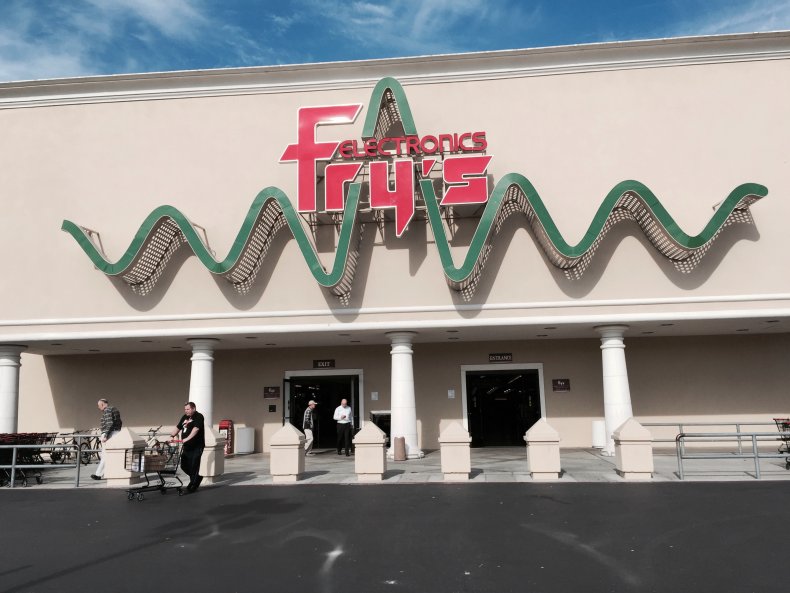 Fry's Electronics is known for its uniquely themed stores, with decorations ranging from underwater to outer space. For example, the San Jose store pays tribute to the Mayans, while the Sunnyvale theme reflects Silicon Valley's history. The Fry's Electronics store has a retro-space theme, while The City of Industry store pays homage to the industrial revolution.
Fans of the chain have taken to Twitter to reminisce about their favorite locations, like Twitter account @Tech_Gaming who said: "If true, RIP Fry's Electronics.
"I remember waking up early on Fridays to see the circular in the paper. Most of the stores had cool motifs, like an alien invasion (Burbank) or Alice in Wonderland (Woodland Hills)."
Twitter user @manicsocratic said: "Looks at the Fry's Electronics found in San Marcos, CA circa January of this year. Had a Neptunian/Underwater vibe. Absolutely awesome."
Ben Avchen said: "I'm surprised nobody has made a Five Nights at Fry's fangame with all the creepy statue things there, at least at the Woodland Hills location."
@FroyoTam on Twitter said: "Just heard Fry's Electronics is immediately going out of business tonight, here's some of my favorite themed Fry's locations: City of Industry, CA"
Darkovika on Twitter said: "Fry's was the s***. I'm so crushed. This was in Burbank.
"It had a little cafe that was themed like a drive through from the '50s, with seats shaped like old cars and a big screen that played black and white alien invasion movies. It also had a whole theater in a saucer."
Fry's Electronics has not yet commented on the closures, but KRON4 has said that it expects the retailer to share closure information on its website early on Wednesday morning. Fry's Twitter account has been set to private and it appears that its Facebook page has been deleted.
Aside from the news being confirmed by KRON4, there are reports on Twitter and Reddit that claim that Fry's Electronics employees were told that Tuesday was the store's last day in business.
Newsweek has contacted Fry's Electronics for comment.