FSU Fan Fired for Racist Willie Taggart Facebook Post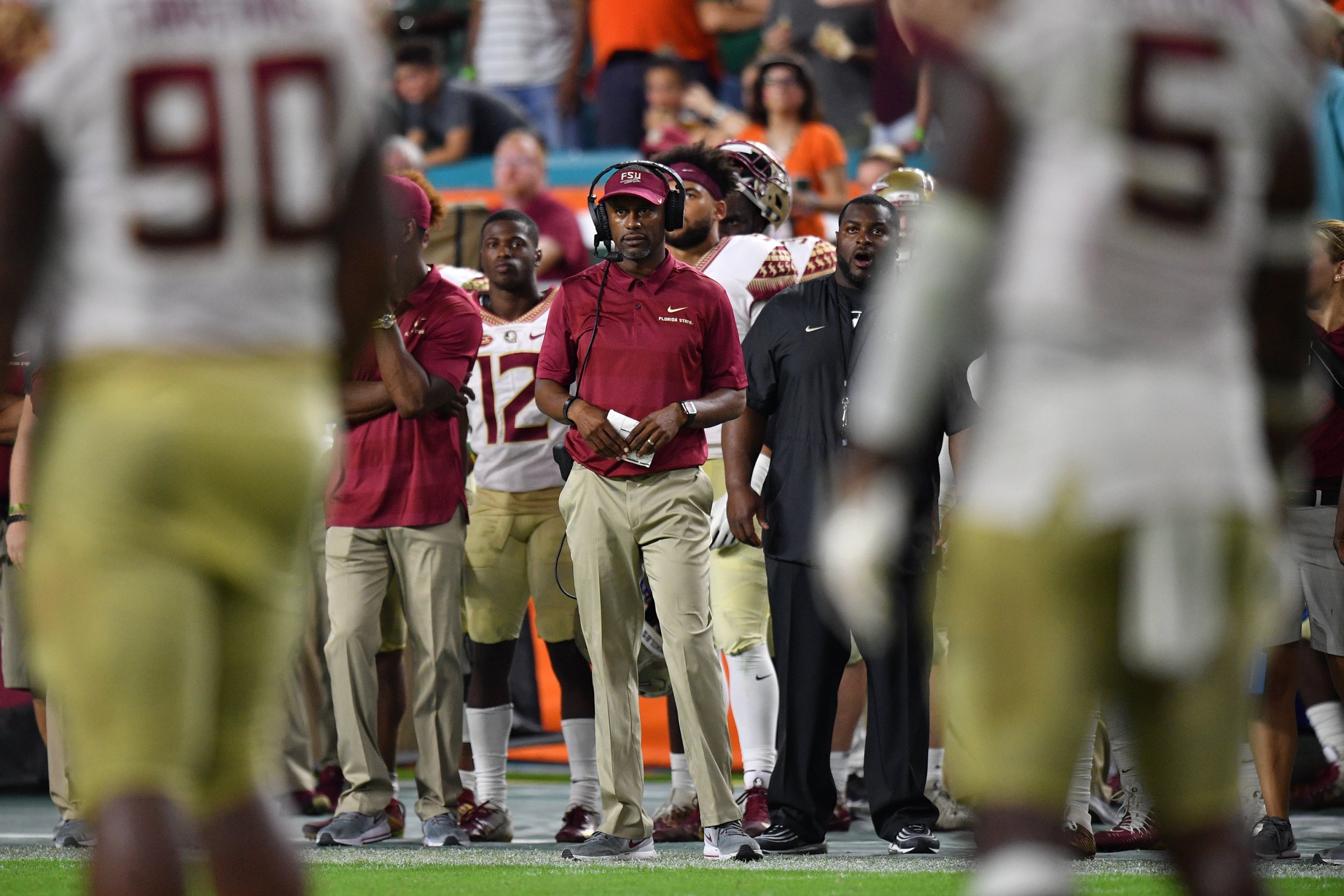 The Florida State fan who posted a racist image of football head coach Willie Taggart on Facebook, has been fired from his job at Hilton Grand Vacations in Orlando, the company announced on Monday.
"Our concern regarding this situation has been a top priority," Lauren George, a spokesperson for Hilton Grand Vacations, said of the former employee. "The person responsible for posting this information has been terminated. His behavior was in violation of multiple company policies and the furthest example from being a reflection of our company's values."
The fan posted a meme that displayed Taggart's head photoshopped onto the body of a man being lynched with the caption "Believe in Something Even If It Means Sacrificing Your Rep" to Facebook.
The image began circulating on Saturday night after the Seminoles lost 41-14 to in-state rival Florida and fell one-game short of securing bowl eligibility. The post was made in the Facebook group "Florida State Football" and was posted by an account listed under the name "Tom Shand," as reported initially by the Orlando Sentinel.
When asked by another fan in the thread if the person was serious, the user responded, "I'm dead [expletive] serious. This is how far I'm willing to go to get rid of this clown!!!"
Several fans managed to take screenshots of the post before it was deleted and have since called for Shand to be fired from his job. The Sentinel used his Facebook name to locate what appeared to be Shand's LinkedIn account, which claimed he worked for Hilton Grand Vacations in Orlando.
Shand's social media accounts featured extensive posts about FSU football and his LinkedIn page indicates that he attended Florida State University from 1997-2000. Fans also found previous posts from Shand's Facebook directed at former Chicago Bears head coach Lovie Smith which also feature a similar racial undertone.
Facebook and Twitter accounts under Shand's name were both deleted as of Sunday afternoon.
FSU president John Thrasher condemned the post on Sunday and said the university would investigate into the incident, which will be conducted by the state attorney.
"A recent racist social media post aimed at our football coach is ignorant and despicable," Thrasher said in a statement released on Florida State's Twitter account. "I speak for the entire FSU community in expressing our disgust and extreme disappointment, and I am glad the state attorney is investigating.
"Coach Taggart has our full support and as true Seminoles know, he is a respected member of the FSU family."
Taggart became the first black football coach in Florida State history after joining the program last December following one season at Oregon. The 42-year-old began his tenure with high expectations, inheriting a team that was just three years removed from an ACC championship and four from a national title.
However, the Seminoles stumbled through a disappointing 5-7 season, failing to qualify for a bowl game for the first time since 1981 and suffering their first losing season since 1976.
Following Saturday's loss, Taggart promised to improve after a disappointing first season and urged fans to never lower their expectations for the football program.