FSU's Jameis Winston Declares for NFL Draft: Big Puppy or Big Dog?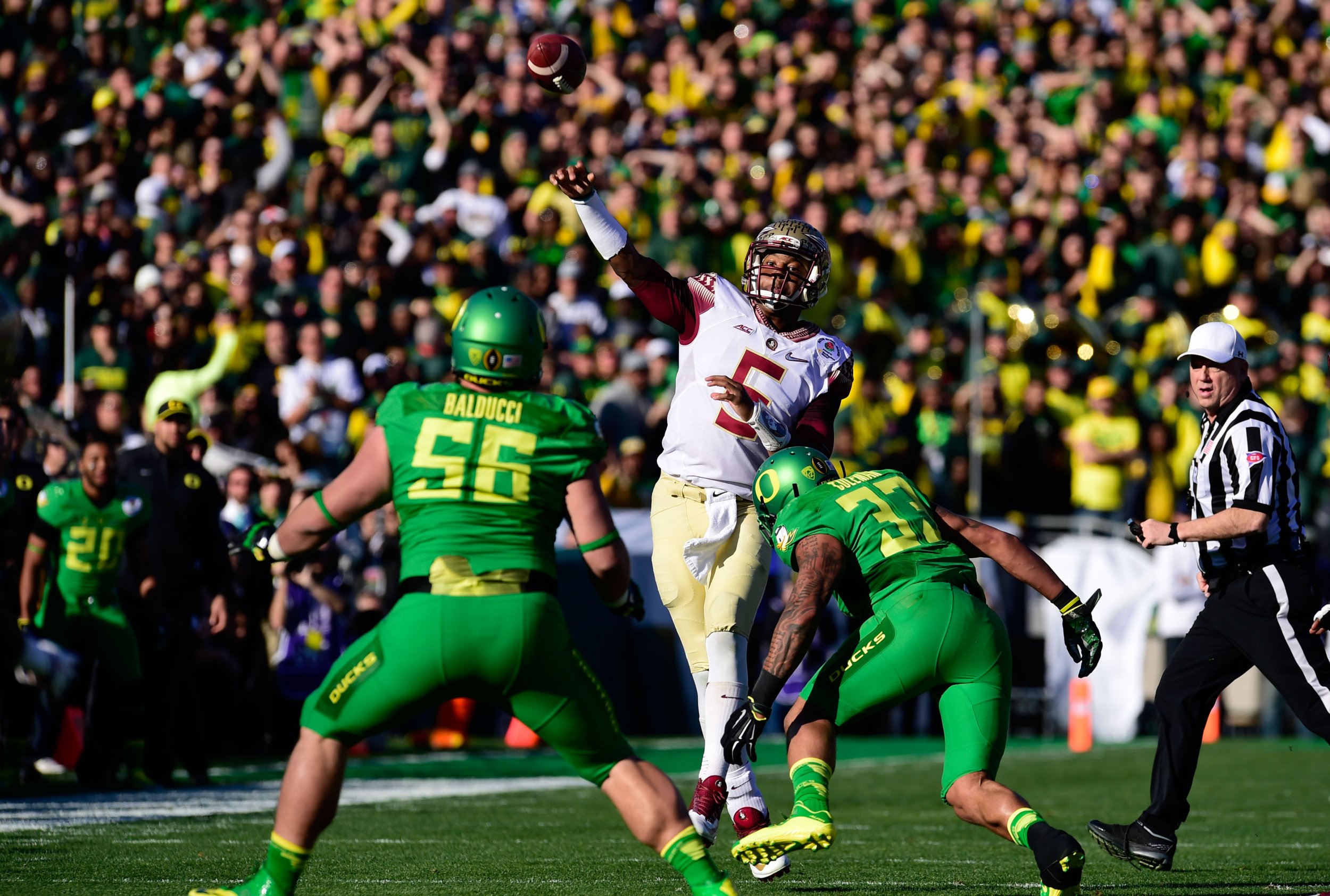 Jameis Winston will never forget his 21st birthday. On Tuesday, January 6, the Florida State quarterback and 2013 Heisman Trophy winner turned 21 and decided to turn pro. "After weighing this decision with my family and friends," Winston wrote in a statement, "I have decided to declare for the 2015 NFL Draft and forgo my remaining eligibility at Florida State."
Thus endeth one of the most glorious and notorious careers in the history of college football. In just two seasons in Tallahassee Winston compiled a 26-1 record as the Seminoles' starting quarterback; became just the second redshirt freshman, after Texas A&M's Johnny Manziel the year before, to win the Heisman; and led the Seminoles to an undefeated season and the national championship in 2013 before guiding them to a national semifinal defeat at the Rose Bowl on New Year's Day last week in the inaugural college football playoff.
In a helmet and shoulder pads, the 6-foot-4, 230-pound native of Hueytown, Alabama, draws superlatives with his play. ESPN NFL Draft analyst Todd McShay ranks Winston as the top quarterback in next spring's draft, ahead of Oregon's Marcus Mariota, the reigning Heisman winner whose Ducks ended Florida State's charmed two-year run of 29 straight victories in Pasadena last Thursday.
Is he good enough? has never been the question about Winston, who in his collegiate debut at Pittsburgh in September 2013 completed 25 of 27 passes for 348 yards, four touchdowns and no interceptions. The enigma surrounding Winston and his placement in the NFL draft is all about character.
You are aware of the incidents, I presume: the rape allegation stemming from a December, 2012 encounter—nine months before he ever took a snap for the Seminoles—with a fellow student…the $32.72 worth of pilfered crab legs (the worst money he never spent), which resulted in a citation and 20 hours of community service… the shouted obscenity in public, which initially led to a half-game suspension before a public outcry persuaded Florida State officials to "Goodell it up" to a full-suspension for a game against Clemson.
Who is Jameis Winston? That is the question private investigators employed by teams picking among the first dozen in April's NFL draft will endeavor to answer. When we met him, long before the rape allegations were made public (and long after the Tallahassee Police Department had done at best a perfunctory job of investigating them), Winston came off as a big, frisky pup.
In 2013, after that 41-13 win at Pittsburgh and seven weeks later following an emphatic 51-14 shushing of No. 3 Clemson, Winston conducted postgame on-field interviews with ESPN. He was ebullient and even evangelical about his team and their quest. "I gotta thank my team," Winston told ESPN's Heather Cox when she suggested to him that he had put himself into the thick of the Heisman race. "If it wasn't for them…" and then proceeded to thank half the Seminoles' offense as well as "the Man upstairs" for any praise he was garnering.
Back then, Winston was an easy guy to root for.
Then, in November, the sexual assault story broke. A cloud hung over the program, its national championship quest and, of course, Winston for nearly three weeks, until State Attorney Willie Meggs announced there was insufficient evidence to pursue charges. The nationally televised press conference was jocular at points and fueled growing national speculation that either the university or the town's police department, or both, were far more invested in an undefeated Seminole season than they were pursuing justice.
When Florida State defeated Duke in the ACC championship game two nights later, Winston's postgame interview with Cox was decidedly different in tone and mood. "What did you learn about yourself during the month of the investigation?" Cox asked before the interview took an ugly turn later.
"I learned," said Winston, "that I gotta get more mature."
Has he? That's a question for NFL teams to consider over the next few months.
More than a few scouts have already compared Winston to Pittsburgh Steeler quarterback Ben Roethlisberger. "Big Ben," who stands 6-foot-5, 241 pounds, has led Pittsburgh to a pair of Super Bowl titles in his 11 NFL seasons. He has also, ironically, been the subject of a pair of sexual assault allegations. Like Winston, he was never charged.
Meanwhile, the woman who accused Winston of sexual assault in December 2012 filed a civil suit against Florida State University on Wednesday morning. The suit alleges that the university failed to investigate her allegations promptly.
The plaintiff, who is no longer enrolled at Florida State, grew up in Pasco County in Florida, which is one county due north of Tampa. The team with the No. 1 overall pick in next April's draft, and one that is in desperate need of a quarterback, is the Tampa Bay Buccaneers. Stay tuned.