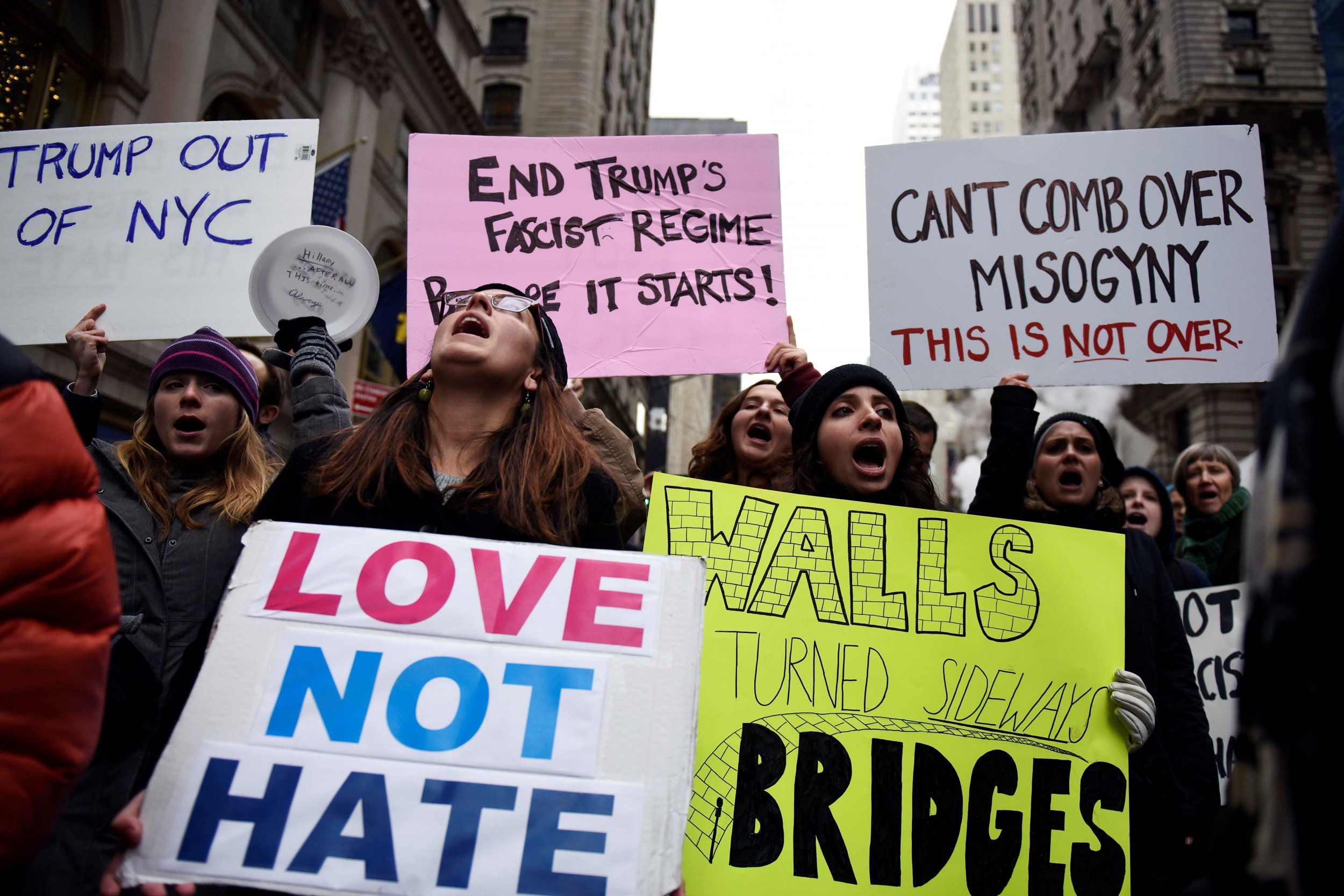 The owner of a truck boasting a huge middle finger to the commander-in-chief is breaking the law, a Texas sheriff has alleged.
"Fuck Trump and fuck you for voting for him," reads the sticker plastered across the back window of a pickup truck posted by Fort Bend County Sheriff Troy Nehls on his Facebook page Wednesday. The Republican sheriff serving an area southwest of Houston claimed the profane banner is putting a bad taste in locals' mouths, drawing "numerous calls regarding the offensive display." Nehls demanded the driver turn him or herself in to "discuss it."
Nehls said a prosecutor already told him she could charge the driver with disorderly conduct, which Texas defines as using "abusive, indecent, profane, or vulgar language in a public place, and the language by its very utterance tends to incite an immediate breach of the peace."
But law enforcement officers trying to prosecute people for dropping the F-bomb against the government have already been struck down by the highest court in the land. A California judge ruled in a 1971 Supreme Court case, Cohen Vs. California, that a "Fuck the draft" jacket didn't break any statutes because it wasn't likely to incite violence.
There have been no reports of fights breaking out because of the sticker yet.
The truck's owner, Karen Fonseca, used to work for Nehls in the county jail and said she and her husband had the sticker specially made after Trump's inauguration, according to the Houston Chronicle.
"It's not to cause hate or anonymity," she told the paper. "It's just our freedom of speech and we're exercising it."
The American Civil Liberties Union of Texas agreed, writing on its Facebook, "Memo to @SheriffTNehls: You can't prosecute free spech just because it contains the word fuck."
Nehl's post has gone viral, garnering nearly 10,000 shares and more than 18,000 comments.
Users pointed out that it's difficult to tell what's offensive now and said the president isn't setting much of an example. "I would like to understand what is vulgar in this Trump era….Trump is a man that has bragged about sexual assault by grabbing women's genitalia, has used the F word in public events, and called professional athletes SOB's in public forums," wrote Facebooker Alex Villegas.