Fueled by Nicki Minaj's Vaccine Tweet, Atlanta Protesters Gather Outside of CDC Headquarters
Inspired by singer and rapper Nicki Minaj's latest statement on the COVID-19 vaccines, demonstrators rallied outside the Centers for Disease Control and Prevention (CDC) headquarters in Atlanta on Wednesday.
Video shows masked and gloved protesters gathered outside the agency office with megaphones and signs. The group can be heard shouting, "Nicki Minaj told the truth to me! Fauci lied to me!" and "You know Fauci's lying!"
Protesters were referring to Minaj's Monday tweet, which has been the subject of controversy for claiming that her cousin's friend experienced testicular swelling and became impotent after getting vaccinated.
"My cousin in Trinidad won't get the vaccine cuz his friend got it & became impotent. His testicles became swollen. His friend was weeks away from getting married, now the girl called off the wedding. So just pray on it & make sure you're comfortable with ur decision, not bullied," Miinaj tweeted.
The CDC has repeatedly stated that the COVID-19 vaccines do not cause infertility. The agency has continued to recommend the shots to pregnant women.
A number of world leaders and health officials have slammed Minaj for spreading false claims about the vaccines.
In response to the singer's tweet, Trinidad and Tobago Minister of Health Terrence Deyalsingh said: "Claims are being made. One of the reasons we could not respond in real time to Ms. Minaj is because we had to check and make sure that what she was claiming was either true or false."
"Unfortunately, we wasted so much time yesterday running down this false claim," he said on Tuesday.
"It wasted our time yesterday," Deyalsingh added. "Trying to track down. Because we take all these claims seriously — whether it's on social media or mainstream media. As we stand now, there is absolutely no report of testicular swelling in Trinidad — and none that we know of anywhere else in the world."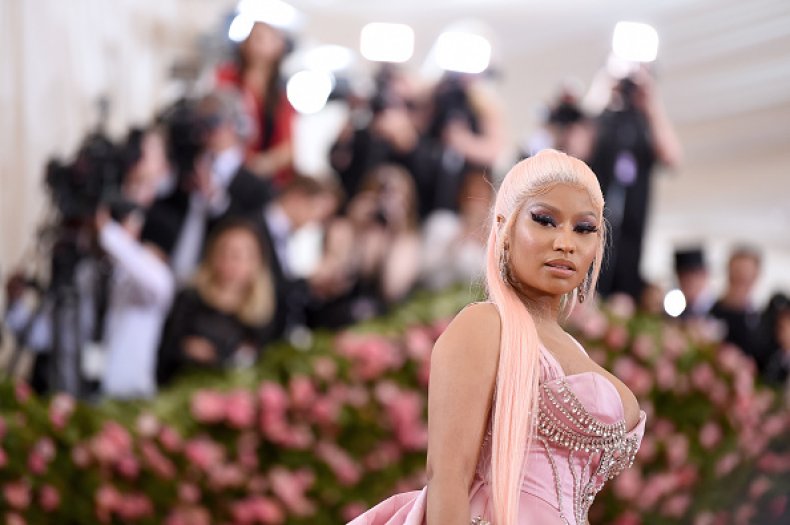 On Tuesday, the nation's leading infectious disease expert, Dr. Anthony Fauci, also said there was "no evidence" behind Minaj's claims.
Despite remarks from Fauci and others debunking the singer's tweet, protesters still gathered on Wednesday to claim that Minaj was telling the truth and that the CDC is lying about vaccine efficacy.
One protester is heard yelling: "She said I'm not going to take your vaccine to go to no stupid Met Gala."
On Monday, Minaj said that the reason she did not attend this year's Metropolitan Museum of Art (Met) Gala was due to a vaccination requirement for attendees.
"They want you to get vaccinated for the Met," the singer wrote. "If I get vaccinated it won't be for the Met. It'll be once I feel I've done enough research. I'm working on that now. In the meantime my loves be safe. Wear the mask with 2 strings that grips your head & face. Not that loose one."
This year's Met event required attendees to be fully vaccinated and to wear a mask—changes that have spurred a number of rumors about which celebrities remain unvaccinated.