The Fugees Back Together on Reunion Tour Despite Long History of Turmoil
The Fugees announced Tuesday they would celebrate the 25th anniversary of their breakout album The Score with a 12-date reunion tour.
While fans of the hip-hop group no doubt celebrated the news, the reunion is a surprising one considering the acrimonious public comments the members have made about one another over the years.
The Score made the group superstars after its 1996 release, but then Lauryn Hill, Wyclef Jean and Pras disbanded and embarked on solo careers. The Fugees eventually reunited in 2004 for the concert film Dave Chappelle's Block Party, then went on a brief tour the following year.
The group is scheduled to play a pop-up show at an undisclosed New York City location on Wendesday, which will be the Fugees' first show together since 2006.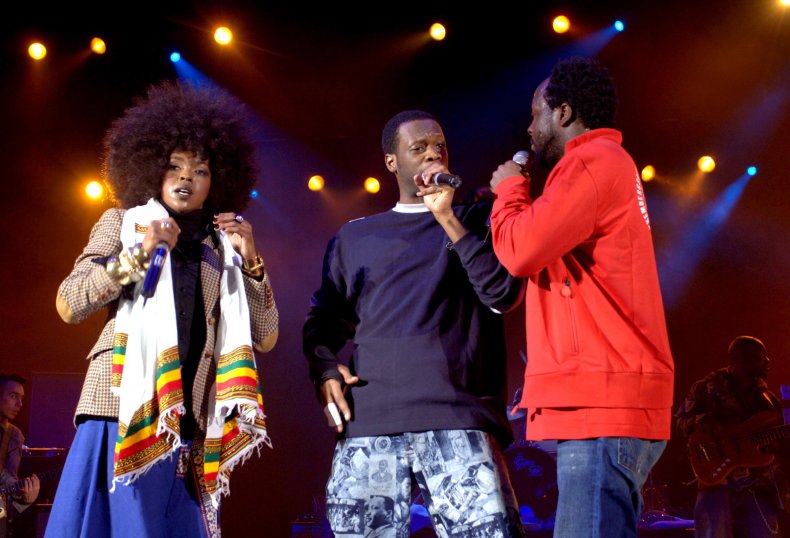 In the years since The Score, plenty of damning comments have been made by all three members. Much of the tension has been between Jean and Hill, who had a major falling out after their romantic relationship ended.
In his 2012 memoir, Purpose: An Immigrant's Story, Jean claimed an early cause of their problems began when Hill—according to Jean—lied to him about being the father of her child. Bob Marley's son, Rohan, was later named as the baby's father.
"In that moment something died between us," Jean wrote. "I was married and Lauryn and I were having an affair, but she led me to believe that the baby was mine, and I couldn't forgive that."
Hill seemingly responded to Jean's claims during a performance shortly after the memoir's release.
"Let me tell you why I don't chat back. Because I know that my brothers and my sisters are often times pawns in a bigger scheme so when they, under pressure, attack me, I love them still," Hill said, according to BET, between songs. "It's called the high road. Try taking it sometime."
Fans have also long speculated that bitter lyrics on The Score were written by Hill to Jean, as well as lyrics from songs on The Miseducation Of Lauryn Hill, her Grammy-winning 1998 solo hit album.
In a 2005 interview with the magazine Trace, Hill also expressed frustration about what she considered what she felt was a creatively stifling dynamic within the group.
"The Fugees was conspiracy to control, to manipulate, and to encourage dependence," Hill said. "I was not allowed to say I was great; that was considered arrogance, conceit."
Jean told Blues & Soul magazine in 2007 that "Lauryn needs help" and suggested the group should have sat in a room with a psychiatrist before their 2005 reunion.
However, the bad blood wasn't just confined to Hill and Jean. Pras has made disparaging statements regarding Hill, including during a 2007 interview with AllHipHop.com. He told the website at that time, "Before I work with Lauryn Hill again, you will have a better chance of seeing Osama Bin Laden and [George W.] Bush in Starbucks having a latte, discussing foreign policies, before there will be a Fugees reunion."
While promoting his book in 2012, Jean also referenced reported comments Pras once made about him.
"If you go back to the old articles one time, you know where Pras was like, 'Clef is the cancer of the Fugees.' You remember when he said that? At the time, you've gotta understand his frustration though," Jean said in an interview with the radio station Power 106.
Regardless of their tumultuous past, the group seems to have put their differences aside to at least celebrate The Score. In a press statement released Tuesday, Hill said: "The Fugees have a complex but impactful history...I decided to honor this significant project, its anniversary, and the fans who appreciated the music by creating a peaceful platform where we could unite, perform the music we loved, and set an example of reconciliation for the world."
Jean added, "As I celebrate 25 years with the Fugees, my first memory was that we vowed, from the gate, we would not just do music we would be a movement. We would be a voice for the un-heard, and in these challenging times, I am grateful once again, that God has brought us together."