Carlos Ghosn is ready to name names—not to get revenge on those who betrayed him, he says, but to clear his own name. Alleged financial malfeasance had nothing to do with his downfall, he insists. What drove his arrest was Japanese executives' fear of ceding corporate power to France.
The embattled former head of the Renault-Nissan-Mitsubishi Alliance, now an internationally wanted fugitive, spoke to Newsweek from his home in Lebanon last week while promoting his new book, "Broken Alliances: Inside the Rise and Fall of a Global Automotive Empire." The book is an account of his extraordinarily successful career--and the "conspiracy" that ended it, leading to his arrest by Japanese authorities on November 19, 2018.
As he had done hundreds of times before, the then-CEO of Nissan Motor Co. landed at the Nagoya airport aboard a private jet. Japan's Public Prosecutor's Office arrested him on charges of financial mismanagement and misreporting millions of dollars of income. The global shock of that event was surpassed 13 months later by his escape from house arrest in Tokyo, despite 24-hour surveillance.
"Broken Alliances" marks the first time Ghosn has gone into depth about the prominent Nissan executives who, in his eyes, engineered his downfall. Christina Murray, former Nissan Vice President and Chief Internal Audit and Global Compliance Officer, spent time digging up dirt on Ghosn from his closest aides and coworkers, Ghosn writes. He also links Hitoshi Kawaguchi, a now-retired 43-year Nissan executive, to his takedown.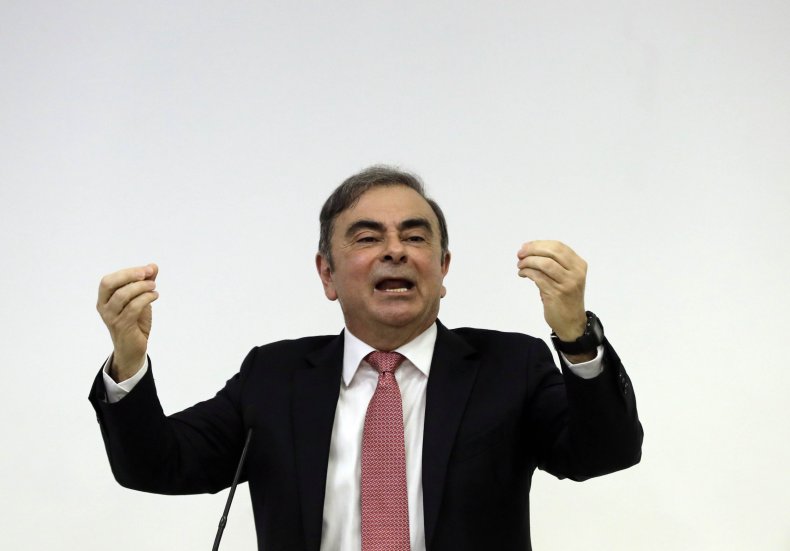 The executives worked with the Japanese government to conjure up a reason to arrest him, he tells Newsweek. "I think the plot was organized by some ... what I call the 'old boys,' which means the people who stayed with the company and were still nostalgic of the time where the company was struggling before 1999," Ghosn says.
During his time behind bars, Ghosn writes, he was advised by two attorneys. The first encouraged him to speak out against what was happening, which appeared to outrage the Prosecutors Office and judge. After the first lawyer was dismissed, Ghosn's new attorney advised him to keep his mouth shut. When Ghosn was finally released on bail after his third request, he tweeted, threatening to "tell the truth" about his treatment. Shortly after, he was rearrested on new charges. It was only after his escape to Lebanon that he was able to truly tell his side of the story, he says. (The new book doesn't detail his escape from Japanese custody.)
He also recounts the harsh treatment he received in Japanese prison, describing himself as a "hostage." In speaking to Newsweek, though, Ghosn expressed a lingering affection for Japan and described his life today.
Looking back, Ghosn sees a pivotal moment in June 2018 when he accepted a new mandate from Renault, extending his power over the Alliance, with a mission to further evolve the company and mingle assets. "The new mandate that Renault insisted that I take was, frankly, a mistake," Ghosn says. "I was, you know, under the impression that there was a kind of unity for me to continue to do the job that I had been doing for 19 years. But, obviously the Japanese didn't see it from the same angle.
"There was a fear of loss of autonomy," he says, describing the emotions of the so-called old boys. "These people, who have always been in the company and I maintained in the company ... I wanted to hear their opinion and see how we can circumvent their criticism. These people colluded with the prosecutor which is something, quite frankly, I never thought would be possible, with the support of part of the Japanese government."
Ghosn's arrest wasn't just a business problem. It was an international incident, a point that the French government made very clear to him, he says. "Four months after being reappointed as the CEO of Renault I was arrested and as you know, Renault didn't defend me," Ghosn says. "After a couple of weeks of supposition they just let me go and the president of France and the minister of finance of France, they said, you know, the relationship between Japan and France are more important than the fate of any deal, which means, you know, [I was] collateral damage."
Ghosn characterized the attitude of French authorities: "We don't accept the coup that has been staged by the Japanese authorities. But, we don't want to make things worse so we act like it's just a mere legal problem between me and the Japanese authority, totally omitting the fact that when I was going to Japan I was not going like a Brazilian tourist or a Lebanese analyst: I was going as a French citizen CEO of a major French company and carrying major French interest."
From Ghosn's arrest until the time he could consult a lawyer was four days—a gap that Ghosn, a man described by those who worked with him as always the best-prepared person in any meeting, still struggles to explain.
"You know, at the beginning I did not understand the charge," he said. "I had the prosecutor from Tokyo telling me that I'm being arrested because I did not declare a compensation that was neither decided nor paid. I don't understand how you can arrest a person for something which was not the object of a decision or not even of payment.
"It took me some time before realizing that, in fact, it was a plot and some people inside Nissan were working with the prosecutor, with the ministry of industry of Japan, and certainly other people in the government of Japan just to get me out of the system."
Ghosn's handpicked successor, Hiroto Saikawa, quickly weighed in on the arrest—but not to support him. "I understood very clearly because of the statements made by Siakawa immediately after my arrest and they said this is the time to rebalance the relationship with Renault," Ghosn says. "So, this was not about the compensation that was not declared. This was about rebalancing the relationship with Renault, taking more autonomy on the Japanese side and the Japanese sending a message to the French by saying 'Enough is enough.'"
Ghosn believes the goal was to silence him.
"After I was arrested in Nov. 2018 I couldn't talk," he says. "When I was in prison I couldn't talk. When I was freed on bail I tried to convene a press conference, I was rearrested immediately to avoid this press conference taking place. After I was freed again the chief prosecutor said, you know, 'Mr. Ghosn is free to make a press conference but we are also free to press charges,' so it was very clear that they have staged what I call a character assassination campaign immediately after my arrest and they want to be the only one to speak."
The prosecutor's office was hoping to wait him out, he says. "They didn't want anyone to counter the deluge of accusations ... I could not open my mouth and, quite frankly, they have calculated that they could stage this campaign, manage public opinion, because they knew that I would stay for a very long time in Japan. I would stay under their control for a very long time.
"I don't think any one of them imagined an instant that I would leave Japan. I don't think it was even one of the hypotheses that they had, so their planning was, it's going to take many, many years before we judge him; then we're going to judge him. Then after 10 to 15 years everybody forgets about him and he cannot talk because he is in Japan."
Ghosn's 130-day incarceration has been called "fundamentally unfair" by the United Nations Human Rights Council's Working Group on Arbitrary Detention. Citing Ghosn's experience as its prime example, the Human Rights Watch World Report 2020 described Japan's "hostage" justice system as "long overlooked," saying that "criminal suspects are held for long periods in harsh conditions to coerce a confession."
Ghosn doesn't see his as an isolated case. "I am sure that if we can substantiate all the violations of human rights that take place in Japan, the European community would never have signed the free trade agreement with Japan," he says.
"So, this is where, in fact, the Japanese have to be more clear. The country is free to say, 'Look, we don't want to respect human rights,' and there are many countries that say, 'We don't respect human rights.' You cannot want to take the advantage of respecting human rights and not respect them. This is something that has to be denounced and this is something on which the Japanese have to be much more responsible.
"When you go to China you know the rules. You know what you can do and what you cannot do. So it's pretty clear there is no trap. There is no double game. In Japan, they make you think [they have] a kind of very democratic or open [system], but it's not."
Racism and nationalism contributed to his downfall, Ghosn tells Newsweek. "I always sensed, even though I was one of the most popular figures in Japan, that there was a part of the Japanese public who just didn't like me only because I was a foreigner. And particularly didn't like me because not only was I a foreigner, I was a popular foreigner and a foreigner who has some power over one of the major Japanese companies. I could feel it. I could see that, which is fine. It was fine.
"But when I started to see the scandals taking place in Japan where in the case of Fukushima scandal, in the case of the Takata scandal ... in the case of the Olympus scandal, in the case of the Toshiba scandal, in the case of the Hatachi scandal there was not one single Japanese executive against which charges were pressed. I say 'Oh my god, there is something fishy here. It is impossible that we cannot find one [Japanese] person that is responsible for what is happening.'"
Ghosn still expresses affection for the land of the rising sun. "Myself and my family—we love Japan and continue to love Japan. We love the culture, we love the food, we love the organization, we love the art, we love the simplicity. We love a lot of things about Japan.
"We are absolutely not rejecting Japan. We are denouncing the old, dark forces existing in Japan. You know, the extreme nationalists, the discrimination, the lies, the hostage justice system. This is not all of Japan. This is the dark part of Japan that we are fighting."
Ghosn is not likely to head back to Japan anytime soon. He has an Interpol Red Notice issued for his arrest: should he leave the safe haven of Lebanon (which has no extradition treaty with Japan), he could be arrested and sent to Japan for trial.
Ghosn now divides his time between investing in startups, contributing to conferences, participating in documentaries, teaching a seminar on strategy and performance, investing in wine and real estate, spending more time with his family and writing books, including one he is co-authoring with wife Carole. His family, including his elderly mother, has been able to visit him from Brazil.
Ghosn's prosecution was big news around the world, and his escape, even more so. But he hopes to be remembered as "the only foreigner who turned around a large company in Japan.. the only person who managed two then three companies on three continents successfully." And finally, "I was one of the rare people on Earth who could evade Japan."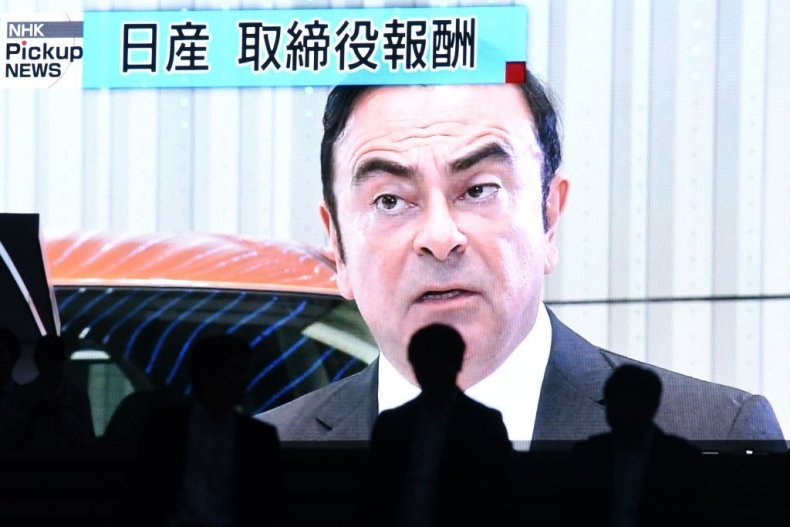 Correction, 10/2, 10:50 a.m.: This story has been corrected to delete an inaccurate reference to Jose Munoz.