Fugitive Hippo Caught By Police After Going on Run From Circus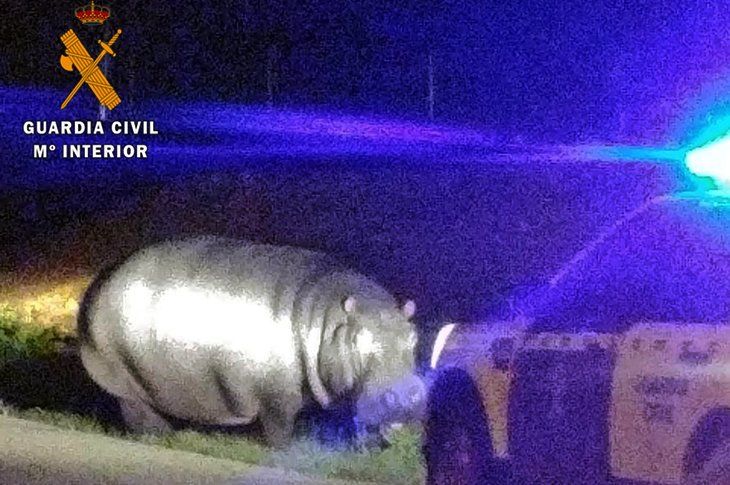 A one-ton hippopotamus that went on the run from a travelling circus led Spanish police on an hour-long chase before being arrested at the side of the road.
EuroWeekly News reported that police caught up with the animal in the town of La Garrovilla, near the city of Badajoz, after receiving reports of a hippo standing in a field close to the town.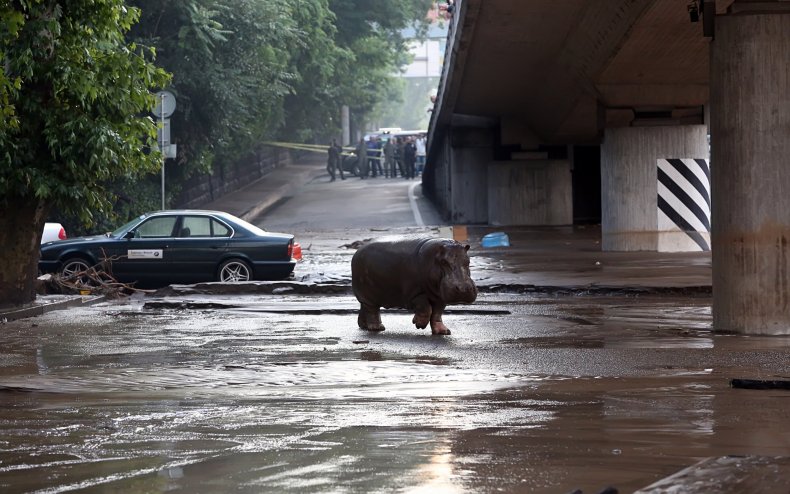 Adult hippos average 3,310 pounds and can reach speeds of up to 19mph over short distances. Highly aggressive and unpredictable, hippos are some of the largest animals in the world. The animals kill an estimated 500 people a year in their native Africa and are considered to be one of the most dangerous animals on earth.
Luckily, this fugitive doesn't seem to have put up much of a fight. Police confirmed the hippo was transferred back to the circus "without causing damage to persons or property."
The police tweeted a picture of the renegade, with a picture of the "clueless" animal facing down a police car.
The wildlife and conservation branch of the Spanish police is investigating how the semi-aquatic giant escaped from the circus without its owners realizing, El País reported.
In May 2016, another hippo wrought havoc in Spain when it escaped a circus in Palos de la Frontera, around 60 miles from Seville. The hippo brought traffic to a standstill as residents looked on in bemusement. Police and circus workers eventually managed to coax the runaway back into its enclosure.
A hippo's lifespan can reach 40 to 50 years, though the oldest recorded individual was a female living in a zoo in the Philippines who died aged 65.
Although the huge mammal is a native of Africa, it can thrive elsewhere. Possibly the most famous international hippo colony is in Colombia, and owes its existence to notorious drug lord Pablo Escobar. Escobar shipped four of the animals to his Hacienda Nápoles near the city of Medellín.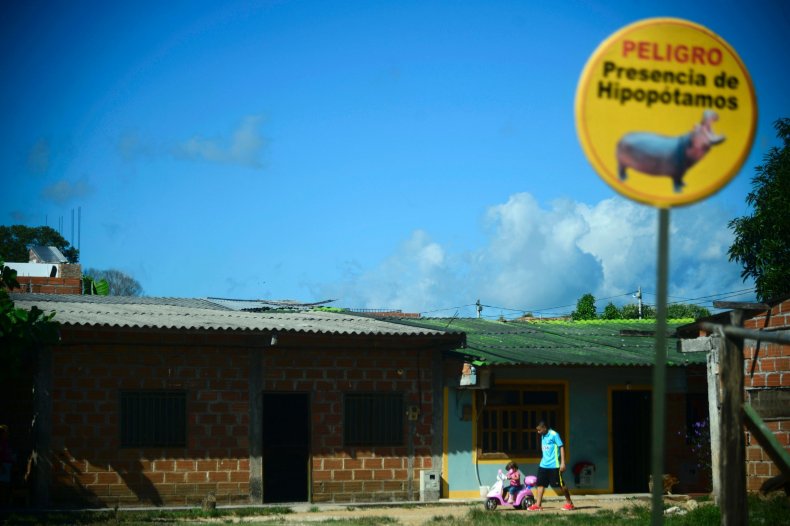 After Escobar's death in 1993, his hippos were deemed to difficult to seize, and were left to their own devices on the abandoned estate. They multiplied and broke out of the property, with their number growing to 16 by 2007. In 2009, some of the hippos attacked humans and killed a cattle, resulting in one male adult hippo, named Pepe, being killed by hunters.
As of 2014, 40 "cocaine hippos" have been reported to exist in Antioquia region, originating from the original four brought to Colombia by Escobar. Their population size is likely to double in the next decade without management, according to National Geographic.