Inside the Capture of Convicted Sarah Palin Stalker Who Allegedly Threatened a Pennsylvania Prosecutor and President Trump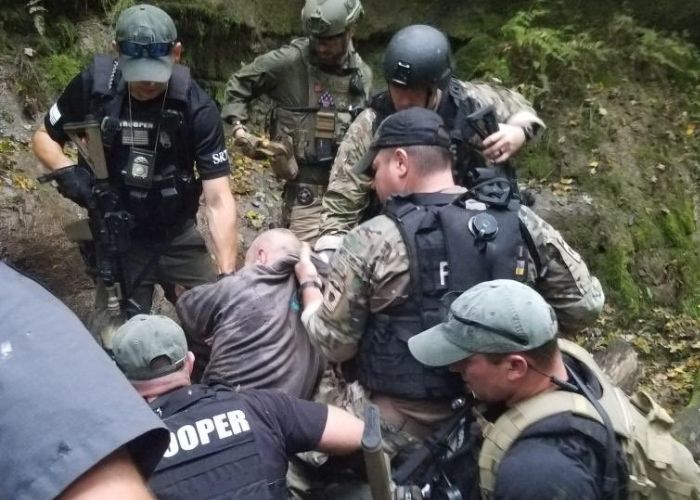 On September 24, Shawn Christy appeared for a hearing on Monday that lasted only a few minutes in an Akron, Ohio, federal courtroom. He remains in custody and is expected back in court for an October 1 detention hearing, a spokesman for the U.S. Attorney's Office Northern District of Ohio told Newsweek.
On the evening of September 20, Duane Chapman, known as Dog the Bounty Hunter or "Dog" for short, was prepping his next mission: getting fugitive Christy in the back seat of his car.
Before bringing the wanted 26-year-old alleged would-be assassin—who had a $20,000 bounty on him and was described as "armed and dangerous"—Dog would deliver a proper dress-down.
"What I want to do is rip him a new one and chew him out," Chapman told Newsweek in a series of interviews. "He needs to take a back-seat ride with Dog the Bounty Hunter."
The tough-talking Chapman said he knew just the words to tell the "spoiled brat."
"You need to shut your f***ing mouth and don't talk like that to the president," he said as if practicing the lines. "He needs that back-seat ride."
Chapman was preparing to try and apprehend Christy, a survivalist who managed to keep law enforcement guessing after more than 100 days on the run in the wilderness.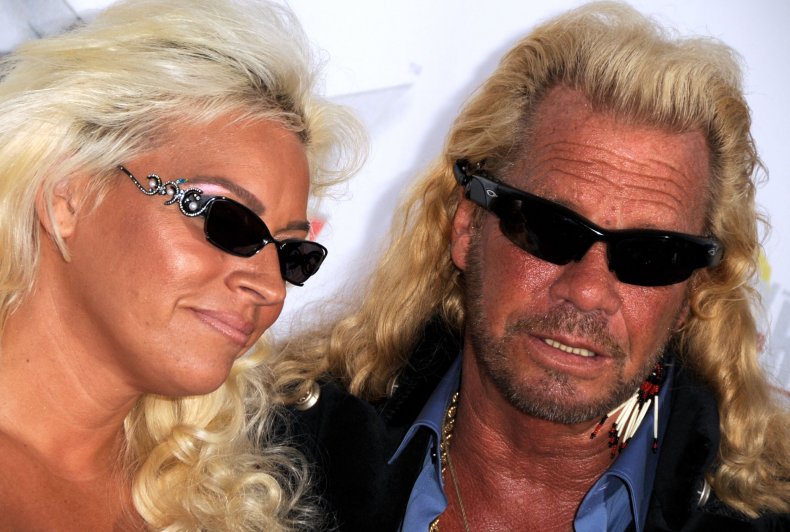 He did so by zigzagging up and down the East Coast and motoring along interstates and backroads with stolen cars and loading up on guns and ammo as well as food and supplies from loosely guarded homes and businesses.
Chapman would be joining the pursuit led by members of the U.S. Secret Service, the FBI, U.S. Marshals Service and local law enforcement—who hadn't been able to get Christy, a survivalist or self-proclaimed "bushcrafter," in cuffs.
Shawn Christy faces federal charges for transmitting in interstate commerce communications "threats to harm, injure, and kill a police chief, other law enforcement officers, and a district attorney and President Donald J. Trump," according to the federal criminal complaint.
Chapman began by shaking the trees.
He began speaking with law enforcement cohorts and said he was in touch with Native American tribes (Chapman says he's "half-breed Apache") to convince Christy to surrender.
"I talked to all the tribal leaders [Wednesday] and told them, 'Brothers, we got another one!' So they will tell me if he's up there in Canada. And my guy got word to the Mohicans," he said.
Christy had warrants out for his arrest after allegedly making assassination threats against President Donald Trump, a Pennsylvania prosecutor named John Morganelli and for skipping a criminal trial for assaulting a former mayor in his native McAdoo, Pennsylvania.
By last Monday, local news had already started running segments on Chapman's plan to leave his home in Hawaii to visit Christy's parents.
"At first I was like: Who?" Karen Christy told Newsweek. "It wasn't until later I remembered who he was."
On Friday morning, September 21, Craig Christy posted a last-ditch appeal directly to his son on the Facebook group page "Shawn Christy Political Prisoner" asking him to work with Dog and give up the hide-and-seek.
"Shawn Christy, need you to call [phone number]. Need you to turn yourself into Dog Chapman Bounty Hunter. Lawyers and Bailbondsman will be provided," read one of the posts on the page midday Friday. "Pack it in son, you proved your point."
Hours later, that same day, one day before Chapman and his wife Beth Smith were flying to the East Coast to start their search for Shawn, Chapman learned about his safe capture.
"Here's the mother. I'll call you right back," Chapman said clicking over to another call coming in during an interview with Newsweek.
Three minutes later Chapman called back, acknowledging that his chase was over before it began.
"Yeah, they got him," he said, suggesting that their pursuit cranked into high gear because of his involvement.
"He was going to surrender to Dog," Chapman said. "I know they knew my flight was booked and they were told, 'We got about 24 hours to catch this S.O.B."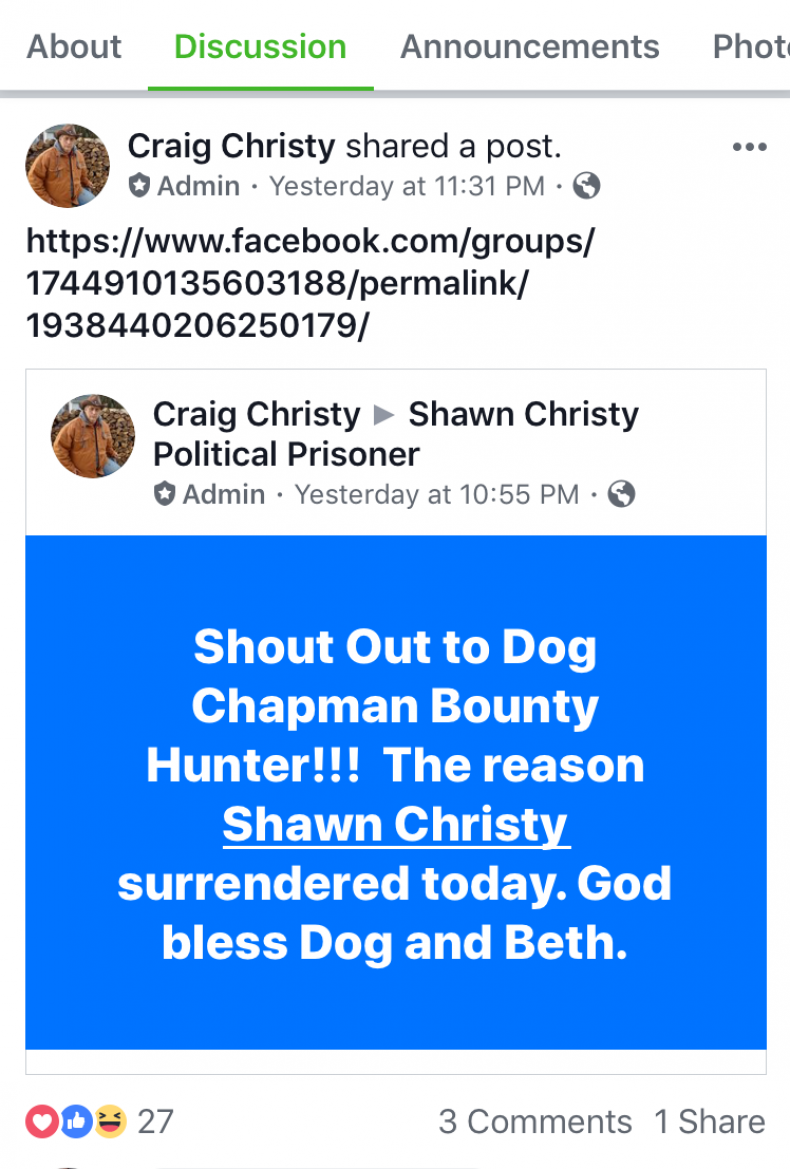 Minutes later, Shawn's father Craig told Newsweek that his only child was caught. "FBI just called [and] confirmed."
The dad added that Shawn was suffering from "malnutrition and is beat up from being on the run, but in good spirits."
A press conference was held by some the victorious officers who had tracked Christy down in a ravine pocketed in the thickly wooded area of Mifflin Township in northern Ohio at about 4:30 p.m. on Friday, September 21. Christy was found with a sheathed knife and a handgun.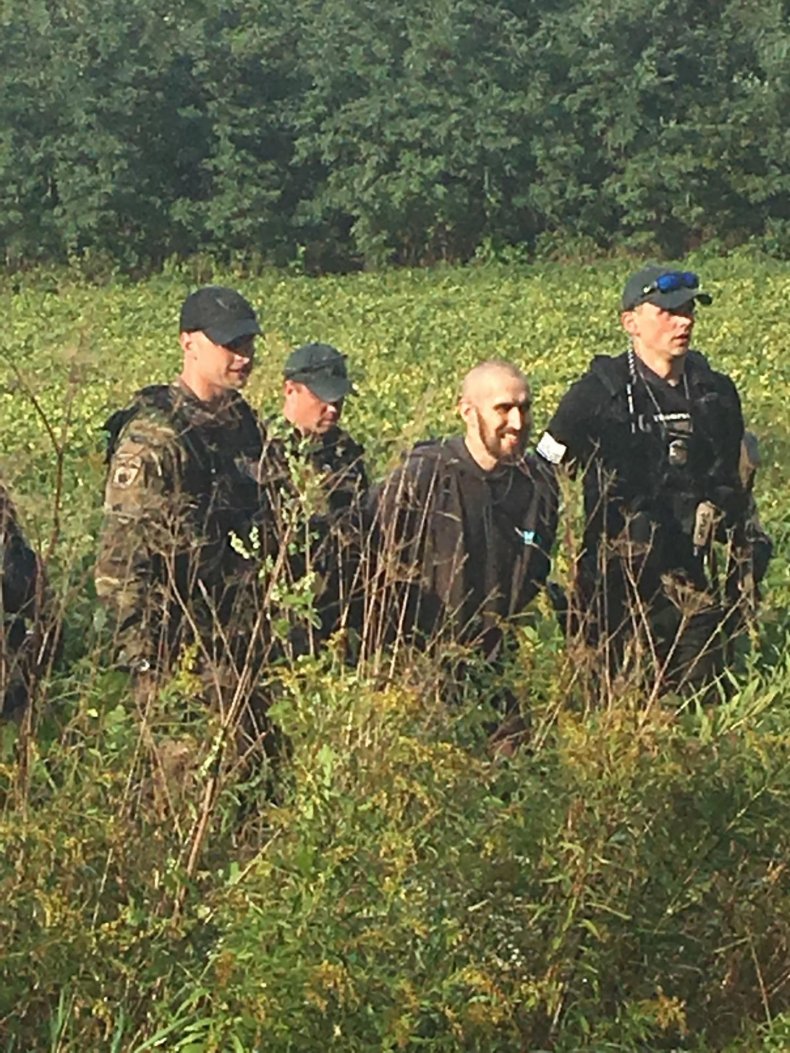 "One other thing, there was a lot of talk about a dog getting him," said U.S. Marshal Brian Fitzgibbon, who had come to Mansfield, Ohio, after Christy ditched a utility pickup truck off Interstate 71. Apparently the transmission gave out and forced the fugitive to flee on foot.
"It was a K-9 that picked up his scent and took him down. It was a police dog."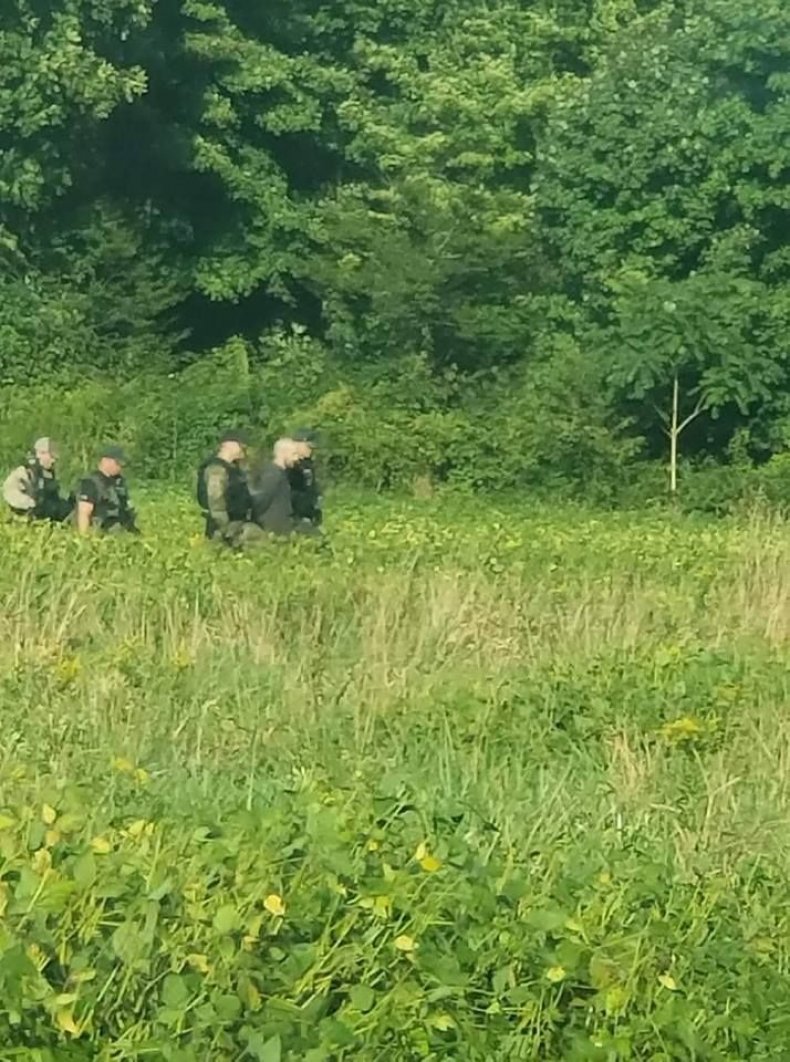 Images of the moment of safe capture of Christy were sent out by Marshals.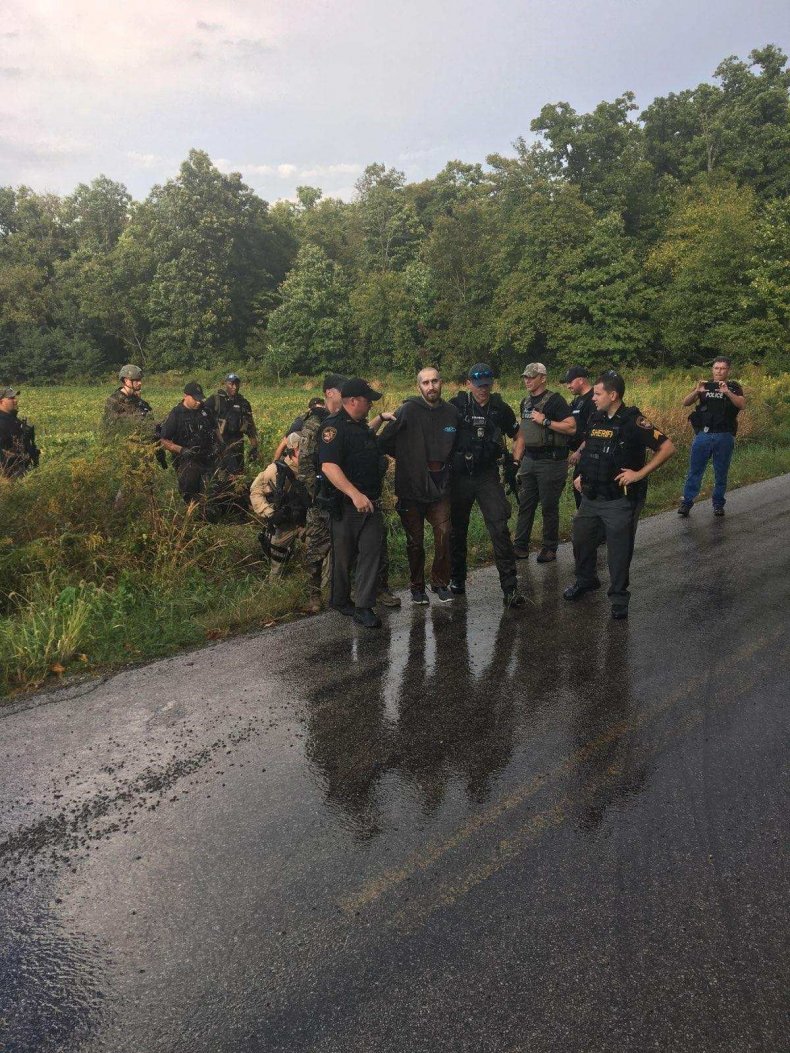 Only days before the Christy capture, Fitzgibbon had labeled him "a dangerous individual" who "does not have the type of respect and or faith in law enforcement and elected officials."
"He believes he's the victim and he's going to do whatever he can to carry out this cause he's fighting for," he added.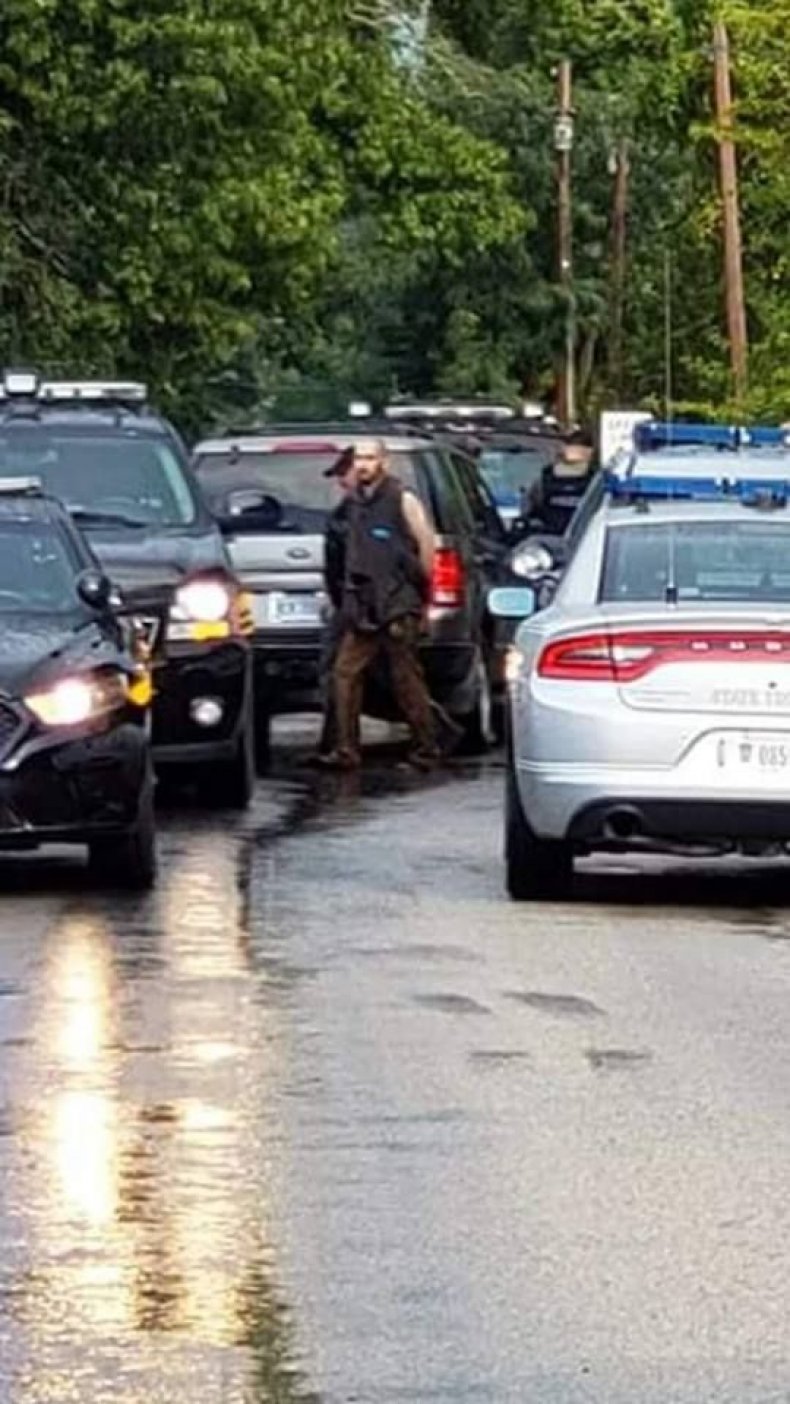 After he was caught Fitzgibbon said that Christy would be facing more charges for carrying the stolen .380 pistol and said that the mission was a success because they didn't falter in their pursuit.
"We captured him by closing in on him," he said.
Christy is a self-proclaimed Appalachian survivalist and with a strong affinity for his Native American roots. "Shawn identifies as being Mohawk Native American," his father Craig said. "That's why the woods are home to him."
The chase began after Christy allegedly lodged assassination threats back on June 12 to "put a bullet" in the heads of President Donald Trump and Northampton County D.A. John Morganelli and use "full lethal force on any law enforcement officer that tries to detain me."
A week later, Christy allegedly posted on Facebook another slight against the prosecutor: "Your [sic] a dead man Morganelli, $250 Sarah Palin. Let's play :)."
"This happened to be on Facebook," Morganelli told Newsweek two months later. "And this got a little more attention because it's entwined with the president."
A warrant was already out for his arrest after Christy failed to attend a jury selection for a trial concerning a March 2017 incident in which he had wielded a hiking stick during an altercation with Stephan Holly, the former mayor of McAdoo, in the middle of town.
The incident was caught on surveillance cameras high above on the McAdoo Borough building on North Hancock Street.
According to the police report filed by McAdoo police officer Frederick Lahovski—Christy, "swung a large stick, approximately 4-feet-long and 2 inches in diameter at [Holly's] head." Then, the report goes on, Christy "made two separate attempts to strike Mayor Holly," before he "fled the area."
"He approached the vehicle with the stick, and he came up and said, 'Hey Holly, when you gonna plow the alleys,'" Holly, now a carpenter told Newsweek in August.
"He went to hit me across the face, and I blocked it. Thank God I blocked it," he said.
The video, which was uploaded on YouTube shows Holly attempt to fight back. Shawn Christy later reported that he suffered serious neck and head injuries.
But only Christy was charged. That apparently left the young man embittered.
Months later, authorities added a harassment charge after Christy allegedly left voicemail messages for McAdoo Police Officer Lahovski.
"The defendant was angry and demanded that Mayor Stephan Holly and myself be arrested by Monday," one message left on October 6 of last year stated, according to an affidavit of probable cause.
Shawn Christy allegedly warned he would "pick them up myself" as a citizen's arrest.
On October 9, Shawn Christy allegedly called again, this time irate for being blocked on the police department's Facebook page.
The affidavit states that Christy called Officer Lahovski "a freak" and "made references to me being a homosexual who would be forcibly turned into a heterosexual in prison."
Shawn Christy's harassment and assault cases were supposed to be tried in Schuylkill County Court. Instead, his public defender crossed the aisle to become a county prosecutor.
The case was moved to Berks County to avoid a conflict of interest.
Then Shawn was served with a bench warrant for allegedly absconding when the jury selection was to begin.
His parents said Shawn didn't have to be in court and that their son missed the notifications because he was out in the woods.
Christy's father called the assassination posts against Trump (whom Shawn said he had voted for) and D.A. Morganelli (whom Shawn allegedly called out for lobbying for a job on Twitter when Trump was building his cabinet) as "pleas for help."
His father then launched an online campaign with the Facebook accounts including "Shawn Christy Political Prisoner" and now defunct "McAdoo Streets Police Corruption."
Both the 47-year-old father and son say they suffer from Lyme disease. And both are convicts.
Each was punished in federal court in 2011 for trying to call Palin's family attorney and "[letting] the phone continuously ring."
Craig and Shawn served under a year prison time in Alaska and in other state facilities. They were then put on probation for five years and forced to pay restitution.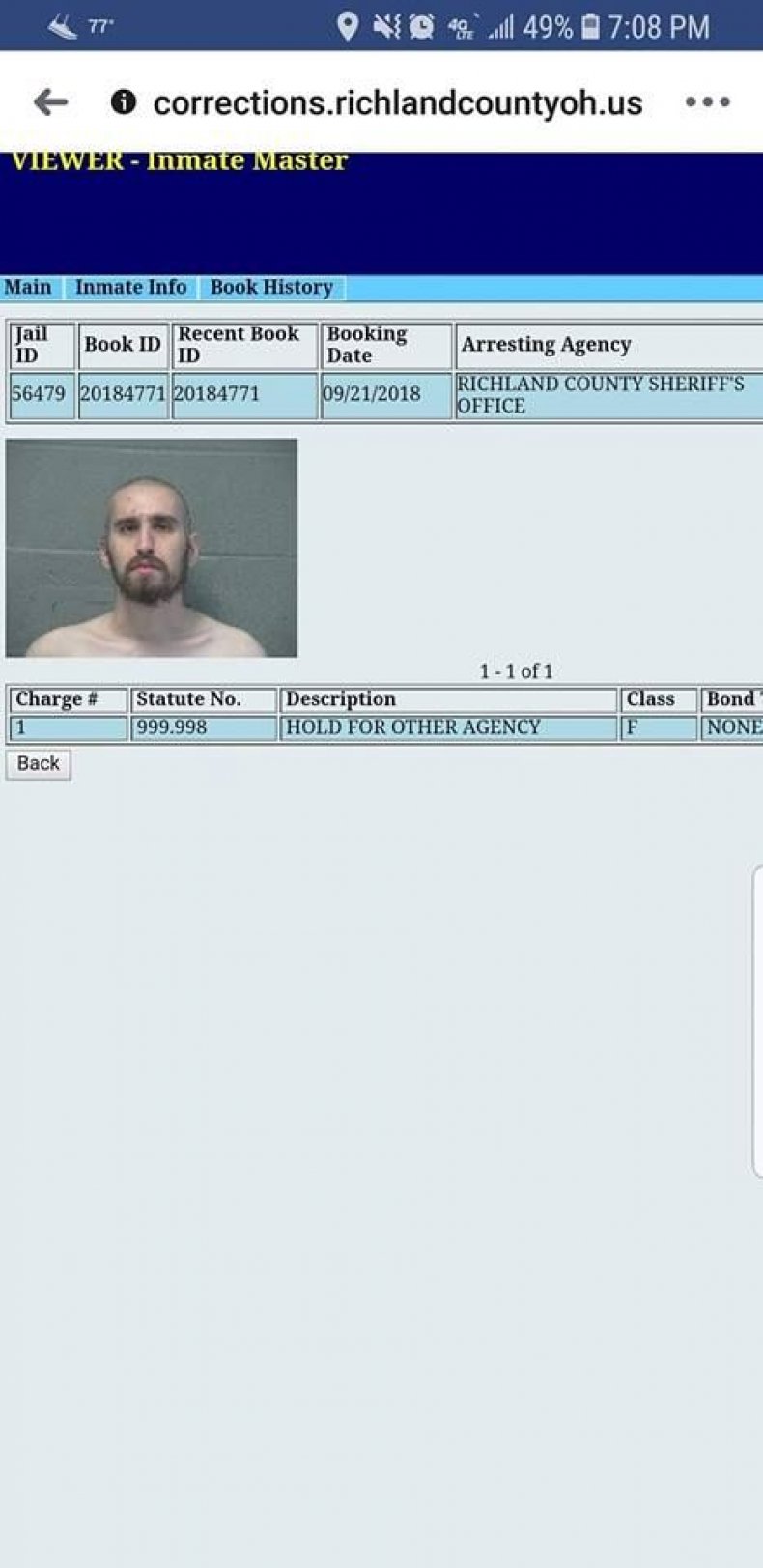 Craig acknowledged he was wrong. "I stepped over the line, and I took responsibility for it," he said. "I admitted in my sentencing statement: "Two wrongs don't make a right."
Though his son's criminal career allegedly continued, the couple maintain that he isn't a potential assassin but a desperately confused and contrite young man who wrote apology letters after every theft he perpetrated while on the run.
"Shawn leaves notes because he feels guilty," Craig said a day before he was captured. "Shawn's the only fugitive that leaves apology notes."
Update: This story has been updated with information about Christy's hearing.