What Is the Fujiwhara Effect, and Will Storm Laura and Tropical Depression 14 Collide Next Week?
Two tropical systems are forecasted to enter the Gulf of Mexico early next week, both of which have the potential to become hurricanes and make landfall at around the same time along the U.S. Gulf Coast, according to the National Weather Service (NWS).
This means we could potentially see an unusual phenomenon known as the "Fujiwhara effect," meteorologists are claiming.
"Two hurricanes are forecast to be in the Gulf of Mexico at the same time? There's even an overlap of the cone of uncertainty!? Whaaa?? What a unique situation!" News 12 meteorologist Mike Rizzo tweeted on Friday. "Are we soon gonna start talking about the #fujiwhara effect?"
But what exactly is this phenomenon?
The Fujiwhara Effect is when two tropical cyclones spinning in the same direction come close enough to each other that they begin to interact, essentially doing a "dance" around their common center, according to the NWS.
If the two storm systems are similar in strength, they may dance around each other for a while before spinning off in different trajectories. If one of the storms is much stronger than the other, then the larger system tends to absorb the smaller one, without necessarily increasing in size.
"[The Fujiwhara Effect] happens when two circulations come close enough to each other to affect the track and/or strength of one or both of them," Stu Ostro, a senior meteorologist at The Weather Channel television network, told Newsweek.
"The effect of one on another is typically to curve the tracks with either no change in strength or a weakening of at least one of the storms, and sometimes one dissipating completely and being absorbed by the other, rather than an increase in intensity.
Usually two cyclones might start to affect each other when they come as close as around 850 miles, according to the Hong Kong Observatory. The Fujiwhara Effect was named after Japanese meteorologist Sakuhei Fujiwhara who first described it in the early 1920s.
"This effect, discovered by a Japanese researcher almost 100 years ago, details how two tropical cyclones less than 900 miles apart rotate counter-clockwise about one another," Jonathan Erdman, a senior digital meteorologist at The Weather Company, told Newsweek. "Think of the teacup ride or the Tilt-a-Whirl at an amusement park. In the teacup ride, adjacent teacups can not only spin, but revolve around one another."
"It doesn't form a more dangerous, bigger storm. More often what we see is one storm weakening the other," he said. "And, even if the storms don't do the Fujiwhara dance, it is possible if one storm becomes stronger, it could produce an environment that squashes the other."
The two tropical systems that are expected to enter the Gulf next week—dubbed Tropical Depression 14 and Tropical Storm Laura—both formed on Thursday in the Atlantic Basin.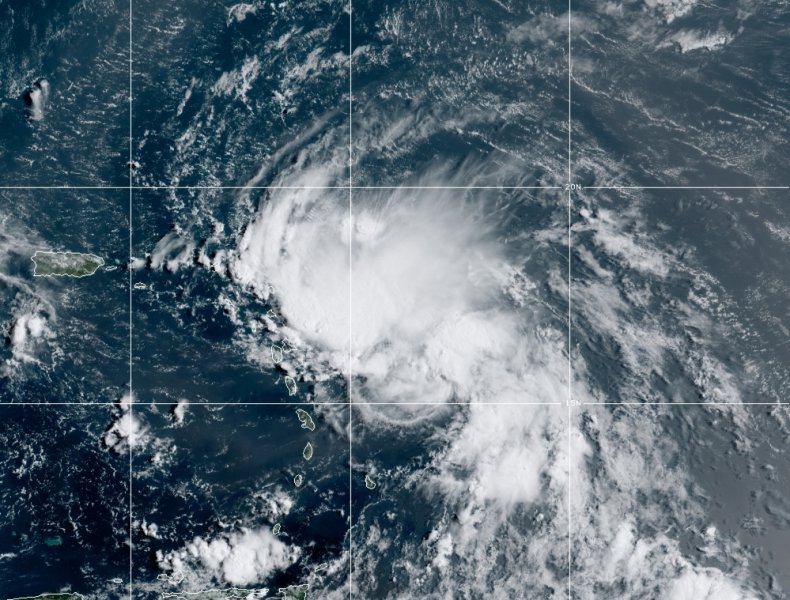 Storm Laura, currently located around 230 miles east-southeast of the northern Leeward Islands, strengthened to a tropical storm on Friday with sustained winds of 45 miles per hour. In doing so, Laura became the earliest 12th named storm on record in the Atlantic, according to WBMA-LD meteorologist James Spann.
The longer-range forecasts for the path and intensity of this tropical system are still relatively uncertain, but it could bring storm surges, rainfall and strong winds to parts of Hispaniola, Cuba, the Bahamas, and Florida this weekend and early next week, before affecting portions of Louisiana, Missouri, Alabama and Georgia, according to the NWS.
Meanwhile, Tropical Depression 14 is currently around 160 miles east of Isla Roatan, Honduras in the Caribbean Sea, with maximum wind speeds of 35 miles per hour.
The system is expected to be at or near hurricane strength by late Saturday. Forecasts suggest the system will reach the coasts of Louisiana and Texas early next week, although the exact path and strength of the storm is still relatively uncertain.
This means there could be two tropical storms in the Gulf of Mexico early next week, which has only happened on two previous occasions: September 5, 1933 (Treasure Coast and Cuba-Brownsville) and June 18, 1959 (Unnamed and Beulah,) according to Spann.
While it is currently not clear whether or not Laura and Tropical Depression 14 will interact with one another, both of their forecast cones—which show their predicted paths—overlap slightly, suggesting it is a possibility.
"These systems may both track into the Gulf of Mexico early next week, but there is a lot of uncertainty even with that general forecast. Assuming that happens, there is a chance the storms could interact with each other," Erdman said.
The Fujiwhara Effect is rare in the Gulf of Mexico but relatively common in the western Pacific.
"It's actually not that rare. You most often see this in the western and eastern Pacific Oceans. For instance, in July 2017, Tropical Storms Hilary and Irwin did the Fujiwhara dance, rotating around each other west of Mexico's Pacific Coast. Just a few days earlier, Typhoon Noru danced around and squashed a former Tropical Storm Kulap east of Japan," Erdman said.
This article was updated to include comments from Stu Ostro and Jonathan Erdman.