Fukushima Nuclear Disaster Site Residents Receive Drone Deliveries of Fried Chicken
A Japanese convenience store chain teamed up with a tech company to deliver fried chicken and other warm meals to those who returned to towns and villages in Fukushima, which was the scene of Japan's worst ever nuclear disaster in 2011.
When an evacuation order was lifted last year, residents began returning to their homes in the Osaka district of the city of Minamisoma, about 10 miles north of the Fukushima nuclear plant that suffered three meltdowns after it was damaged by an earthquake and a tsunami.
But accessing basic goods remains a challenge for residents. Retail chain Lawson has been running a mobile delivery service to remote areas of the country since 2013—sending a van to the district twice a week—but the vehicle has limited capacity and cannot serve hot food.
A drone, meanwhile, is able to deliver up to two kilograms (4.41 pounds) of food in a single journey.
"The town is starting to regain its former liveliness as its residents continue to return home," Lawson spokesperson Ken Mochimaru told the BBC. "However, improving the shopping environment for daily necessities, food, and other products represents a high-priority challenge."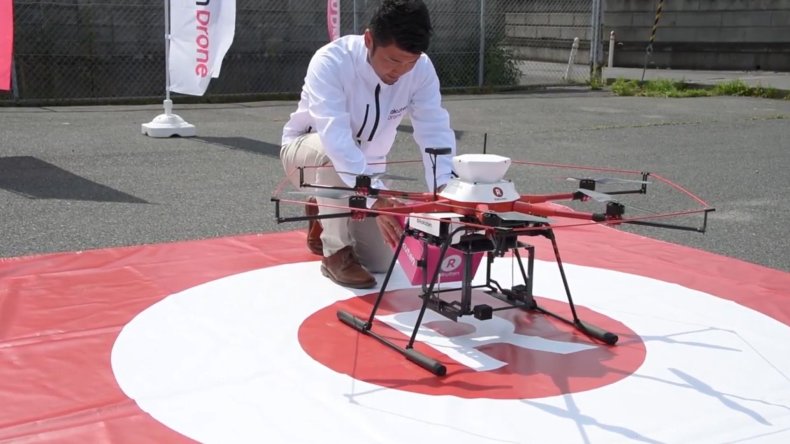 Made by IT giant Rakuten, the unmanned aerial vehicle called Tenku measures 7.7 inches in length and width and is around 6 inches tall. The company inaugurated its drone delivery services in 2016, in what Rakuten calls "a world first."
The service to the Fukushima prefecture was announced earlier in October and started delivering to the residents Tuesday, as part of a six-month long trial.
The first responses were reportedly enthusiastic. "It is warm and tasty. I want [the companies] to run the service for a long time because it is convenient," a 70-year-old local resident who ordered fried chicken and other items told Kyodo News.
"People here have been totally amazed by getting products from the sky," Rakuten Airmap CEO Hideaki Mukai said in a statement. "We would like to expand the service, while keeping in mind drone safety, as well as public acceptance. Because of the situation facing Minamisoma, people here have been quite accepting of drone flights."