Fukushima Nuclear Plant Workers Unearth Suspected World War II Unexploded Bomb
Workers at the Fukushima nuclear power plant in Japan have unearthed what appeared to be an unexploded wartime bomb.
The device was buried in the ground of a parking lot at the nuclear plant undergoing maintenance work, about half a mile away from the No.1 and No.4 reactors damaged in the devastating 2011 tsunami that caused a nuclear meltdown, hydrogen-air explosions and a leak of radioactive material at the plant.
The cylindrical-shaped object measured approximately 33 inches in length and had a diameter of about 6 inches, featuring what appeared to be a stabilizer tail, according to a statement from the plant's operator, Tokyo Electric Power Co. (TEPCO), reported in Japanese media on Thursday morning.
The workers called the police to the premises to confirm the device was indeed a bomb and to decide how to best dispose of it. The area has been cordoned off but, according to TEPCO, the discovery would not impact ongoing decommissioning operations at the plant.
The device would most likely be an American-made explosive, as local archives record the existence of a Japanese military airport near the site of the power plant, which would have been the target of U.S. air raids during World War II.
The unearthing of unexploded wartime bombs isn't uncommon for Japan, as the U.S. pounded the country with airstrikes in the final phases of the war to force the empire to surrender, eventually resorting to drop nuclear bombs on the cities of Hiroshima and Nagasaki in August 1945.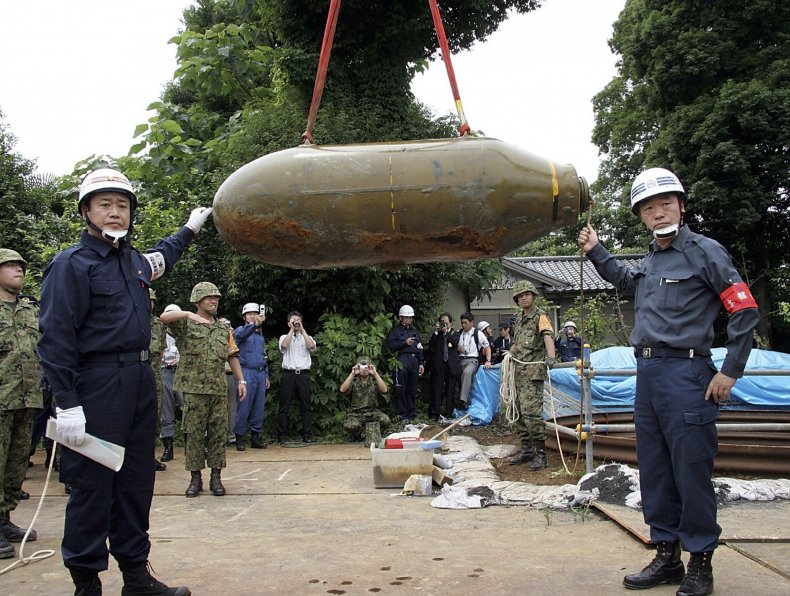 In 2010, 902 unexploded munitions —including rocket bombs, grenades and motor projectiles—believed to be U.S.-made, were found beneath a restaurant on the island of Okinawa, which was targeted by U.S. forces during a 83-day air and amphibious assault locals remember as the "Typhoon of Steel."
In 2005, the unearthing of a 1-ton bomb in western Tokyo caused the evacuation of 7,000 residents as the Japanese Ground Self Defense Forces removed the explosive.