The Full Beauty Photo Project: Big Women Bare All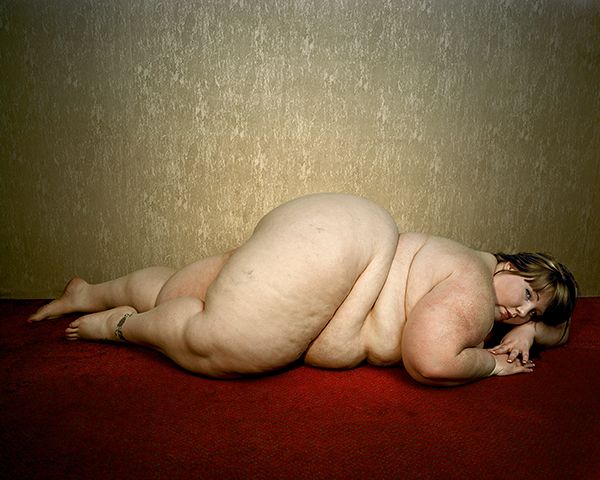 A woman stands in a dimly lit stairwell, her hands gently perched atop the banister, her head cocked upwards and to the left. She wears black underwear and a black strapless bra, which would make the photograph as uninteresting as pretty much every other lingerie shot except for the fact that the model is utterly enormous. Her upper arms sag down past her breasts, and her stomach falls in three distinct sections, one on top of the other. Her skin, especially below the area where her waist should be, looks more like a moonscape. And her thighs and calves are so profound that her feet appear miniscule, like dollhouse accessories.
She is one of the many women featured in Italian photographer Yossi Loloi's Full Beauty project, a collection of photos of obese women in the nude. The work, which began in 2006, was designed to challenge our accepted notions of beauty, sex, size and the female body.
"Women of size have always purely fascinated me," Loloi, 37, told Newsweek in an email interview. "I had a very strong drive to show something that normally people don't get to see. I like the serenity of the models I portrayed and to me their shapes are the most interesting thing I have seen in my life."
Reclining on floors and lounging on couches, Loloi's women, who weigh between 350 and 600 pounds and range in age from 23 to 50, are both demure (they hold dogs and flowers and some of them shield their breasts with their arms) as well as erotic (literally everything hangs out). One model poses on an unkempt bed: red lips, tousled brown hair, stomach as large and shapeless as a pillow. Another sits modestly on a chair, wavy blond hair everywhere and stretch marks clawed into her stomach; her thighs are so vast and jut out onto the chair at such an angle that it's as if you're seeing a different human form. The images offer up a corporeal exhibitionism that we rarely see in mainstream media. They are meant as provocation, an extreme end of a legitimate argument that women's bodies are beautiful and sexy at any shape and size.
The models are certainly vulnerable, but they exhibit a kind of courage that forces us to confront our assumptions about women's bodies — what we define as beautiful, ugly, fat, thin, disturbing, inspiring. Staring at their stretch marks and veins, suddenly we are the ones who are vulnerable. Our reactions to the photos say more about us than about the women we're looking at. Indeed, the impossibility of their beauty and size is at once unsettling and riveting; it's almost impossible to look away.
"The women depicted are targets of societal backlash, but they are strong," Loloi said. "They fight for acceptance in a world that doesn't approve of the slightest bulging of a love handle, let alone 'morbid obesity' or the possibility that some people find beauty in … all those things women spend thousands of dollars on every year trying to erase."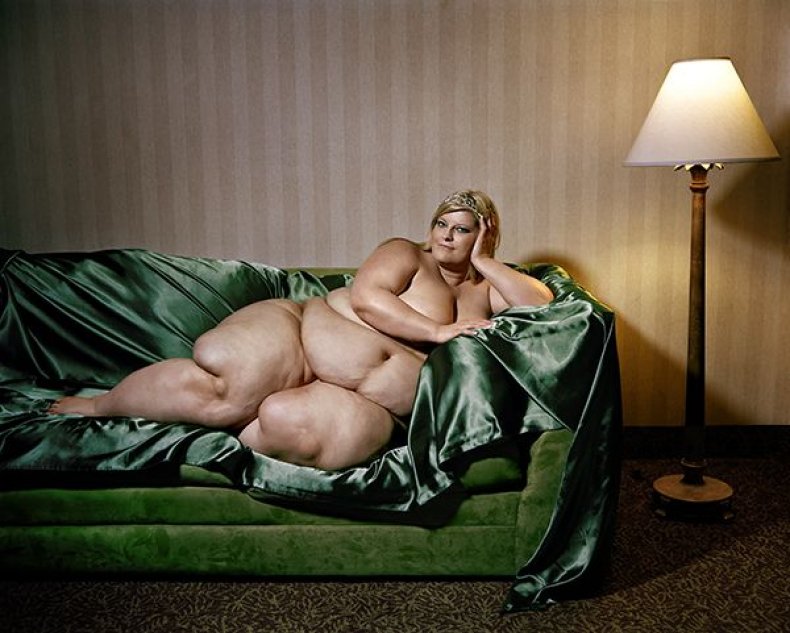 Born and raised in Milan, Loloi dropped out of high school when he was 16 to work at his father's Persian carpet business. (His father was born in Iran, his mother Israel; both are Jewish.) But Loloi had always gravitated towards art and photography, and at 24, he moved to Jerusalem to study at the Naggar School of Photography. Today, he lives in Milan.
Loloi met most of the women who posed for Full Beauty at events in the size acceptance scene across the United States, which promotes anti-fat bias as well as the Big Beautiful Women community. Some women had experience as erotic models while others had never sat for a photographer. "I didn't have to do anything special to entice them into participating," he said of the models. "When your idea matches someone's belief, it just happens."
The Full Beauty project has garnered both praise and criticism. Some people have thanked Loloi for portraying women's bodies in a new way, while others claim his work exploits the obese and glorifies a dangerous medical condition. "The more people accuse me of promoting fat, the more I understand that there is more work to be done to remind people that we are beautiful because we are different," he said. "Why is showing a nude fat women labeled a 'provocation,' but seeing a 'fit' model nude on a magazine is not?"
Full-figured women are claiming their place in the largely anorexic vortex of rail-thin cover girls. This fall, Eden Miller became the first plus-size fashion designer to show at New York Fashion Week with her new line, Cabiria. Plus-size models like Fluvia Lacerda (the "plus-size Gisele Bundchen"), Candice Huffine and Robyn Lawley have appeared on the pages of Vogue Italia, Bust, W and France's Marie Claire. And celebrities like Christina Hendricks, America Ferrera and Queen Latifah prove that curves sell. Yet plus-size comedian Melissa McCarthy's recent turn on the cover of Elle, in which her wind-swept hair covers part of her face and a gigantic gray coat hides her body, reveals ­that we still have a ways to go.
In a world where over one-third of American adults are obese — where the average American woman wears a size 14 and more U.S. women report wearing a size 16 dress than a size 2 and 0 combined — the Full Beauty project is less a confrontation than a nod to reality. Loloi's models are distant relatives of Duane Bryers' little-known plus-size pinup queen, Hilda, who adorned American calendars from the 1950s to the 1980s; his photos are like poster advertisements for the fullest brand of full-bodied beauty, only those ads are actually art.
"It's not only the acknowledgement of 'fat' as subversive beauty," Loloi said. "It's the realization that simply anyone can be beautiful."