Full List of 172 Republicans Who Opposed the Violence Against Women Act
The House voted on Wednesday to reauthorize the Violence Against Women Act after 29 Republicans broke with their party to support the bill, which offered women protections from domestic violence, sexual assault and other harassment.
Lawmakers approved the bill in a 244-172 vote following its lapse in late 2018. The Democratic-controlled House sought to renew the bill the following year, but it was held up in the Republican-controlled Senate.
Now the Democrats hold a one-vote majority in the upper chamber and are hoping to garner the Republican support needed for a 60-vote supermajority that negates the threat of the filibuster.
President Joe Biden, who first introduced the bill as a senator in 1990, celebrated its reauthorization in the House and called on the upper chamber to "strengthen and renew" the law.
Releasing a statement, Biden said: "This should not be a Democratic or Republican issue — it's about standing up against the abuse of power and preventing violence." He then urged a "bipartisan coalition" in the Senate to get the law over the final hurdle.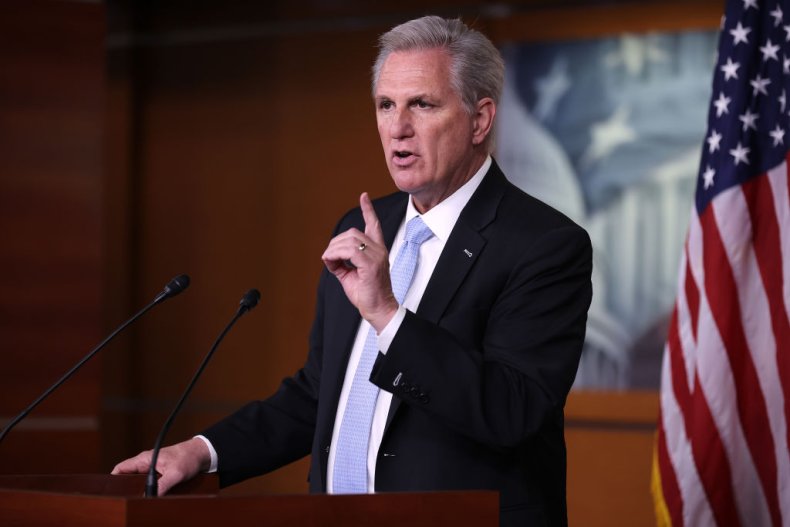 A number of provisions in the Violence Against Women Act have widespread bipartisan support, such as state grants for sexual assault and domestic violence services, and offers of housing assistance for victims of domestic abuse.
However, Republicans have taken issue with several new or expanded measures in the bill, including the closure of the so-called "boyfriend loophole." The closure of the loophole would extend the ban on abusers being allowed to own or buy a firearm.
At present, the rule applies to those convicted of violence against former or present spouses—but not those in non-marital relationships.
Sen. Joni Ernst (R-IA), a survivor of sexual assault, is leading Republicans preparing an alternative to the bill. The Iowa senator said gun control provisions in the fresh bill were a sticking point with GOP colleagues.
Here's a full list of the 172 House Republicans who voted against the altered Violence Against Women Act: Robert Aderholt (AL), Rick Allen (GA), Mark Amodei (NV), Kelly Armstrong (ND), Jodey Arrington (TX), Brian Babin (TX), Don Bacon (NE), James Baird (IN), Jim Banks (IN), Andy Barr (KY), Cliff Bentz (OR).
Jack Bergman (MI), Andy Biggs (AZ), Gus Bilirakis (FL), Dan Bishop (NC), Lauren Boebert (CO), Mo Brooks (AL), Vern Buchanan (FL), Ken Buck (CO), Larry Buschon (IN), Ted Budd (NC), Tim Burchett (TN), Michael Burgess (TX), Ken Calvert (CA), Kat Cammack (FL).
Jerry Carl (AL), Madison Cawthorn (NC), Steve Chabot (OH), Liz Cheney (WY), Ben Cline (VA), Michael Cloud (TX), Andrew Clyde (GA), James Comer (KY), Eric Crawford (AR), John Curtis (UT), Warren Davidson (OH), Scott DesJarlais (TN), Byron Donalds (FL), Jeff Duncan (SC), Neal Dunn (FL).
Tom Emmer (MN), Ron Estes (KS), Pat Fallon (TX), Randy Feenstra (IA), A. Drew Ferguson (GA), Michelle Fischbach (MN), Scott Fitzgerald (WI), Charles Fleischmann (TN), Jeff Fortenberry (NE), Virginia Foxx (NC), Scott Franklin (FL), Russ Fulcher (ID).
Matt Gaetz (FL), Mike Gallagher (WI), Andrew Garbarino (NY), Mike Garcia (CA), Bob Gibbs (OH), Louie Gohmert (TX), Tony Gonzales (TX), Bob Good (VA), Lance Gooden (TX), Paul Gosar (AZ), Kay Granger (TX), Garret Graves (LA), Sam Graves (MO), Mark Green (TN), Marjorie Taylor Greene (GA).
H. Morgan Griffith (VA), Glenn Grothman (WI), Brett Guthrie (KY), Jim Hagedorn (MN), Andy Harris (MD), Diana Harshbarger (TN), Vicky Hartzler (MO), Kevin Hern (OK), Yvette Herrell (NM), Jaime Herrera Beutler (WA), Jody Hice (GA), Clay Higgins (LA).
J. Hill (AR), Ashley Hinson (IA), Trey Hollingsworth (IN), Richard Hudson (NC), Bill Huizenga (MI), Ronny Jackson (TX), Mike Johnson (LA), Bill Johnson (OH), Dusty Johnson (SD), Jim Jordan (OH), John Joyce (PA), Fred Keller (PA), Trent Kelly (MS), Mike Kelly (PA).
David Kustoff (TN), Darin LaHood (IL), Doug LaMalfa (CA), Doug Lamborn (CO), Robert Latta (OH), Jake LaTurner (KS), Debbie Lesko (AZ), Billy Long (MO), Frank Lucas (OK), Blaine Luetkemeyer (MO), Nancy Mace (SC), Tracey Mann (KS), Thomas Massie (KY), Brain Mast (FL), Kevin McCarthy (CA).
Lisa McClain (MI), Tom McClintock (CA), Patrick McHenry (NC), David McKinley (WV), Daniel Meuser (PA), Mary Miller (IL), Carol Miller (WV), John Moolenaar (MI), Alexander Mooney (WV), Barry Moore (AL), Blake Moore (UT), Gregory Murphy (NC).
Troy Nehls (TX), Dan Newhouse (WA), Ralph Norman (SC), Devin Nunes (CA), Jay Obernolte (CA), Burgess Owens (UT), Steven Palazzo (MS), Gary Palmer (AL), Greg Pence (IN), Scott Perry (PA), August Pfluger (TX), Bill Posey (FL), Guy Reschenthaler (PA).
Tom Rice (SC), Cathy Rodgers (WA), Mike Rogers (AL), Harold Rogers (KY), John Rose (TN), David Rouzer (NC), Chip Roy (TX), John Rutherford (FL), Steve Scalise (LA), David Schweikert (AZ), Austin Scott (GA), Pete Sessions (TX), Jason Smith (MO), Adrian Smith (NE), Christopher Smith (NJ), Lloyd Smucker (PA).
Victoria Spartz (IN), Michelle Steel (CA), Elise Stefanik (NY), W. Gregory Steube (FL), Chris Stewart (UT), Van Taylor (TX), Claudia Tenney (NY), Glenn Thompson (PA), Thomas Tiffany (WI), William Timmons (SC), Michael Turner (OH), Beth Van Duyne (TX), Ann Wagner (MO).
Tim Walberg (MI), Jackie Walorski (IN), Michael Waltz (FL), Randy Weber Sr. (TX), Daniel Webster (FL), Bruce Westerman (AR), Roger Williams (TX), Robert Wittman (VA), Steve Womack (AR) and Lee Zeldin (NY).