Full List of 35 Republicans Who Voted for January 6 Commission
House lawmakers voted on Wednesday to set up an independent commission to investigate the deadly January 6 Capitol riots, a move that was backed by roughly a fifth of the Republican caucus.
The House of Representatives voted 252-175 in favor of the commission, with all 175 votes against coming from the GOP benches.
Proponents included 35 Republicans who split with their party to vote in favor of the 9/11-style probe into the pro-Trump riots, which followed a rally the former president held nearby earlier in the day.
Posting on social media, Rep. Liz Cheney, a Republican who voted in favor of the commission, urged the Senate to pass the bill. "Some things must be above politics," she tweeted.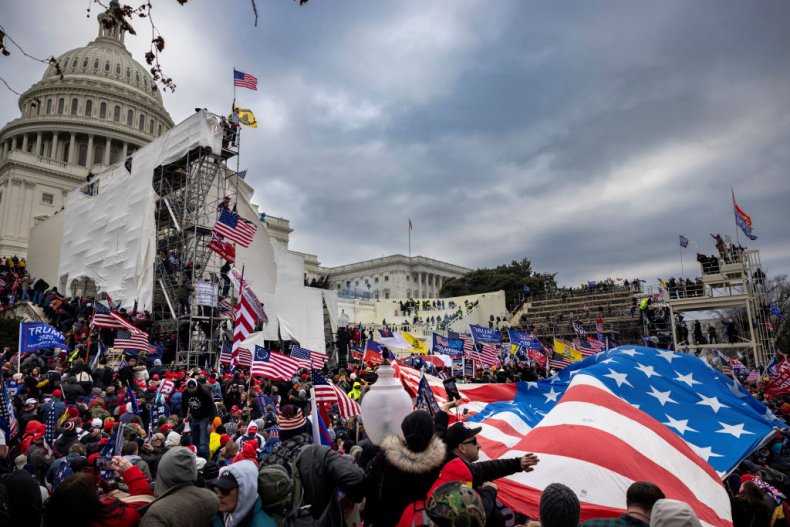 Her colleague Rep. Adam Kinzinger (R-IL) also spoke in favor of the independent commission on Tuesday. "Making this effort bipartisan is critical to ensuring we find out what led to this insurrection and what security measures are needed moving forward," he said in a statement.
Congressman John Katko (R-NY) also urged his colleagues to back the commission after he brokered a deal on the bill with Democratic lawmakers. Newsweek has contacted Katko's office for further comment.
Republican support for the commission in the House is not likely to make a difference. Senate Minority Leader Mitch McConnell (R-KY) signaled that he was opposed to the commission on Wednesday, and Democrats will need 10 GOP senators to vote with them if they want the probe to have final approval.
"There is, has been and will continue to be no shortage of robust investigations," McConnell said in the Senate. "The facts have come out and they'll continue to come out."
GOP senators will also feel pressure from former President Donald Trump to block the bipartisan investigation plans from going any further. He urged Republicans to reject the bill on Tuesday, dubbing it a "Democrat trap."
The full list of Republican lawmakers who voted in favor of the January 6 commission is as follows: Rep. Don Bacon (NE); Rep. Cliff Bentz (OR); Rep. Stephanie Bice (OK); Rep. Liz Cheney (WY); Rep. John Curtis (UT); Rep. Rodney Davis (IL); Rep. Brian Fitzpatrick (PA); Rep. Jeff Fortenberry (NE); Rep. Andrew Garbarino (NY).
Rep. Carlos Gimenez (FL); Rep. Tony Gonzales (TX); Rep. Anthony Gonzalez (OH); Rep. Michael Guest (MS); Rep. Jaime Herrera Beutler (WA); Rep. French Hill (AR); Rep. Trey Hollingsworth (IN); Rep. Chris Jacobs (NY); Rep. Dusty Johnson (SD); Rep. David Joyce (OH); Rep. John Katko (NY).
Rep. Adam Kinzinger (IL); Rep. David McKinley (WV); Rep. Peter Meijer (MI); Rep. Mariannette Miller-Meeks (IA); Rep. Blake Moore (UT); Rep. Dan Newhouse (WA); Rep. Tom Reed (NY); Rep. Tom Rice (SC); Rep. Maria Salazar (FL); Rep. Mike Simpson (ID); Rep. Chris Smith (NJ); Rep. Van Taylor (TX); Rep. Fred Upton (MI); Rep. David Valadao (CA); Rep. Steve Womack (AR).