Full list of Iranian Protesters Facing Death Sentences By Regime
At least 21 protesters in Iran are at risk of receiving the death penalty in sham trials that would highlight "the deeply flawed nature of the proceedings by Revolutionary Courts," according to a report by Amnesty International.
Since November 13, Iran's authorities have already sentenced to death five unidentified protesters who were accused of "enmity against God" and "corruption on earth" for their role in mass demonstrations that have shaken the country since the death of 22-year-old Kurdish woman Mahsa Amini in September.
The death sentences, according to Amnesty International, were justified by Iran's authorities for acts of arson, destruction of property, and a fatal assault to a member of the security forces committed by the five individuals during protests in Tehran province.
According to Amnesty, at least 21 others—including a woman—are currently facing capital charges in connection with the protests. As thousands of people were arrested for the mass anti-government demonstrations across the country, the NGO fears the number who could be charged with the death penalty could be much higher.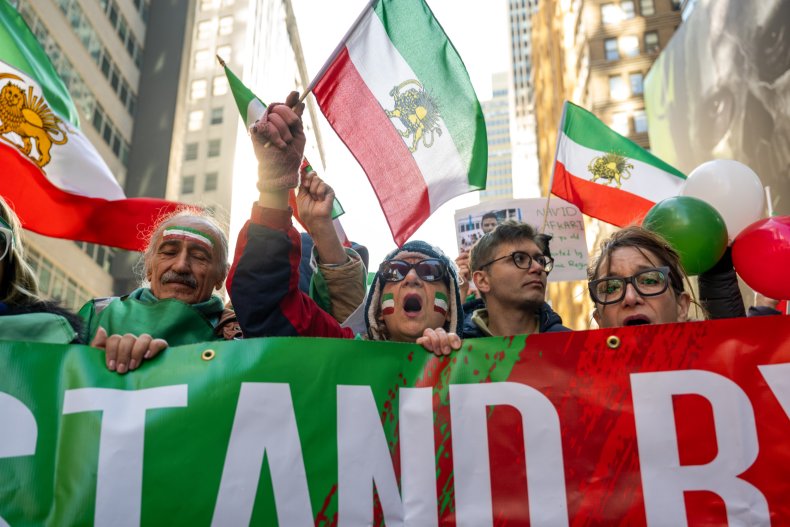 Who Are The 21 At Risk Of Receiving The Death Penalty?
Amnesty International reports that six men charged with "enmity against God" or "corruption on earth"—the same crime for which five people have already been sentenced to death—have been referred to a Revolutionary Court in Tehran for a group trial.
These six men, as reported by Amnesty, are Mohammad Ghobadlou, Saman Seydi (Yasin), Saeed Shirazi, Mohammad Boroughani, Abolfazl Mehri Hossein Hajilou, and Mohsen Rezazadeh Gharagholou.
Three other men—Sahand Nourmohammad-Zadeh, Mahan Sedarat Madani and Manouchehr Mehman-Navaz—are also facing separate trials before Revolutionary Courts in Tehran for the alleged crime of "enmity against God".
According to Amnesty, in eight of these cases "the charges carrying the death penalty involve no accusations of intentional killing and primarily stem from acts described as vandalism, destruction of public and/or private property, arson and disturbing public order."
Eleven more people are facing trial after having been accused of "corruption on earth" before a Revolutionary Court in Karaj, Alborz province, according to Amnesty. The NGO reports the name of two of those individuals, married couple Farzaneh Ghare-Hasanlou and Hamid Ghare-Hasanlou.
Amnesty was also notified of another man potentially facing a death sentence, 26-year-old Parham Parvari, who was charged with "enmity against God" after being arrested as he was returning home from work during protests in the capital Tehran.
Are These Fair Trials?
On November 6, 227 of 290 Iran's parliamentarians labelled some protesters "mohareb"—indicating an individual accused of "waging war against God." The MPs asked the country's judiciary to "show no leniency" and issue death sentences against them to "serve as a lesson" to others, Amnesty reports. But as the statement raised criticism both in Iran and abroad, Iran's parliamentarians "have since backtracked and disputed the accuracy of the statement," Amnesty said.
A day later, on November 7, Iran's Head of the Judiciary, Gholamhossein Mohseni-Ejei called for speedy trials and punishments, including executions, saying that: "[When] a person holds firearms or cold weapons and uses them, and for the purpose of collaborating with the enemy or as an agent of the enemy, has disturbed the security of the country, created fear in the surrounding area and, at the same time, committed murder, they can be executed under the principle of qesas [retribution in kind] as well as under other [criminal] charges. Judicial colleagues should take action as soon possible towards deterrent prosecutions and punishments of elements and culprits of the recent riots," Amnesty reports.
Amnesty says that there are several documented violations of fair trials against the 21 protesters, including denial of the rights to access a lawyer of their own choosing from the time of arrest and throughout the trial proceedings, denial of the right to be presumed innocent, to remain silent and not to be compelled to incriminate oneself or to confess guilt.
According to international law, a death sentence imposed after an unfair trial violates the right to life and the absolute prohibition of torture and other ill-treatment.
Amnesty is now calling for every government with embassies in Iran to send their representatives to the protesters' trials.
"Two months into the popular uprising and three years on from the November 2019 protests, the crisis of impunity prevailing in Iran is enabling the Iranian authorities to not only continue carrying out mass killings but also to escalate the use of the death penalty as a tool of political repression," Amnesty International's Deputy Director for the Middle East and North Africa Diana Eltahawy wrote in a statement.
"Member states of the UN Human Rights Council holding a special session on Iran next week must urgently establish an investigative and accountability mechanism to address this all-out-assault on the right to life and other human rights."
Are Protests Continuing?
Iranians are keeping up anti-government protests which started on September 16 after Amini died in police custody. She had been being arrested by the country's morality police for allegedly wearing her hijab "improperly."
The response to the protests from Iranian authorities has been to try to brutally repress them. On Monday, Iranian security forces used heavy gunfire against demonstrators in a Kurdish town in the country's west, killing at least five. The protests started after the funeral of two people who were killed the day before, according to activists, the Associated Press reports.
Despite hundreds of protesters having reportedly been killed, the demonstrations are unlikely to stop.
"One thing is perfectly clear to all analysts and observers—and this is something we can confirm from on the ground reports from Iran—is that we have passed a point of no return and this regime is on its knees," Ali Safavi, a member of the Foreign Affairs Committee of the Paris-based National Council of Resistance of Iran, told Newsweek.
"When you have school kids chanting, writing graffiti, engaging in street demonstrations, and when the young generation and women are in the streets, and all of society is supportive, and they are fully rejecting the regime and its apologists, then even the regime knows there is no going back.
"It is the beginning of the end [for the Islamic Republic of Iran] because, despite the very severe and harsh crackdown and repeated warning by the regime Supreme Leader Ali Khamenei, his president Ebrahim Raisi, IRGC commander in chief Hossein Salami, Friday prayer leaders and other officials, the protesters have not only refused to back down, but have in fact stepped up their anti-regime activities and are openly challenging it. It is as though they have found purpose and the will to fight, regardless of the cost it might entail," Safavi said.
"It would not be unreasonable that after 43 years of a nightmarish rule, the Iranian people will finally taste victory and freedom. We are not merely hoping for that, we are working to make that happen 24/7."
Newsweek has contacted Amnesty International and the Iranian government for comment.