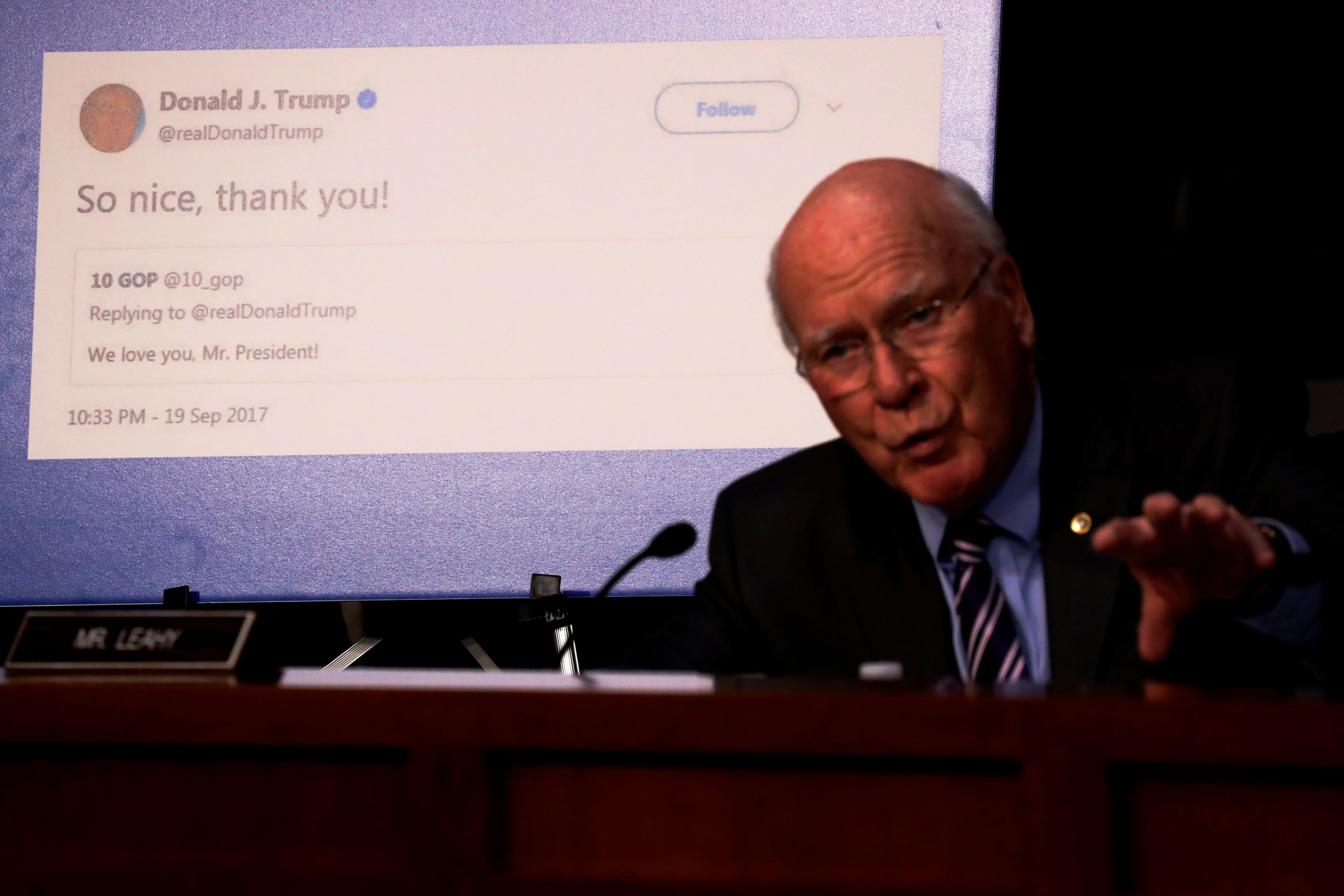 As part of the investigation of data handed over by Twitter, Facebook and Google, lawmakers have released a full list of 2,752 now-deactivated Twitter accounts suspected of being Russian bots.
The accounts, which include references to the U.S. election, President Donald Trump, Russian domestic politics and Ukraine, were all linked to the Internet Research Agency, a Russian firm that operated hundreds of fake accounts to spead divisive political messages ahead of the 2016 election.
Published in a 65-page list are 2,752 Twitter handles and their identification numbers, all supposedly spawned from the St. Petersburg-based unit.
Some make no attempt to disguise their connection to Russia, with at least nine having either "Russia" or "Russian" in their handle. Many others take Eastern European names such as @Kuznetsov_Boris and @MariaKokoshkina, passing off as individuals' personal accounts.
There are 27 accounts the reference "novosti" (translates as "news") in an effort to push a message to a Russian-speaking audience. Indeed, only those clued up on Russian politics would take interest in @TrueNavalny—likely dedicated to Alexey Navalny, the Kremlin's top critic—or @SpasiboVVP (translated as "Thank you VVP"—Vladimir Putin's initials.)
A considerable portion of the handles operated by the St. Petersburg group don the guise of individuals with Western-sounding names such as @MaryRobinson111, @CarrieThornthon and @BigJoeFloyd.
Perhaps more telling of the nature of the operation, is the fact that many of the names look like innocuous, local U.S. news outlets such as @MilwaukeeVoice, @DallasTopNews, @HoustonTopNews, @NewOrleansON, @KansasDailyNews and @WashingtOnline.
They feature on a list that includes the same type of accounts targeting an audience in Ukraine—a country that has fought a Russian disinformation campaign along with troops on its territory for three years.
One account refers to one of the biggest cities in Ukraine with a big Russian-speaking population @OdessaNews24, while another, @KievNovini, puts its attention on the Ukrainian capital.
The list of names includes not only handles that could pass for activist groups such as @NotMyHeritage, @LgbtRally and @BlacktivistsUS, but ones with specific partisan references to U.S. politics.
Seven contain President Donald Trump's last name such as @March_for_Trump, while five mention the "GOP," such as @10_gop, @TEN_GOP, @realTEN_GOP and @ELEVEN_GOP.
Hillary Clinton's surname features in none of the handles, while her first name features only in two: @hillaryssTr and @PeeOnHillary. The DNC is not mentioned but one accounts, @NewYorkDem, possibly refers to the Democratic Party.
The Russian government has dismissed the conclusion of all U.S. intelligence agencies that it interfered in last year's election.