Stunning Full Moon January 2022 Photos Show Wolf Moon Shining Around the World
Stunning photos taken around the world show January 2022's full moon, also known as the Wolf Moon, illuminating the sky.
The full moon, which was the first of 2022, occurred on Monday at 6:48 p.m. ET. It will appear full to the untrained eye for around three days from Sunday evening to Wednesday morning, according to NASA. The moon appears full to us on Earth when the sun lights up the side of the moon that is facing our planet.
Professional and amateur photographers alike pointed their lenses to the skies on Monday night, with some sharing their photos of the moon shining brightly on social media.
Photos, seen in the gallery below, show the moon having risen on Monday in Italy, London, Bangkok, and nearing fullness in New York on Sunday.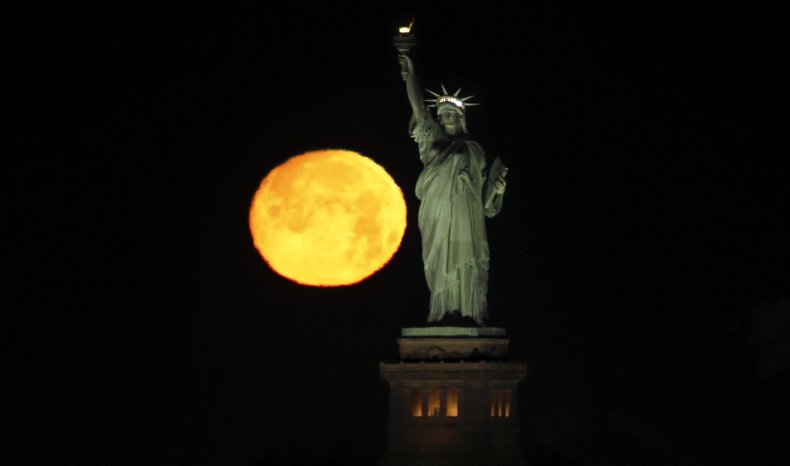 In Focus
A 98 percent illuminated Wolf Moon sets behind the Statue of Liberty before sunrise on January 16, 2022, in New York City.
Launch Slideshow

4 PHOTOS
Twitter user Lucy Ward shared an image she took just after 7:30 a.m. GMT on Tuesday near the village of Wimbish in the English county of Essex.
Another Twitter user named PictureMeWild shared an image of the moon as seen in Moulton, a village in Cheshire, northwest England.
A photo shared by Tom Denham, social media manager of racehorse trainer Tim Easterby, showed horses being ridden beneath the moon in Habton Grange, near the town of Malton, North Yorkshire, England, on Monday morning.
A photographer who goes by the name Veronica in the Fens shared an image of the Wolf Moon above Ely Cathedral in Cambridgeshire, England.
Why Is the January Moon Called a Wolf Moon, and Does It Have Other Names?
According to The Old Farmer's Almanac, which documents names used by traditional North American sources including Native Americans and colonial Americans, January's moon gets its name from the sound of wolves howling. It was previously believed that the wolves howled out of hunger, however, it is now thought they do so for a range of reasons including finding members of their pack and marking their territory.
Alternative names include: the Canada Goose Moon; Center Moon; Cold Moon; Freeze Moon; Frost Exploding Moon; Great Moon; Greetings Moon; Hard Moon; Severe Moon and Spirit Moon.
According to NASA, old Europeans called the first moon of the year the Moon after Yule, with Yule referring to a celebration of winter solstice.
When Are the Next Full Moons in 2022?
The times below are all U.S. Eastern Time.
| | | |
| --- | --- | --- |
| February 16 | Snow Moon | 11:57 a.m. |
| March 18 | Worm Moon | 3:17 am. |
| April 16 | Pink Moon | 2:55 p.m. |
| May 16 | Flower Moon | 12:14 a.m. |
| June 14 | Strawberry Moon | 7:52 a.m. |
| July 13 | Buck Moon | 2:37 p.m. |
| August 11 | Sturgeon Moon | 9:36 p.m. |
| September 10 | Harvest Moon | 5:59 a.m. |
| October 9 | Hunter's Moon | 4:55 p.m. |
| November 8 | Beaver Moon | 6:02 a.m. |
| December 7 | Cold Moon | 11:08 p.m. |