Full Text of Supreme Court Justices' Dissenting Opinion on Roe v. Wade
The U.S. Supreme Court on Friday ruled in favor of overturning Roe v. Wade, which was widely known for creating a constitutional right to receive an abortion.
The ruling in Dobbs v. Jackson Women's Health Organization overturned the decision in the 1973 court case and leaves the decision up to states to either ban or allow abortion. The ruling also overturned the 1992 decision in Planned Parenthood v. Casey.
While a majority of Supreme Court justices voted in favor of overturning Roe v. Wade, three liberal justices—Stephen Breyer, Elena Kagan and Sonia Sotomayor—wrote a dissenting opinion.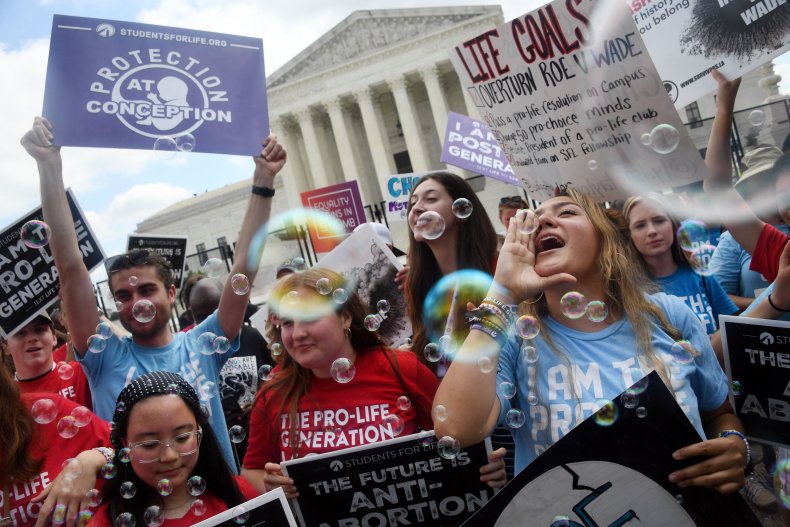 "With sorrow—for this Court, but more, for the many millions of American women who have today lost a fundamental constitutional protection—we dissent," the three justices wrote in their dissenting opinion. "Enforcement of all these draconian restrictions will also be left largely to the States' devices. A State can of course impose criminal penalties on abortion providers, including lengthy prison sentences.
"But some States will not stop there. Perhaps, in the wake of today's decision, a state law will criminalize the woman's conduct too, incarcerating or fining her for daring to seek or obtain an abortion. And as Texas has recently shown, a State can turn neighbor against neighbor, enlisting fellow citizens in the effort to root out anyone who tries to get an abortion, or to assist another in doing so."
Read the full text of the ruling below, using the sidebar to scroll through the opinion:
In another portion of the dissenting opinion, the three justices wrote, "Roe and Casey were from the beginning, and are even more now, embedded in core constitutional concepts of individual freedom, and of the equal rights of citizens to decide on the shape of their lives.
"Those legal concepts, one might even say, have gone far toward defining what it means to be an American. For in this Nation, we do not believe that a government controlling all private choices is compatible with a free people. So we do not (as the majority insists today) place everything within 'the reach of majorities and [government] officials.'"
"For millions of women, Roe and Casey have been critical in giving them control of their bodies and their lives," the justices added in the dissenting opinion."
Earlier this year, Politico obtained a leaked draft opinion written by Supreme Court Justice Samuel Alito that sought to overturn the 1973 ruling in Roe v. Wade.
As the decision will be left to states, several have "trigger laws" in place that allow states to quickly ban abortions following the reversal of Roe v. Wade.
Missouri became the first state to impose its "trigger law" on Friday, just moments after the Supreme Court opinion was released.
Update 6/24/22, 1:04 p.m. ET: This story has been updated with additional information.