'Fuller House': How the Netflix Show Explained Lori Loughlin's Absence as Aunt Becky
Fuller House Season 5 (streaming now on Netflix) has one cast member noticeably missing. Lori Loughlin is absent as Aunt Becky while the actor deals with the fallout of her involvement in the college admissions bribery scheme. In the first part of the season, released in December 2019, her absence was not remarked upon, but in Part 2 of Season 5, fans finally got an in-show explanation for where Aunt Becky has been all this time.
In Fuller House Season 5, Episode 15, titled "Be Yourself, Free Yourself," Jesse Katsopolis (played by John Stamos) explained exactly where his wife is in the universe of the Netflix show.
In that episode, Jesse is asked why his wife isn't with him after he complains that his daughter was bitten by a school friend. When DJ (Candace Cameron Bure) asked, "You don't think you should run this by Aunt Becky first?," Jesse replied, "Becky is in Nebraska helping out with her mother. I don't want to bother her with a tiny little thing like that." This is a callback to the original Full House, in which it was established that Becky was born and raised by mother Nedra and father Kenneth Donaldson in Valentine, Nebraska.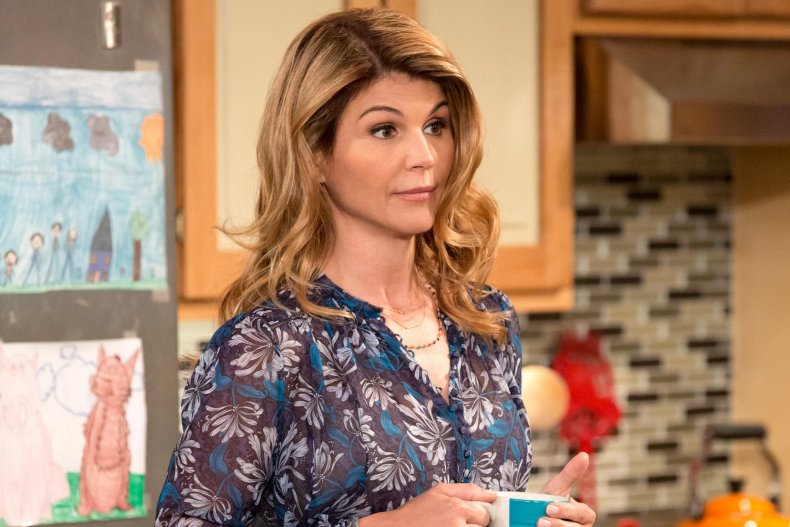 Coincidentally, the reason for Aunt Becky not being in Fuller House was similar to the explanation given in Loughlin's other show When Calls the Heart for why her character Abigail had left the show. In that Hallmark Channel series, she had also moved to another state after her character's mother was taken ill.
Loughlin was first announced to not be returning to Fuller House in March 2019. At that time, a "well-positioned source" told Deadline: "She's toast, it's over."
Though there had been some speculation that Loughlin might return for a cameo in the final episodes of Fuller House, she does not make an appearance in the Netflix show's fifth season, and thus misses the triple wedding that brings the series to an end.
Loughlin is currently awaiting sentencing after pleading guilty to conspiracy to commit wire and mail fraud. Her husband Mossimo Giannulli, meanwhile, has pled guilty to one count of conspiracy to commit wire and mail fraud and honest services wire and mail fraud.
They both accepted a plea deal that would see Loughlin spend two months in prison and pay $150,000 in fines and Giannulli send five months in jail with $250,000 in fines. Massachusetts judge Nathaniel Gorton is currently deciding whether to approve this sentence, and is set to give his ruling on August 21.
A source said of this to E! News: "This has ruled their lives and has been hanging over their heads for so long, it has really taken its toll. They were feeling very concerned about the virus and jail sentences and they are hopeful the court will sentence them appropriately. They want to put this behind them and move on."
Fuller House Season 5 is streaming now on Netflix.