'Fuller House' Season 5 Cast: Will Lori Loughlin Appear in the Final Episodes?
Fuller House Season 5B is out now on Netflix, with the final nine episodes available to stream around the world. Behind-the-scenes shots from the filming of the finale revealed that a number of familiar faces are returning for the final episodes. However, though actors like Bob Saget, Dave Coulier and John Stamos make an appearance, no photos emerged of Lori Loughlin playing Aunt Becky.
That is because she is not set to appear in Fuller House Season 5 Part 2. After the actor was indicted as part of a college admissions bribery scheme, The Hollywood Reporterwrote that Netflix has "no current plans for her to return."
Her fellow castmates have spoken about what it was like filming the final episodes without their former co-star. Coulier, for example, told Us Weekly that "it didn't feel right" shooting the show without the Aunt Becky star. Kimmy Gibbler actor Andrea Barber, meanwhile, told the magazine's Watch With Us podcast: "She was a big part of Fuller House. She wasn't in every episode, but her presence was definitely felt. We loved every single time she came on the set. So we have definitely felt her absence this season."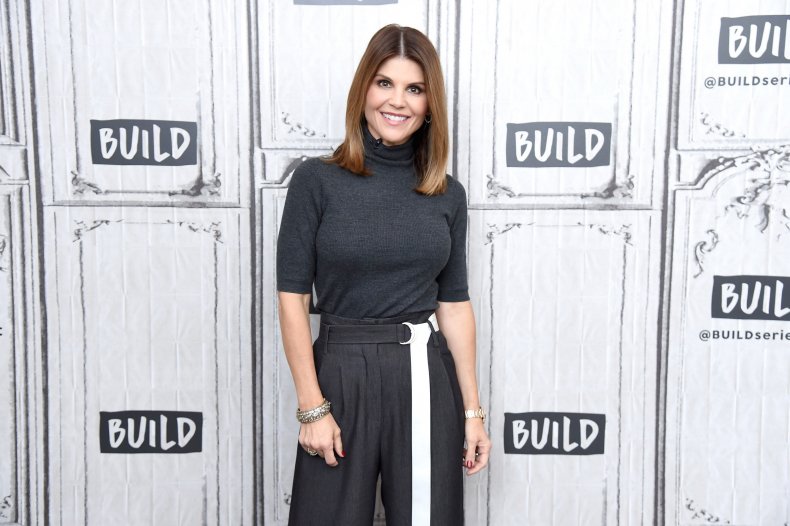 Fuller House Season 5 is not the only Full House-related project Loughlin has recently been missing from. In April, Stamos released a lockdown-related parody of the show's opening titles called Full Quarantine on his Instagram that featured himself, Saget, Coulier, Barber and more—but no Loughlin.
On May 22, Loughlin and husband Mossimo Giannulli pled guilty to paying $500,000 to get their daughters into the University of Southern California. The pair made a plea deal that would see Loughlin spend two months in jail and Giannulli five months. However, the judge has not decided whether or not to accept the plea deal at time of writing.
Another famous former Full House character also does not make an appearance in Fuller House Season 5 Part 2, despite fans hoping they would finally make an appearance. Neither Mary-Kate nor Ashley Olsen appeared in the final episodes as Michelle Tanner, despite the show's creators trying to secure a cameo since the first episode of the rebooted series.
Asked in 2016 by People why the Olsen sisters have not appeared in the Netflix series, producer Bob Boyett said: "Ashley said, 'I have not been in front of a camera since I was 17, and I don't feel comfortable acting.' Mary-Kate said, 'It would have to be me because Ash doesn't want to do it. But the timing is so bad for us."
Fuller House Season 5 Part 2 is streaming now on Netflix.