Fully Vaccinated 'Healthy' Father, 58, Dies From Breakthrough COVID
A fully vaccinated 58-year-old man in Palm Beach, Florida has died following a breakthrough COVID-19 infection. He had received the single-shot Johnson & Johnson vaccine.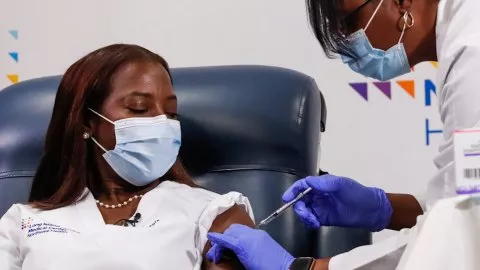 Vincent Konidare was a father of two who was vaccinated against COVID-19 and proudly sent a photo of his vaccine card to a longtime friend on March 24 but was diagnosed with the disease on August 2.
He was admitted to hospital at Palm Beach Gardens Medical Center eight days later and passed away on September 19, with COVID-19 pneumonia being listed as Konidare's primary cause of death.
Konidare tested positive a day or two after visiting a friend of his brother's who was feeling sick. That friend later tested positive for COVID-19.
Fully vaccinated people rarely die from breakthrough COVID-19 infections. Figures from the Centers for Disease Control and Prevention (CDC) show that the fully vaccinated accounted for 16 percent of COVID deaths between mid-June and mid-July this year.
Konidare required emergency surgery on September 27 after a CT scan showed he had a tear in his bowels. Some COVID patients have experienced similar issues with bowel perforation.
Konidare had a daughter, Valerie, and son Nicholas Patrick as well as three "granddogs", according to the family. Valerie Konidare told The Palm Beach Post: "He was perfectly healthy."
"His lungs just couldn't keep up," she said.
Vincent Konidare worked at The Palm Beach Post for 35 years, beginning as a pressman and rising through the ranks to become advertising placement manager. He left the newspaper in December 2020 and was reportedly looking forward to traveling with his wife, Jamie Konidare, once she retired.
"My husband was an amazing American who chose to be vaccinated so he could protect himself and his family," Jamie Konidare said. "He was told by the government [to get vaccinated], and he still died."
Jamie Konidare said that her husband had texted her from the hospital when 13 U.S. service members were killed in a suicide bombing at Kabul's Hamid Karzai International Airport on August 26 amid the U.S. withdrawal from Afghanistan.
"He texted me and said, 'You have to lower the flags at half mast,'" she said.
On March 24, Konidare had sent a photo of his vaccine card to Wanda Guerrisi, a friend and former colleague at The Palm Beach Post.
"He was so proud that he got it done," Guerrisi said. "He thought he was doing the right thing."
Unfortunately, COVID-19 also spread to Konidare's family, with Valerie Konidare explaining: "I had a fever and sore throat." She also experienced what felt like memory loss, while her mother had a "really bad cough" but not a fever.
While Valerie Konidare acknowledged she and her father had not always seen eye to eye when she was a teenager, she said that as she grew older "we were best friends."
Popular in the Community
{{#values}}
ad choises
{{#isDisplay}} {{/isDisplay}}{{#isAniviewVideo}} {{/isAniviewVideo}}{{#isSRVideo}} {{/isSRVideo}}