Fundraiser for Seattle Protester Who'll Require Wheelchair Raises $70,000
A GoFundMe campaign for a Seattle protester who says they will need a wheelchair while learning to walk again has raised more than $70,000.
Diaz Love, 32, was seriously injured when the driver of a white Jaguar barreled into a crowd of protesters on Interstate 5 early Saturday morning. Summer Taylor, a 24-year-old protester who was also struck, died at Harborview Medical Center on Saturday evening.
Love, who uses they/them pronouns, shared the fundraising campaign on Facebook late Monday, writing alongside the link: "Here's a gofundme for housing expenses, recovery and wheelchair needs as I learn to walk again during my recovery in Seattle."
Love, from Portland, Oregon added: "I'll be wheelchair bound as I learn to walk again. Recovery looks like a long road. Thank you for all the love and help. We're all we got. We're all we need." Love has been contacted for additional comment.
The GoFundMe campaign, which was set up by Abigail Annable over the weekend, had raised more than $70,000 as of early Tuesday morning.
"This GoFundMe is set up to help Diaz with medical expenses and anything they will require after leaving the hospital. At this time, we know that Diaz is stable," Annable wrote on the page.
"Diaz is a huge animal lover and fights for the rights of people everywhere. Let's support them through the next couple months and help them keep fighting."
Love had been livestreaming the protest on Facebook for almost two hours when the Jaguar sped into the crowd, striking them and Taylor.
The video, titled "Black Femme March takes I-5", ended abruptly after protesters are heard shouting "Car! Car!" and screeching tires and a loud crash is heard.
Love took to Facebook Sunday night to tell their followers that they were "alive and stable" but "in a lot of pain."
"I cannot believe Summer was murdered. If they thought this murder would make us back down, they are very wrong. Very wrong," Love added in the post.
Dawit Kelete, 27, a Black man, drove his vehicle around cars that had been parked on the freeway to protect people protesting police brutality, Trooper Chase Van Cleave told Newsweek, before speeding away at around 1.40 a.m.
"Protesters had been on the freeway for a little bit over an hour when a vehicle, the white Jaguar, made its way on the freeway and drove southbound and struck two of the protesters at a high rate of speed," he said.
Van Cleave said Kelete was taken into custody after continuing southbound on the freeway for around a mile.
Another protester had gotten into a car and chased him along the freeway, then blocked him by pulling his vehicle in front of the Jaguar. Authorities are still investigating a possible motive for the incident, but Van Cleave said impairment is not considered a factor.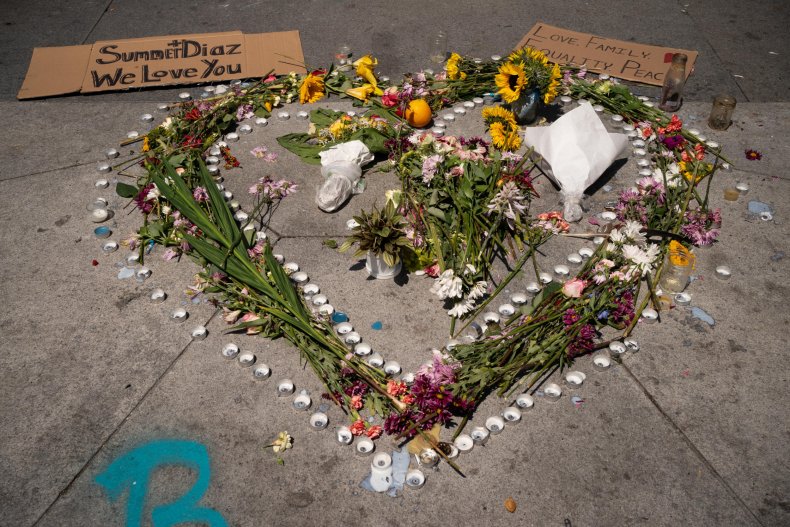 Kelete's lawyer, John Henry Browne, said the crash was not intentional, but a "horrible, horrible accident."
"There's absolutely nothing political about this case whatsoever," Browne told The Associated Press. "My client is in tears. He's very remorseful. He feels tremendous guilt."
Kelete is a U.S. citizen who is originally from Eritrea, Browne added, and lives with his family, who are very religious, in Seattle. Browne has been contacted for additional comment.
Kelete was booked into the King County Correctional Facility on Saturday morning on two counts of vehicular assault. A judge set his bail at $1.2 million on Monday.
The King County Prosecuting Attorney's Office hasn't filed charges against Kelete yet, saying it is still waiting for additional information from the State Patrol.
Weeks of protests have roiled Seattle since the killing of George Floyd, a Black man, in Minneapolis police custody on May 25. His death, and those of others by police, sparked nationwide protests against police brutality and racial injustice.
Last week, authorities cleared the "Capitol Hill Organized Protest" (CHOP), a several block stretch in the Capitol Hill neighborhood. Protesters had occupied the area for much of June after Seattle police abandoned the precinct following clashes with demonstrators.