Fundraiser for Officer Charged in Rayshard Brooks Shooting Raises $250,000
More than $250,000 has been donated to help the former Atlanta police officer charged with felony murder in the shooting of Rayshard Brooks.
The Georgia Law Enforcement Organization started a fundraising campaign to help Garrett Rolfe and his family pay for "legal services and general necessities," according to its website.
Josh Watson, the organization's chief operating officer, told Newsweek that more than $250,000 has already been raised by donations from around 3,600 people. He said the funds would be paid to cover the cost of Rolfe's legal defense.
On its website, the organization said Fulton County District Attorney Paul Howard's decision to charge Rolfe was "100% for political gain."
Howard announced 11 charges, including felony murder and several counts of aggravated assault, against 27-year-old Rolfe during a news conference on Wednesday.
Another officer, Devin Brosnan, who Howard said had stood on Brooks' shoulders as he struggled for his life, is charged with aggravated assault and violating his oath. Howard said Brosnan was cooperating with prosecutors and had agreed to act as a state's witness, but Brosnan's lawyers have denied that.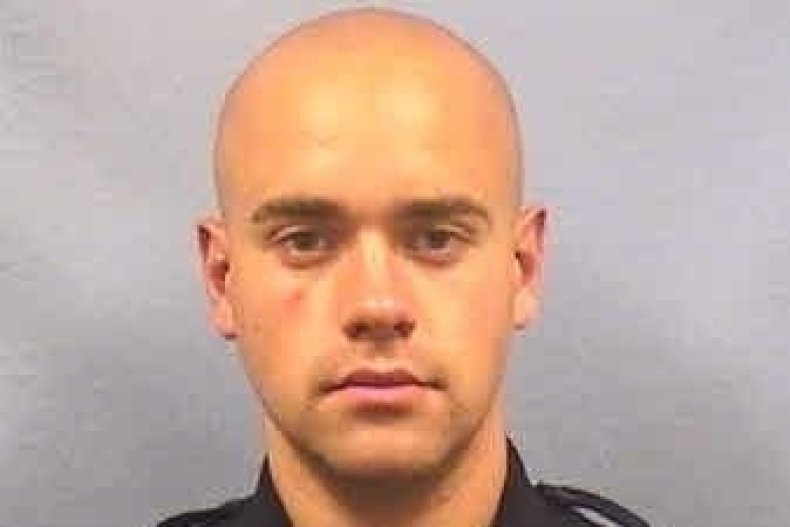 Howard's announcement came five days after Rolfe shot Brooks dead during an encounter outside a Wendy's restaurant on Friday night.
Rolfe, who had been with the Atlanta Police Department since 2013, was fired in the wake of the shooting while Brosnan was placed on desk duty.
It also prompted the resignation of Atlanta police chief Erika Shields and sparked fiery protests in the city, already roiled by weeks of unrest since the death of George Floyd, a black man, in Minneapolis police custody late last month.
The officers had found Brooks asleep behind the wheel of his car and he then failed a field sobriety test.
During the news conference, Howard said Brooks "never presented himself as a threat" to the officers and had spent more than 40 minutes cooperating.
But a scuffle broke out when the officers went to handcuff Brooks and he then grabbed Brosnan's Taser and ran.
Howard said Brooks had fired it from too far for it to reach Rolfe, and the stun gun had already been fired twice so it couldn't be used when Rolfe shot him in the back.
Howard added that Rolfe and Brosnan didn't render aid to Brooks for more than two minutes after he was shot.
And their actions immediately after the shooting did not indicate that they felt threatened by Brooks, Howard said, noting that Rolfe had said "I got him" after striking Brooks down.
In a statement, Rolfe's lawyers have maintained that he feared for his life when he shot Brooks. "Mr. Brooks violently attacked two officers and disarmed one of them. When Mr. Brooks turned and pointed an object at Officer Rolfe, any officer would have reasonably believed that he intended to disarm, disable or seriously injure him," they said in a statement.