Funerals Held for Seventeen's Band Members After Indonesian Tsunami Hit
Tragedy struck on Saturday as members of the Indonesian pop group Seventeen were killed after a tsunami hit the stage while the band was performing. Funerals were held for three members of the band who died.
Seventeen's guitarist, Herman Sikumbang; road manager, Oki Wijaya; and crew member Rukmana Rustam were remembered by friends and loved ones in separate funeral services on Monday. The band's bassist Muhammad Awal Purbani and drummer Wisnu Andi Darmawan also died in the tsunami.
Seventeen's lead vocalist Riefian Fajarsyah posted a heart-wrenching video to Instagram on Sunday to address the tragedy. He also confirmed that his wife, actress and presenter Dylan Sahara, had been missing since the tsunami struck and asked fans to pray for her.
"We lost our bassist Bani and our road manager Oki," Fajarsyah said, according to The Guardian. "Andi [drummer] and Herman [guitar] and Ujang [crew] have not been found. Please pray so that my wife Dylan will be found soon."
"The rest are thankfully safe although suffering from injuries and broken bones. Please pray so my wife Dylan, Andi and Herman and Ujang can be found soon."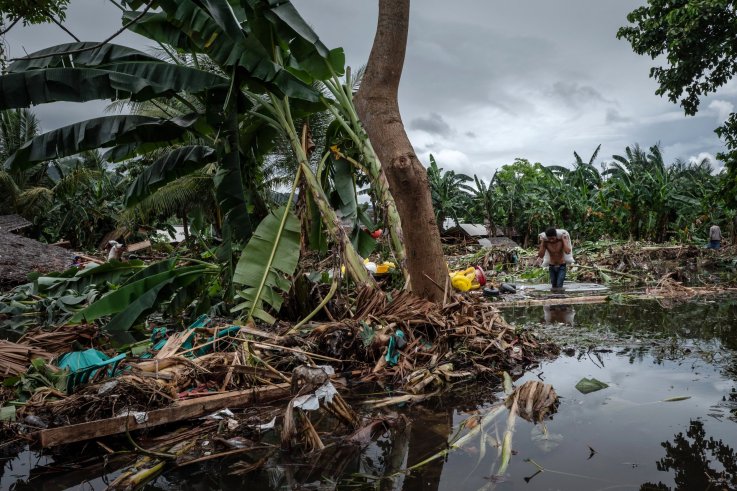 Fajarsyah's video has amassed more than 7.4 million views. He later posted a picture of Sahara to his Instagram Story, writing on Monday: "How can I live without you?"
Seventeen played to a large crowd attending its concert at the Tanjung Lesung Beach Resort in the Banten Province of Indonesia on Saturday. During the group's performance, a hefty wave of water slammed through the back of the stage. Video of the lashing was posted on social media.
The tsunami, reportedly 10 feet high, hit Indonesia without warning on Saturday following the a huge piece of the Anak Krakatau volcano slipping into the ocean. According to The Associated Press, at least 373 people died when the natural disaster hit the region. More than 1,400 others had sustained injuries, while 128 people were still missing.
"The victims of the tsunami in the Sunda Strait continues to grow," Sutopo Purwo Nugroho, a spokesman at Indonesia's National Disaster Mitigation Agency, tweeted on Monday. "The joint SAR team continues to operate. Temporary data to 24/12/2018 at 17.00 WIB, recorded 373 people died, 1,459 people injured 128, missing persons, and 5,665 people evacuate. Estimated casualties were still growing."
Nugroho had added: "The condition of many buildings damaged by the tsunami in areas of the window wells of Pandeglang. Officer and vehicle evacuation could have penetrated the area well. Some roads and bridges were damaged. Heavy equipment were deployed to help evacuate victims."