Funko CEO Reveals the Secret to Its Successful NYCC Exclusives
NYCC passed us in a flash, and we're sad to say it's gone. I guess we'll just have to stare at the exclusive Funko Pops we were able to score and dream of next year's festivities. Leaving a Comic Con without grabbing at least one Funko Pop is a hard thing to do these days. There's something for everyone in any fandom, which makes it easy for anyone to find a worthy figurine to compliment their workstation or toy shelf.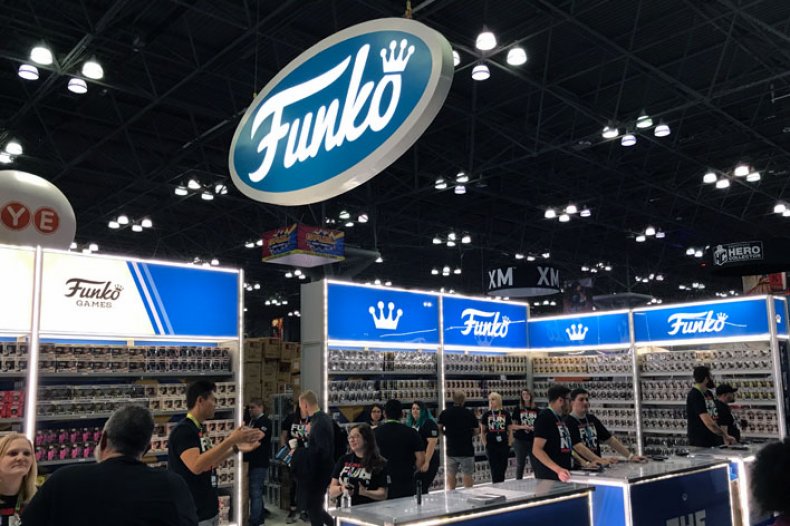 Newsweek had the chance to catch up with Funko CEO, Brian Mariotti to dive deeper into the company's pop-culture kingdom. Beyond planning next year's exclusives already, Funko has a new store opening in Los Angeles, a Warner Bros. movie in the works and a new Gears Pop! mobile game that launched August 22. Mariotti's team is clearly busy and poised to conquer the world of collectibles.
When it comes to Comic Con, exclusive items are a regular occurrence met with major fanfare. Lots of vendors offer one-time-only items that fans are only able to grab at that specific convention before being pushed to the second-hand market. Funko has its exclusive formula on lock. One way to keep things active is by having a diverse assortment of options available to collectors every year.
"This is a different Comic Con for us, as our products are a little more diverse than previous years," says Brian Mariotti. "We have things like The Warriors, Funko games and a lot of diverse licenses, and I think the fan base appreciates it."
When it comes to deciding which new Pop should be an exclusive, Funko has a simple methodology. "I think what we always do is like a recipe for a great cupcake or pie," describes Mariotti. Currently it's September, and their team is already hard at work figuring out the exclusives of SDCC 2020. "You're trying to put a diversity of licenses and things you know people have a fandom of in a perfect mix for an event," says Mariotti. The team is hunting for Pops that are rare, surprising and, above all, special enough that someone would want to wait in a huge line to get.
"Our fan base has an input, our staff has an input and we just try to find that perfect combination of what makes these comic cons amazing," assures Mariotti.
With all that Funko has to offer, it's really exciting when its designers come out with something new and different. Pop Towns just launched earlier this year, and fans have been clamoring to add these new homes to their collections. The reception so far to the already-produced Scooby Doo Haunted Mansion and Ghostbusters Firehouse has been tremendous. "People are loving it," says Mariotti. "They are loving these special items and these bigger, more-staple pieces." The plan is to continue to elevate these experiences with future releases in the worlds of Game of Thrones, The Flintstones and, of course, their first Star Wars piece.
With everything Funko has planned for the future, fans will need lots of extra shelf space to fit it all. Were you able to stop by the Funko booth at this year's NYCC? What exclusive Pops were you able to score? Share your photos in the comments section below.