'Funko Pop! Blitz' Celebrates Pop Culture in New Match Game
Gaming and media company N3TWORK is collaborating with Tic Toc Games to bring fans of pop culture a new match-3 puzzle game for Android and iOS. Funko Pop! Blitz will feature fan favorite characters in Funko Pop! forms from multiple franchises to be featured in different weekly events.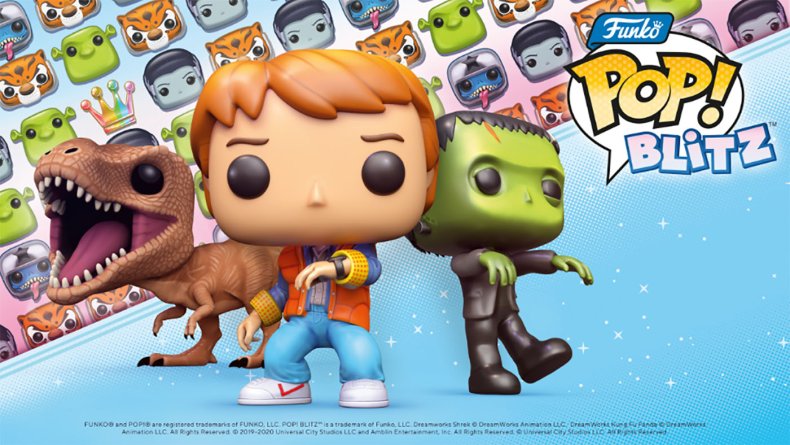 In a statement given to Newsweek via a press release, CEO of N3TWORK Neil Young states, "Funko Pop! Blitz is the ultimate pop culture mashup game." By collaborating with Tic Toc, their team has been able to create a very accessible game by blending a familiar puzzle game mechanic with some of the world's most beloved characters. Weekly events will continue to introduce more characters and properties into the game.
"Whatever you're a fan of, you're sure to find it in Funko Pop! Blitz," adds Young.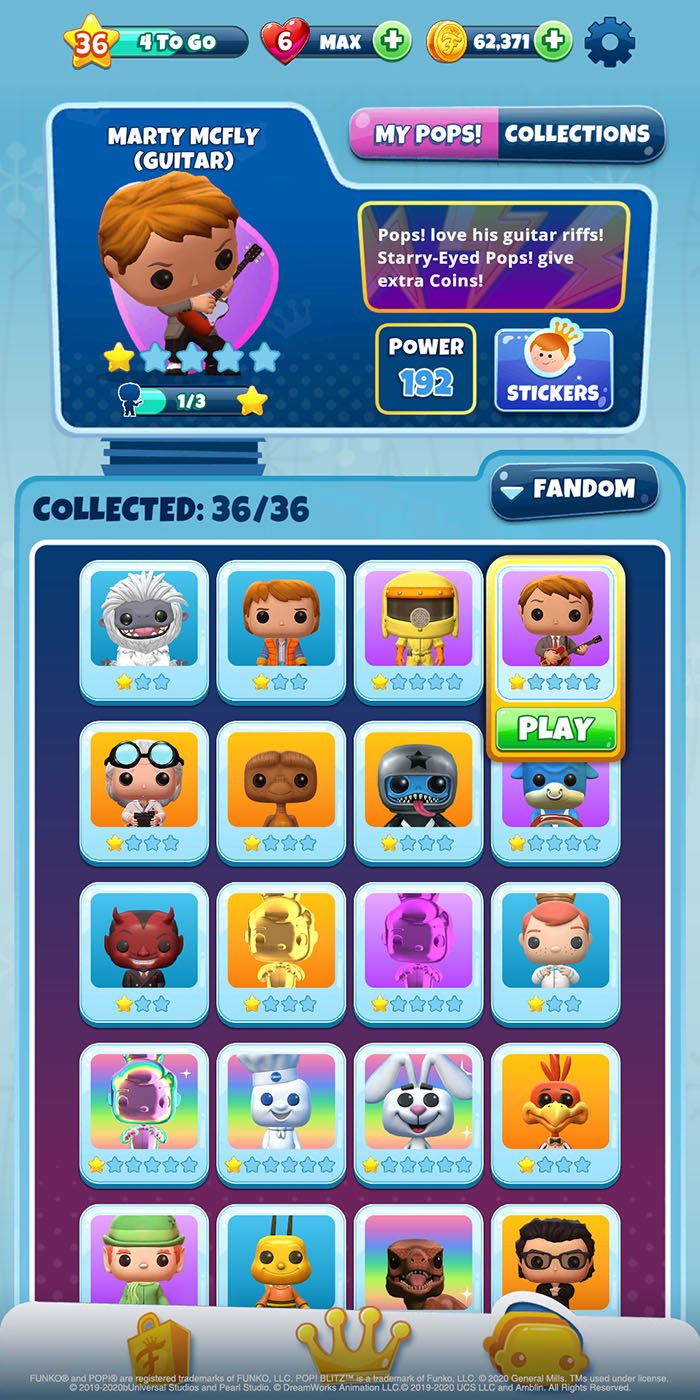 'Funko Pop! Blitz' starts off with a deep roster but new characters can be unlocked during each new weekly event.
Funko
Characters from a variety of Universal Pictures and Amblin Entertainment will be featured, such as Back to the Future, E.T. the Extra-Terrestrial, Jurassic Park and Jurassic World. If that's not enough, then you'll be excited to also find Universal Monsters and DreamWorks Animation characters like Shrek, Kung Fu Panda, and How to Train Your Dragon. Funko's own creations Fantastik Plastik, and Pop! Pets will also be joining alongside famous brand mascots from General Mills and Hostess. Expect more characters to be released in the future as well.
Every character in Funko Pop! Blitz will have its very own unique Super move that will help you earn rewards and you as you power up to attack the board. You may recognize these Super moves pulling directly from their character's iconic moments in film or television. Marty McFly from Back to the Future will send the DeLorean through the board with a flaming trail and E.T. will light up his finger to fill the board with healing magic. With each new weekly event brings new characters with new moves to enjoy.
As the game launches, so will its first special event, which will feature characters from Jurassic Park. Dr. Ian Malcolm, Dr. John Hammond, Dr. Ellie Sattler will be notable additions. Dennis Nedry will also be unlockable and even the Dilophosaurus can be playable.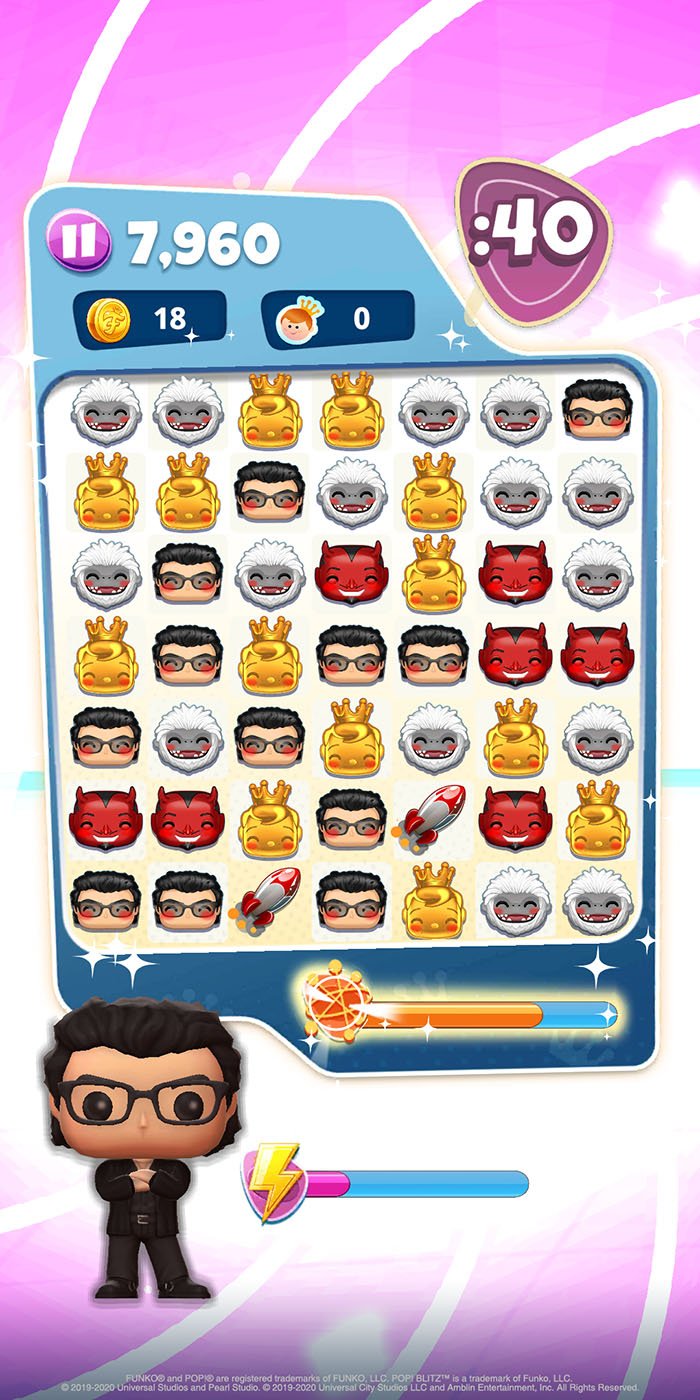 Dr. Ian Malcolm from 'Jurassic Park' can be unlocked and playable during the first featured event in 'Funko Pop! Blast.'
Funko
Funko CEO, Brian Mariotti is very excited for this new collaboration. "Funko is thrilled to be partnering with N3TWORK on a celebration of pop culture through the exciting match game, Funko Pop! Blitz," says Mariotti. "We're excited to offer Funko fans and mobile gamers alike the opportunity to connect with some of their favorite characters and properties in Pop! Form."
Funko Pop! Blitz is sure to offer every fan a reason to keep coming back. Which movie or property are you most excited to unlock and play as in the game? Whose Super move do you think you will be using over and over out of pure enjoyment? Check out funkopopblitz.com for more info and be sure to download the game on the App Store for iPhone and iPad or on Google Play for Android.