25-Year-Old 'Furry' Charged in Sexual Relationship with Teenage Girl at Fort Bragg, Feds Say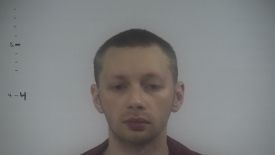 When she learned her teenage sister engaged in sexual acts with a 25-year-old Virginia man that shared her affinity for furry costume play -- where people don mascot-type masks and tails as their superegos -- the elder sibling was enraged.
Then she alerted military police.
The 14-year-old tried to prove to her sister that the older man loved her by showing off a collar around her neck bearing her furry name "Bella" on the outside, and inside an inscription read: "Property of Angelo."
"Angelo" was actually 25-year-old Derek Thomas's furry name, who federal authorities suspect courted the 14-year-old on chat rooms and by using social messaging apps to beam selfies and "R-rated" videos of himself before he allegedly put the moves on her in-person.
The 21-year-old sister formally reported Thomas to Fort Bragg Military Police on Aug. 7, of last year. They forwarded her complaint to the Army Criminal Investigative Division or CID who summoned the FBI, according to a federal affidavit filed on Jan. 16 in Norfolk, Virginia federal court.
A day later agents were quizzing the teen about her alleged relationship with Thomas.
Besides the suggestive banter exchanged over their electronic devices, the teen allegedly told them that she and Thomas were very physical and "had done basically everything except sex," the document suggests. Her explanation as to the reason they hadn't gone all the way was "there was not enough time."
Thomas, of Williamsburg, Virginia, paid at least three visits to Fort Bragg in North Carolina where the teenager's sibling lived, according to the affidavit.
He was arrested on Jan. 16 and remains locked up at the Western Tidewater Regional Jail, records show.
The now-26-year-old was slapped with charges of traveling with intent to engage in illicit sexual conduct and also for transfer of obscene material to minors. If found guilty, Thomas could serve as many as 30 years in prison. (Newsweek requested details about Thomas's case and Fort Bragg officials were still looking into the matter at the time of publication.)
Attempts to reach Thomas's federal defender were not immediately returned.
On Aug. 6, the elder sister reached out to Fort Bragg authorities to report the illicit romance between her teen sister, referred to in court documents as Jane Doe 1 and Thomas.
She shared information about how her sister, who while living in Charlotte, North Carolina purportedly struck up a summer attraction on a chat room using the social applications, Kik and Telegram, dating back to June and advancing by August.
It apparently culminated with Thomas making a cameo on a family trip.
The teen claimed that she met Thomas on a "furry" chat room.
The furry movement spawned out of fan conventions like Comic-Con. Its followers or fans adapt anthropomorphic cartoon or animal characters and take on those attributes that they may not exude when out of costume.
While she withheld her true age at first, Doe ultimately confided it, and the document states it didn't stop Thomas.
She "did not immediately tell Thomas her age, but once he knew she was 14, they talked for another week on Kik and then began dating.
"Thomas asked Doe to date him, it was not assumed," the affidavit reads.
The furry pair then started to "role play" over Telegram and their conversations, according to the affidavit, "would go from PG to R-rated."
The document also shows how they took less racy images when they were together "hugging and kissing."
Amongst the nude pictures and videos they allegedly sent, the files "had their faces in them," according to the affidavit. Some of these included Thomas allegedly sending Doe videos.
On three different visits to her older sister's house in Fort Bragg, Doe allegedly was granted permission to invite Thomas over to spend time with her.
However, the teen allegedly lied about Thomas's age, at first saying he was 20-years-old and not his actual age of 25, the document states.
During one visit in July, Thomas allegedly arrived lugging a duffle bag stuffed with condoms, the affidavit reads.
When the sister spotted the prophylactics, she asked Thomas about them. The document states that Thomas downplayed it; telling her they were related to a "previous event" and nothing to do with her 14-year-old sister.
Thomas then allegedly requested the older sister to give him "some alone time" with Doe "so their relationship could grow," the affidavit states.
On Aug. 4, Thomas allegedly crashed Doe's family vacation to Busch Gardens in Thomas's native Williamsburg, Virginia. Once there, he allegedly "bought gifts" for Doe," documents show.
With the permission of Doe's parents, FBI investigators conducted forensic analysis back in November on Doe's Apple iPad and Samsung Galaxy mobile phone and discovered an array of suggestive photos, texts, and videos.​