YouTuber Furry Potato Shot in Leg By Security Guard at Synagogue
Zhoie Perez, a 35-year-old transgender woman known as Furry Potato on YouTube, has been shot through the thigh after antagonizing a security guard at a Beverly Hills synagogue. Perez considers herself a "first amendment auditor" whose job it is to test the boundaries of her first amendment rights by videotaping locations that she claims are "interesting." Most recently, Perez has been traveling around Los Angeles filming the LAPD while streaming from her new "Furry Potato Live" channel.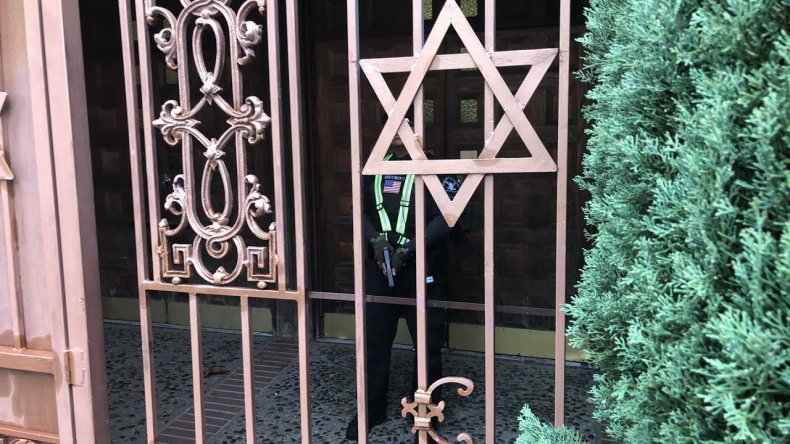 Earlier on Thursday, Perez live streamed from a Synagogue in Beverly Hills. As Perez is approaching from across the street, a security guard in a bright yellow rain jacket videotapes her on his cellphone. "Look at this dumb dumb cam," Perez shouts at the security guard. She then circles the perimeter of the building, getting images of all the windows, security cameras and doors. The security guard then walks up and places his hand on his firearm.
The pair have a brief exchange, with Perez claiming she is only videotaping the building to learn more about the "Jewish artifacts" on the exterior. The security guard then heads inside a gated barrier and Perez pans to a sign for the SWAT security company in Los Angeles. She wonders if the security guard works there.
A SWAT Security spokesperson told Newsweek the company does not employ, or know, the guard in the video. The spokesperson also claims to have received multiple death threats since the video was streamed.
At around 3:30 p.m. EST Perez edges closer to the security guard, who warns her to "step away." As Perez is filming the security guard tells her that he will shoot her if she moves any closer. She moves closer and he fires his firearm at the ground near her feet, with the bullet ricocheting into her thigh. She runs away before collapsing on a nearby car, when the police arrive.
"Finish it, you're already fucked man," Perez says to the security guard, who is standing idly by. The cops handcuff Perez who exclaims "they still got their hands on me, like I'm the perp." She refuses to talk to the police until they "get [their] hands off [her] camera." Eventually, they put her into a ambulance and take her to Cedar Sinai Medical Hospital where she is currently undergoing treatment.
In Los Angeles, security guards are allowed to carry a firearm but need to have a permit.
The LAPD told the NY Post that the security guard had been detained and that no suspects are outstanding."Perez has claimed in the comments on YouTube that "the guard has been charged with assault of a deadly weapon" but Newsweek cannot verify that claim.
Perez has been arrested in the past for her "auditing." In June of 2018, she was "arrested for making threats at a U.S. Marine Recruiting Station in Valencia, California," according to USMC Life. She was arrested with a bail of $75,000 and has a court date in July. According to the Signal of Santa Clarita Valley , her misdemeanor counts were dismissed and she had to pay a $100 fine.