Fury As Groom Accuses Maid-of-Honor of 'Upstaging' Bride Over Makeup
A groom has been slammed online after he berated a bridesmaid for not wearing any makeup to his wedding.
In a viral post shared on Reddit's Am I The A****** group, user AITAbestiewedding explained she had been asked to be the maid of honor for her friend Jo's wedding, something she relished.
The 27-year-old woman added that Jo knew that she didn't like makeup so wouldn't be wearing any at the wedding.
She said: "I don't agree with wearing makeup because I think the beauty industry is misogynistic and because it makes my face break out."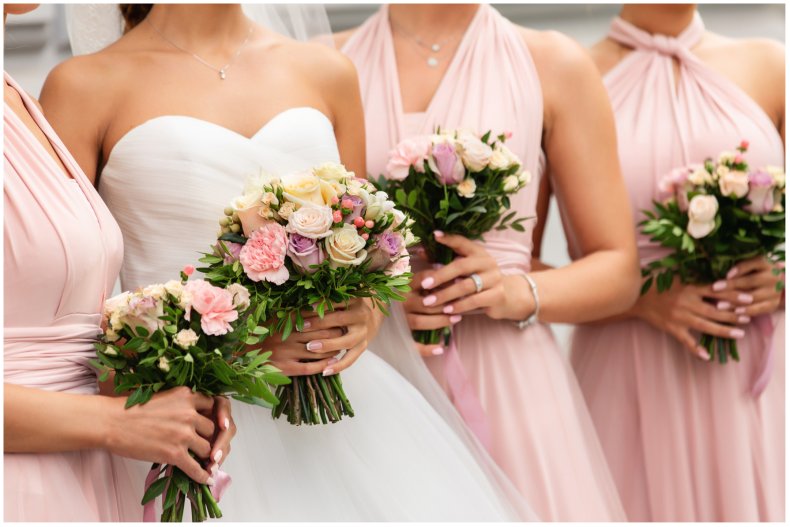 The Reddit commenter said that none of the other bridesmaids seemed to mind that she was not wearing makeup, but that Jo's partner Henry, 35, appeared to be incensed by it.
She added: "He said that I was upstaging the bride at her wedding and that a woman shouldn't be going to a public event without makeup anyway. I felt so terrible.
"I really hadn't intended to take any attention away from Jo. I waited until after the wedding to text Jo and say that I was sorry for not wearing the makeup and that I had heard her message loud and clear. She was super confused, and said that she really hadn't had a problem with it."
Wedding expert and editor at Hitched Zoe Burke told Newsweek Henry was "out of line" with his behavior.
She added: "Asking someone to be your bridesmaid is a lovely way to honor them and let them know you value their friendship—and part of this is accepting them as they are, which sounds like the bride did.
"The groom was incredibly out of line to call the bridesmaid out for her lack of makeup. Even if the bride had been upset about it, it's not clear what he hoped to achieve by addressing this on the wedding day.
"Ideally you have no nasty surprises on your wedding day, your new spouse's problematic behavior included. The best thing to do in a scenario like this is to delve into why they behaved that way—what was the reasoning, the intended outcome etc. Only then can you figure out if it was a misguided error or if it's a more sinister problem, and plan your next steps accordingly."
A 2019 study by market researcher CivicScience found only 39 percent of 3,552 U.S. women aged 18 and above said they wore makeup daily.
This figure was 52 percent down from a survey carried out in 2015, while the number of women who said they never use makeup rose from 15 percent to 23 percent between 2015 and 2019.
Jo later told the Reddit user that she was furious and that she had not encouraged Henry to say what he did.
She had stayed with the maid of honor in her apartment for the past few days while she thought about what to do.
Since being shared on Monday (February 27) the post has been upvoted more than 5,700 times and attracted an estimated 1,500 comments.
The overwhelming majority of slammed Henry's behavior and praised the Reddit user for not wearing makeup.
Reddit user DOIWantToKnow6417, whose comment was upvoted 8,400 times, said: "This groom's controlling and entitled attitude about makeup is a huge red flag."
MaryFeatherston, whose comment was upvoted some 3,200 times added: "That Henry's an a******. I don't use makeup either. Sorry/ not sorry, Henry the only face you a vote about is yours."
Schoobydoo42 commented: "What kind of look did Henry go with for his wedding makeup?"
Newsweek has contacted AITAbestiewedding for comment.
Has a wedding come between your relationship with a loved one? Let us know via life@newsweek.com. We can ask experts for advice, and your story could be featured on Newsweek.