Fury as Man Leaves Girlfriend Stranded Over Her Reaction to 'Weird Comment'
A man has come under fire after storming out of a restaurant and leaving his girlfriend stranded over her reaction to what he described as "a very normal joke" about childbirth.
In a post upvoted more than 18,000 times on Reddit, a user posting under the handle u/Top_Tank882 wrote that his partner slammed him for leaving her waiting "in the cold" for a taxi to take her home after he abruptly left their dinner date.
Though he insisted he left after becoming "frustrated" by her response to the gag, many on social media felt the joke was sexist and her reaction was entirely valid.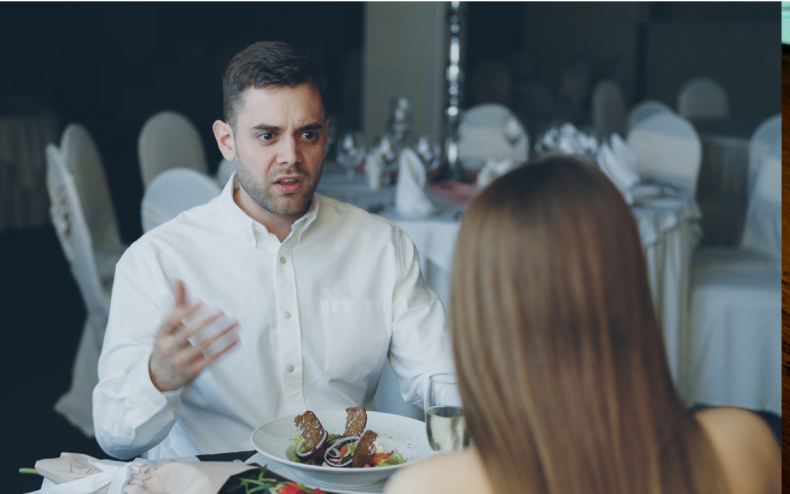 While off-color humor may be popular in some quarters, sexist jokes have been found to promote discrimination against women.
The theory was put forward in a 2007 study by psychologists from Western Carolina University. The research, which was published in the journal Personality and Social Psychology Bulletin, saw a group of male participants take part in two experiments to text how sexist jokes influenced attitudes towards women.
The first saw the test subjects asked to imagine they were part of a work group organization. They were then tasked with reading either sexist jokes, deliberately sexist statements or non-sexist comedic material.
The group were then asked how much money they would consider donating to a women's organization. The researchers found those men who had been noted as having a "high level of sexism" going into the study were less likely to donate after reading the sexist jokes.
The second involved the men being shown a series of video clips of either sexist or non-sexist comedy skits. They were then asked to work on a project to assess how funding cuts should be allocated among a selection of student organizations.
Once again, the researchers found that the men who were more sexist going into the experiment discriminated more against females by allocating larger funding cuts to women's organizations.
It's been over a decade since that study was published, but while sexist jokes persist, the reaction to u/Top_Tank882's post will be heartening to those concerned over the relative prevalence of this type of humor.
According to the post, the couple's argument began when the man's girlfriend received a text from her best friend revealing she had given birth via Caesarean section.
Responding to the news, her partner wrote on Reddit that he joked "at least she'll still be tight down there." His partner was left confused by this response, telling him it was "a weird comment to make about her friend."
Though he insisted it was a "very normal joke to make," his girlfriend was still far from happy. The man said he accused her of being "insecure" in her response, to which she replied: "does it make you feel good to call me that?"
At this point, he decided he had had enough, walked out of the restaurant and drove home. She later turned up at their apartment and told him he "overreacted" to her response, with the couple left facing an uncertain future together.
Jacqueline Fae is a relationship expert and founder of I Deserve Love, who began her career studying psychology, with a focus on neuro-linguistic programming and understanding the reasons people act the way we do in relationships.
Fae told Newsweek that, while the boyfriend's comments were inappropriate, she felt his partner would have been better served trying to "help him understand" why what he said was wrong.
"Not only was it super inappropriate, but in the context of a challenging health situation, it's in poor taste," Fae said. "That said, the girlfriend could also have been sympathetic to the fact that he was trying to be funny and lighten the moment. He just wasn't, at all..."
Others were less forgiving. CrystalQueen3000 called it a "completely unnecessary sexist comment," while MonicaHuang wrote the man sounded like a "misogynistic 12 year old." Whatim added: "If someone has a C-section, an appropriate thing to say is 'oh, I hope she and the baby are doing okay.'"
Despite many calling for the woman to break things off in light of her boyfriend's comments, Fae felt the relationship could still be salvaged.
"Accountability for emotionally hurting your partner, intentional or not, is the first step towards learning, growth and basically the entire evolution of your relationship as a couple," Fae said. "If he can apologize and take blame at least for hurting her feelings and abandoning her, there may be a shot at it working. But that is probably the only way it could work."
Newsweek reached out to u/Top_Tank882 for comment. We could not verify the details of the case.
Have you noticed any red flags that made you end a relationship? Let us know via life@newsweek.com. We can ask experts for advice, and your story could be featured on Newsweek.