Fury Over Reason Sibling Wants To Uninvite Brother's Plus-One From Wedding
A wedding host has been widely slammed online for planning to disinvite a woman they bullied as a child from the event.
In a viral Reddit post, shared on the "Am I The A******" forum, user RuleVirtual6303 explained they were not a nice person in high school and that they had bullied a girl as a child.
The commenter said that their younger brother graduated from college and met a woman who, they admitted, they had not been kind to in high school.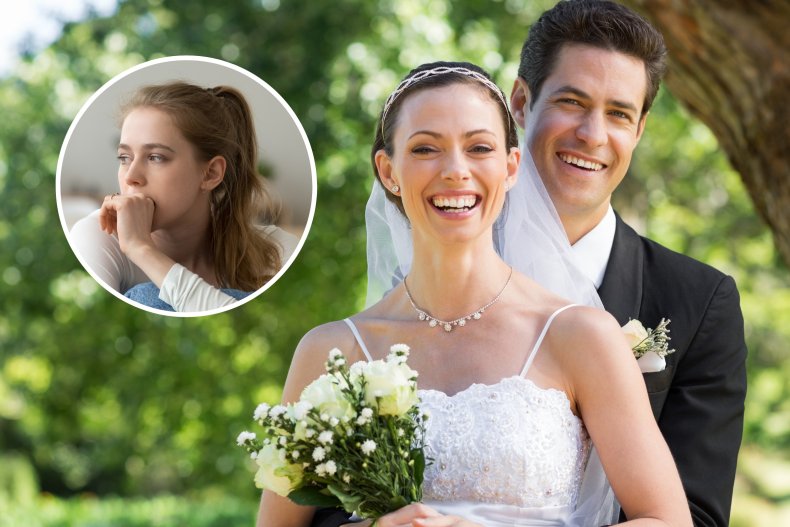 They explained that when the sibling and his girlfriend entered the meet-the-family stage of the relationship, the sibling brought his significant other home for Christmas.
"She recognized me right away," the poster said. "I didn't recognize her. I guess she got past the ugly duckling part of growing up. She is very physically attractive. She is also doing well in life.
"She didn't say anything until I approached her after dinner. She asked if I honestly couldn't remember her. I didn't. Until she reminded me of the stuff I used to do to her.
"I felt sick to my stomach. I immediately apologized for everything and said that I had been an asshole kid and that I had grown up since then. She said that she was glad and that she accepted my apology."
The problem seems to be, however, that the original poster is getting married soon and sent out wedding invitations, and when RSVPs came back, the brother's girlfriend was listed as his plus one.
The commenter continued: "I kind of want to ask him not to bring her. A lot of my old friends will be at the wedding and I don't want anything to happen.
"She forgave me but I still think it is kind of shady that she never brought up our past to my brother."
Disinviting Guests: An Expert Opinion
They then asked whether it would be terrible for them to disinvite the woman to their wedding, so Newsweek spoke to leading wedding expert and editor of Hitched.co.uk, Zoe Burke.
"I think it's great to see the OP (original poster) apologize for their historic behavior, and that the brother's girlfriend is mature enough to not only accept the apology but has also chosen to not mention it to the brother," Burke said.
"Whilst I do think the OP is showing a level of kindness by worrying how the girlfriend might feel being surrounded by her bullies from high school, it should be up to the guest to decide for herself if she's willing to put herself in that situation at the wedding.
"It seems she was satisfied enough with the apology from the OP to not mention it to the brother, and it may very well be the case that the other guests won't recognize her either. The OP may be worried about nothing at all and should allow the brother to bring whomever he chooses as his plus one to the wedding.
"If the OP is concerned about their friends' behavior, she needs to brief them before time about what is and isn't acceptable, and perhaps even consider if you really want people at your wedding that you're worried will be mean to another guest—the brother's girlfriend shouldn't be punished for other people's bad behavior.
"This could be a good opportunity for the two to move forward together and put their past behind them. Ultimately though, if a couple wants to be specific about who is and isn't invited to their weddings, then they need to be clear on their invitations rather than simply allow for plus ones, as then they can't control who attends their big day."
Since being shared on Saturday, February 11, the post has been upvoted some 5,900 times and attracted more than 2,000 comments.
Many of those who commented on the post dragged the commenter for their behavior and praised the former bullying victim for her grace.
Reddit user Significant_Win6431, whose comment was upvoted 27,500 times said: "You don't sound like you've grown into as much of a better person since high school as you credit yourself with.
"'Ugly duckling phase,' you're still in your 'mean girls phase.' Let the past be the past."
Neature_Girl added: "She seems like she has matured and moved on and you haven't OP."
ReenMo posted: "Really OP should be the one to tell his own brother about being a bully. YTA (you're the a******)."
Sketchyhotgirl commented: "Only a shady mf would see that as shady. The GF (girlfriend) is being so incredibly gracious and polite to save OP's reputation."
Newsweek has contacted RuleVirtual6303 for comment.
Weddings can often be stressful times.
One bride, however, learned that communication might be key to keeping the bridal party together, though.
One guest said she was on the fence about attending a wedding after only receiving a verbal invitation one day before the event.
And one man has been dragged for refusing to take one daughter to a wedding because another of his children was not included.
Has a wedding come between your relationship with a loved one? Let us know via life@newsweek.com. We can ask experts for advice, and your story could be featured on Newsweek.