Fury as Queen's Death Overshadows British Black Man Police Fatally Shot
The British government's focus on Queen Elizabeth II's death compared to that of an unarmed British Black man fatally shot by police has sparked outrage.
A Metropolitan Police officer shot dead rapper Chris Kaba, 24, with a single bullet in the Streatham Hill area of south London after a police pursuit of his car on September 5.
Kaba, who was due to become a father, was driving a vehicle that was stopped after the activation of an automatic number-plate recognition camera, which indicated that the car had been linked to a firearms offense in the previous days, according to The Guardian.
The Independent Office for Police Conduct has since opened a homicide inquiry.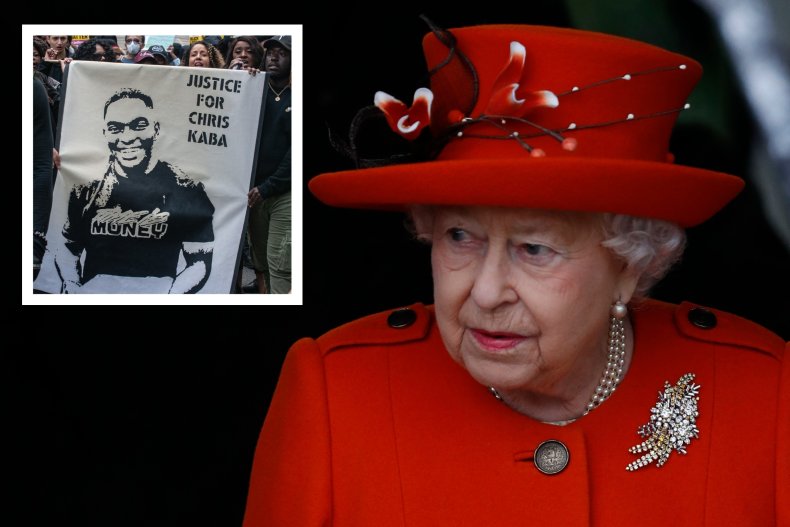 On September 8, days after Kaba's death, the Queen passed away aged 96 at Balmoral Castle in Scotland, signaling the start of several days of national mourning.
While the late sovereign's passing has dominated the news cycle, protests and a public outcry have kept Kaba's name on social media.
However, the simmering outrage was brought back to the fore on Tuesday, when Nadine Batchelor-Hunt, a political correspondent for Yahoo News U.K., tweeted that the office of new British Prime Minister Liz Truss would not be addressing Kaba's death.
"When asked if the PM has anything to say to Chris Kaba's family (an unarmed Black man killed by a police officer) No 10 said it won't comment during a period [of] national mourning for the Queen and while the police are investigating it," Batchelor-Hunt tweeted.
"When I saw my jaw DROPPED," she added in a follow-up tweet. "I truly cannot imagine a spokesperson for the US president saying this—moments like this show there is clear blue water between how race is spoken about in the UK and how it's spoken about there."
"What a beyond disrespectful and cruel thing to say, a family just lost their son," Batchelor-Hunt concluded.
The report came days after a September 10 London march organized by supporters of Kaba was erroneously described by U.K. broadcaster Sky News as a tribute walk for the Queen.
Diyora Shadijanova, climate editor for gal-dem magazine, shared footage from the protest to drive home that it was in no way related to the death of the queen.
"While the helicopter filmed us from above and Sky News claimed we were 'gathering to pay respects the Queen', THIS is what we were chanting: 'Say his name! Chris Kaba!'" Shadijanova captioned the clip.
After Sky News was widely slammed for the error, the outlet issued a correction with the journalist in question also sharing a public apology.
Feminist author Claire Heuchan tweeted amid protests over Kaba's death: "Let's not forget about Chris Kaba as coverage of Queen Elizabeth's passing dominates the headlines.
"He didn't get to live in to old age, to die peacefully surrounded by his children and grandchildren. Chris Kaba was gunned down at 24. And the police must be held accountable."
Mental health charity Mind on Monday shared a short Twitter thread titled, "We need to talk about Chris Kaba."
"The killing of an unarmed Black man by a police officer is hard to bear," read the message from the organization. "Especially when young Black men die disproportionately at the hands of the police [source: Inquest]. The Queen's death is dominating the news right now, but Chris Kaba deserves our attention.
"Racial trauma is real. And events like Chris Kaba's death can be incredibly triggering. If you're struggling with the news, please reach out. We're here for you."
Following the death of Kaba, the police officer who fired the fatal shot has been suspended.
Metropolitan Police Assistant Commissioner Amanda Pearson said in a statement: "Following the death of Chris Kaba, the firearms officer involved has been suspended from duty.
"This decision has been reached following careful consideration of a number of factors, including the significant impact on public confidence, and in light of the IOPC announcing a homicide investigation.
"Our thoughts and sympathies remain with Mr Kaba's family and friends. We understand how concerned communities are, particularly black communities, and thank those who are working closely with our local officers."
Adding that the decision to suspend the officer "does not determine the outcome of the IOPC investigation," Pearson went on: "Firearms officers serve to protect the public and know that on the rare occasions when they discharge their weapons, they will face intense scrutiny. I know this development will have a significant impact on the officer and colleagues."