Fury as Woman Openly Favors Biological Grandkids Over Son's Stepdaughter
The internet has dragged a woman who bought her stepgranddaughter a dollar-store gift for Christmas while she bought expensive toys for her other grandchildren.
The woman added that, if she's unhappy with her gift, she should ask her real dad to get her one, even though he's dead.
In a post shared on Reddit on Sunday, the woman's son, under the username u/aitaaccount457, explained that his wife, with whom he shares a 3-year-old daughter, also has a 17-year-old, Liz, from a previous marriage. She refuses to call him dad, even though they have a good relationship overall.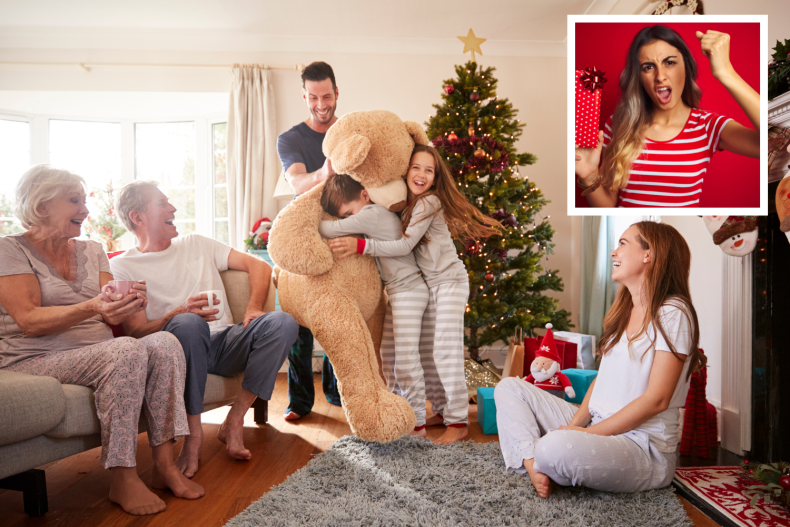 According to Stepfamily Foundation, 1,300 new stepfamilies are forming every day in the U.S., and over 50 percent of American families are remarried or recoupled. Moreover, 50 percent of the 60 million children under the age of 13 in the country are living with one biological parent and that parent's partner.
During a late Christmas gathering, the Redditor's mom bought toys for all the grandchildren but got Liz only a dollar-store sketch pad. This hurt both Liz and her mom, Kate, who later pulled her mother-in-law aside, and told her off for giving out the gifts and front of everyone, making this disparity very clear to all.
He wrote: "Basically my mom ended up replying [that] she went out of her way to get Liz a gift as a grandma when Liz doesn't even consider me any kind of father figure. If they (Liz and Kate) have such an issue with the gifts, they can go ask Liz's real father for a gift," although in the comments, he revealed that Liz's real father is actually dead.
According to the post, Kate didn't take her mother-in-law's comments well, and "made a scene," saying she had "no respect" for her and her daughter. However, her husband told her that she was "blowing this up for no reason." Now his wife is still upset with him for not standing up for her and her daughter, although he doesn't think he did anything wrong, and his family backs him up.
Dr. Bahjat Balbous, a psychiatrist at Euromed Clinic Dubai in the United Arab Emirates, told Newsweek that Christmas can, even in the most stable of families, provide ample opportunity for arguments and fallout, never mind in the case of blended families.
He said: "First of all, I would say that you need to sit down with your wife and discuss how you will deal with this sort of situation in the future. Perhaps start the conversation apologizing to her for the fact she feels that you didn't take her side, and that was not your intention at all.
Balbous suggested making a plan for future blended family events, to build a bridge between his family and his stepdaughter. This means that he and his wife need to have a few conversations within the family on how to handle these gatherings.
"I am also intrigued as to what happens for birthdays and has this an effect, too, on familial relationships, or was it just this more public gift-giving that caused an issue?" Balbous added.
He said that his wife and stepdaughter need to discuss how she feels and what role she wants within his family: "Perhaps she only wants them as acquaintances because she has her dad's family? Only by speaking to her will you find out.
"If she wants to be included with her stepsister and treated no differently, then you need to have a serious discussion with your family, including your mother.
"In any case, I believe you should speak to your mother for several reasons," Balbous said. "You need to explain to her the future plan for family gift-giving and the role your stepdaughter wants to have within the family.
"If money is a concern and you want both children to be treated the same, then it might be a good idea to suggest to your family that they buy smaller presents for your 3-year-old so you get a bigger gift for your stepdaughter, or that you will supplement the smaller gift, so she does not feel left out."
According to Balbous, it was totally inappropriate of his mother to comment on his stepdaughter's father, and the girl's relationship with her paternal side should never be brought up by his mother, especially in an argument.
"The key here is calm conversation so that everyone can express their opinion and you can find a resolution. If your family is immovable on including your stepdaughter in gift-giving, then perhaps it is better to avoid any whole family present-giving get-togethers whatsoever. Instead, they can discreetly pass your daughter her gifts at another time or post them to her," Balbous added.
The Reddit post has gone viral, receiving more than 8,200 upvotes and 3,400 comments so far.
One Redditor, bonesxandxcoffee, commented: "Liz is 17 and was given a cheap sketch pad that probably isn't even the grade/value she normally uses, whereas everyone else had meaningful, thoughtful gifts."
And Alarmed_Jellyfish555 posted: "I....WHAT?!?! 'Go ask your dead dad for a present' ...[the poster] is defending this?! And blaming his wife for being rightfully upset about both the favoritism and the unforgivably cruel remark?! I hope Kate has started contacting divorce lawyers. There is no coming back from this."
Pinebonsai added: "Seriously, who SAYS THAT TO A CHILD. NO, WHO SAYS THAT PERIOD." And NefariousnessLost708 wrote: "A dollar store drawing pad? That's [an] insult! Sketch pads from artist stores aren't even that expensive!"
Newsweek reached out to u/aitaaccount457 for comment. We could not verify the details of the case.
If you have a similar family dilemma, let us know via life@newsweek.com. We can ask experts for advice, and your story could be featured on Newsweek.