'F*** the Job': Fury As Worker Fired for Lateness After Saving Man's Life
A North Carolina man has won plaudits on social media after sharing how he was fired for being late for work.
The employee, from Asheville in Buncombe County, posted his story on Reddit's popular r/antiwork forum. User u/fjordisporg wrote: "I got fired for being late. Asheville has a crazy heroin epidemic going on. I was walking to work one day when I was flagged by a few people towards a homeless couple. The guy was unconscious and the woman was losing her mind and screeched at me, absolutely wasted. Her partner was out cold with blood coming out of his nose."
The man explained that he used to go to a local anarchist bookstore/cafe that gave out shots of naloxone, so he had some of the medication with him. Sold under the brand name Narcan, it is used to reverse the effects of opioids by blocking the opioid receptors in the brain.
The Redditor, who wished to remain anonymous, told Newsweek: "I has a vile of Narcan in my backpack for months I carried around everywhere just in case. My best friend passed recently from an overdose so I kept it with me at all time.
"I wish someone had Narcan on them when my friend was dying [so they] could have saved him. I didn't know the guy but the thought of him being someone's son or friend made me just jump in because I had the means to. Just by having that buried in my backpack."
"I've never administered Narcan through a needle before but I dialed it up and bam—jabbed it in his arm and pressed down," the man wrote in the viral post. "My hands were shaking. Maybe one minute after he regained consciousness and immediately began throwing up. All the while this lady is incoherently screaming at me."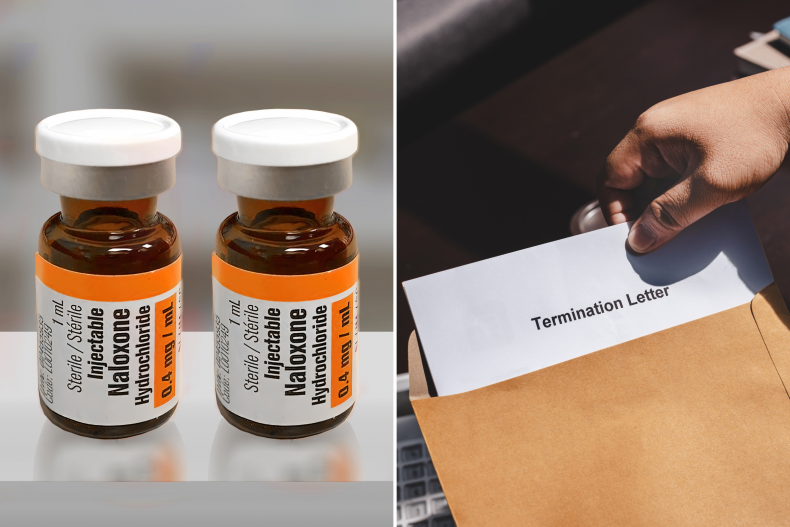 After a few minutes, police officers arrived with paramedics who administered another shot and told the Redditor that without his actions, the man probably would have died.
"I felt like a bada**, but my boss was still p***** I was late for work even after I told him the story," he wrote. But he did not regret his actions, adding: "If your city is having an opioid crisis, carry Narcan with you at all times. It can literally save a life. F*** the job. Save lives. I am gonna be broke soon."
According to the North Carolina Department of Health and Human Services, almost 180 people died of unintentional overdoses in Buncombe County from January 2020 through August 2021.
Buncombe County's Health and Human Services said people in North Carolina were more likely to die of an overdose than in a car crash.
Across the U.S., more than 932,000 people have died from a drug overdose since 1999, according to the Centers for Disease Control and Prevention. In 2020, there were 91,799 drug overdose deaths in the U.S., an increase of 31 percent from 2019.
Opioids are the main driver of drug overdose deaths, accounting for 74 percent of the total in 2020, said the CDC.
In 2021, White House and Health Human Services officials announced the first Substance Abuse and Mental Health Services Administration Harm Reduction grant program, set to provide $30 million to fund harm reduction programs throughout the U.S.
Reddit users were shocked by the man's story, rushing to praise his actions and slam the boss who fired him.
"I hope you get a better job with way better management," wrote one. "You did great. You'll get your unemployment checks. Screw your old boss."
Another commenter posted: "That's epic. F*** your job, you just saved a life."
The employee explained that: "I was late before because I walked three miles to work everyday. They thought I was using because I carried Narcan. I hated it there anyway. I work on an organic farm now. The restaurant industry is extremely toxic."
A third Redditor commented: "As a worker, you deserve better, but excellent work in helping save the dude's life."
The man later added: "Thanks to everyone for their kind words and help. It means a lot to me. Really."
"I honestly think people should be keeping Narcan in their glovebox or backpack/purse. It actually can save people," said the poster. "Sometimes the amount of time for an EMT to arrive can take way longer than a random pedestrian."
UPDATE 07/25/22 10:00 a.m.: This article was updated with additional comment from the poster.