'Futurama' House for Sale: Phillip Fry's Brooklyn Home Just $1.35 Million
On New Year's Eve 1999, Philip J. Fry delivers a pizza to Applied Cryogenics, only to discover an empty office. He was pranked, which became obvious after checking the name on the delivery order: "I.C. Wiener." Frustrated with his crappy life, Fry cracks open a beer just at midnight and, leaning back in his chair, salutes "another lousy millennium," before over-balancing and tumbling backward into a cryogenic chamber. He wakes up a thousand years later. "My parents, my co-workers, my girlfriend, I'll never see any of them again," he says, looking out on the futuristic cityscape of New New York, "Yahoo!"
While Fry is the fictional protagonist of Futurama, an animated series that aired 140 episodes from 1999 to 2013, parts of his life in Old New York are surprisingly real, like his family's slice of primo New York real estate in the Ditmas Park neighborhood of Brooklyn. Now Fry's childhood home is for sale, asking price: $1.35 million. Futurama writer Eric Kaplan confirmed the house, where he grew up, was the basis for the Fry family home, both on a Futurama commentary track and later to Bklyner.
Mark Popham, co-host of the "I Haven't Seen That" podcast, shared the Zillow real estate listing for a house on Rugby Road in Brooklyn, alongside a frame from an episode of Futurama.
The house has seven (!) bedrooms, three bathrooms and looks to be in much better shape than in the several appearances the home made on Futurama. The listing describes the house as "inspiration for the home of Philip J. Fry, the star of Futurama."
Fry's house first appeared in acclaimed Season 3 episode "The Luck of the Fryrish," in which Fry uncovers how his family reacted to his disappearance a thousand years earlier. In the episode, the house is shown both in the past and how it looks buried under New New York in the year 3002.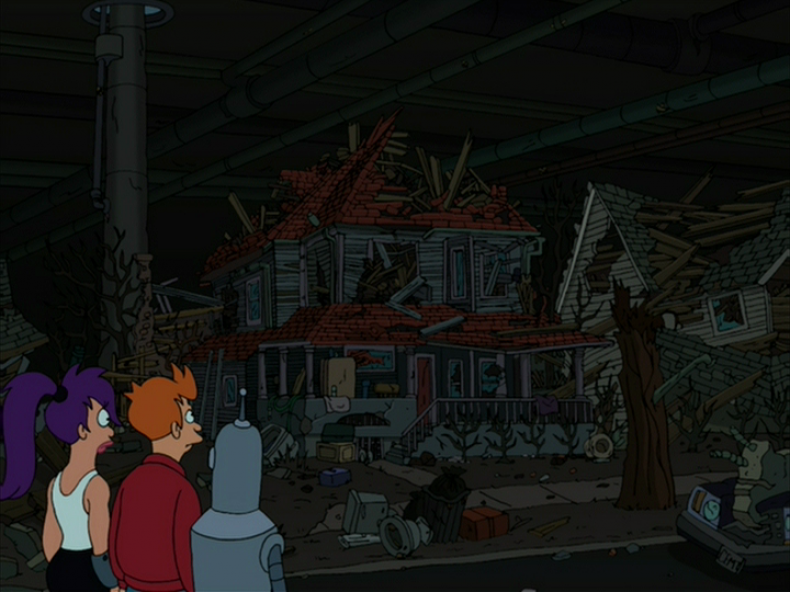 "Man, Father Time really took a bat to this place," Bender says.
Fry's house would appear in several more episodes and in the direct-to-DVD Futurama movie "Bender's Big Score."
'Futurama' House for Sale: Phillip Fry's Brooklyn Home Just $1.35 Million | Gaming