Is the Future of Arizona the Future of America Without Democracy? | Opinion
In 2020, Democratic secretaries of state stood as a firewall against the Big Lie, earning them threats of violence from armed protestors and the former president. Now, in 2022, these election administration officials are on the ballot again, and whether they defeat their "Stop the Steal" opponents may determine whether the 2024 presidential election is free and fair or a constitutional crisis in the making.
Nowhere is that truer than in the battleground state of Arizona.
The Copper State nearly boiled over with conspiracy theories in 2020. As the birthplace for so many rigged election fever dreams, far-right activists found fertile ground to push their most unfounded beliefs: they targeted voting centers, accused officials of "purging" ballots, said there were duplicate votes and spread lies about "special watermarks."
Pressure has all but broken Republican officials in the state. In 2021, Senate Pres­id­ent Karen Fann (R) infamously caved and conducted a deeply flawed audit of the 2020 pres­id­en­tial results in Mari­copa County, run by a digital firm with no history of investigating elections. They ultimately found no evid­ence of fraud. Nonetheless, Fann suggested the state "uncer­tify" its results. The majority Republican Maricopa County Board called Fann actions and accusations "false, defamatory, and beneath the dignity of the Senate."
Yet, the fanaticism continues, elevating midterm candidates for critical statewide offices who are feeding voters more radically unfounded claims about election security. For example, the leading (and Trump-backed) Republican secretary of state candidate Representative Mark Finchem, an attendee of the Jan. 6 insurrection, has said the previous election was stolen. In the Arizona House, he introduced legislation to decertify votes in Maricopa, Pima, and Yuma counties and sponsored a bill to allow the legislature to "accept or reject" election results. Not only that, he is already threatening to blame election fraud if he loses the Republican primary on Aug. 2, declaring, "Ain't gonna be no concession speech coming from this guy."
Beyond Finchem, conservatives in Arizona have continued their assault on voting rights and public faith in elections. Trump-supported Kari Lake, a Big Lie promoter, is leading in the GOP primary for governor. She repeatedly claimed the 2020 elec­­tion was stolen and that she would have refused to certify the results, saying recently that anyone who refuses to accept her distorted view of reality should be disqualified from office. And in the legislature, this year alone, Arizona lawmakers have introduced bills that would eliminate early voting and ban drop boxes. Governor Doug Ducey (R) even signed House Bill 2492, which requires proof of citizenship for all voters and could disenfranchise thousands eligible to cast a ballot. The Justice Department sued the state of Arizona over that law earlier this month.
If Finchem and Lake win their primaries as predicted, there is a very real possibility that Arizona will slip away as a true battleground where free and fair elections can be conducted with confidence. Imagine if President Joe Biden wins the state in 2024, but the leading election official refuses to recognize the legitimacy of the vote. Does he refuse to declare the president victorious? Does he push for an alternate slate of electors? That is a recipe for a constitutional crisis.
Despite this "cauldron of disinformation" from the far right, in 2020 Arizona was able to weather the storm, certify results and deliver 11 Electoral College votes for President Joe Biden. That is in no small part because of the work of Democratic Secretary of State Katie Hobbs. And it speaks to the newly found importance of the role of a once-obscure election administrator.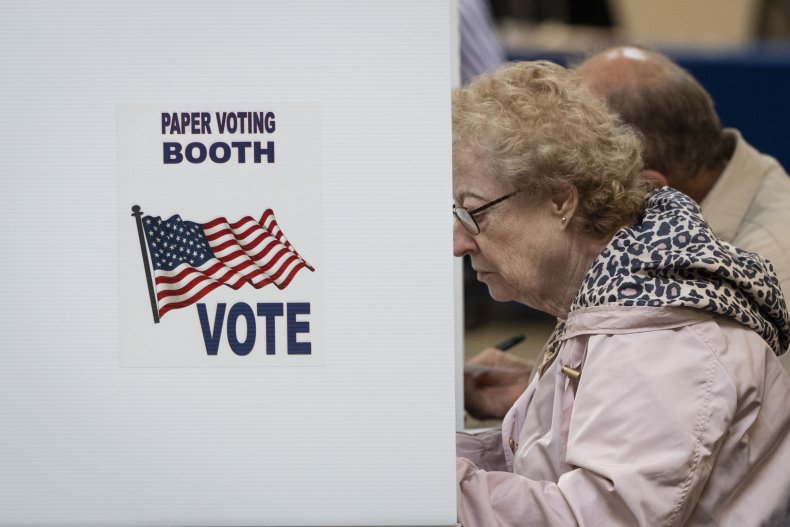 Hobbs' secretary of state race in 2018 was not a marquee affair, but iVote, the organization I run, spent a record-breaking $3.2 million on a data-driven, mutli-platform media campaign, leading the effort to drive support for a public servant dedicated to increasing voter participation and ensuring every eligible voter could vote. It worked, voters responded, and Hobbs won by 20,252 votes, flipping the office blue for the first time in 23 years.
We believed secretary of state races would be crucial to guaranteeing the integrity of the vote in 2020, and we were right. Secretary Hobbs sounded the alarm bell at the first signs of election meddling that year, but she also diligently worked in the time between to expand voting for tribal communities, make registration simpler, and (actually) provide election security.
This is what voters want their secretary of state to do. In polling conducted by David Binder Research on behalf of iVote, we found that voters overwhelmingly want to hear more from their secretary of state about efforts to protect voting rights (59 percent). A high number (67 percent) will support someone who says they will make sure every vote, whether Democrat, Republican or Independent is counted. And 59 percent said they are more likely to support a candidate who makes it a top priority to make it more convenient for voters to cast ballots and increase voter participation.
It's not just Arizona. Our polling shows that in Georgia, Michigan, Minnesota, and Nevada, 82 percent of likely voters consider "accurately tabulating votes in elections and certifying results" as an extremely important responsibility for their secretary of state.
We cannot let Republicans "write the playbook" on election disinformation in Arizona and spread it to other states. We cannot let fringe candidates learn from Finchem and Lake that they can simply ignore election results, spread false conspiracy theories when they or their party lose elections and push our country toward a constitutional meltdown. What's on the line in Arizona is not just an election for governor and secretary of state—it's whether the will of the people will be respected in 2022, 2024 and future elections.
Ellen Kurz is president and founder of voting rights group iVote.
The views expressed in this article are the writer's own.