Future Taal Volcano Eruptions Could Cause Tsunamis, Dangerous Lava Mixture Flows, Experts Warn
The Taal volcano covered areas of the Philippines in ash on Sunday, and after more than a day of volcanic activity, officials warned more eruptions are possible.
Sunday's eruption of ash and smoke was followed on Monday morning with a magmatic eruption. The Department of Science and Technology-Philippine Institute of Volcanology and Seismology said eruptions of the main crater remained "continuous" for 24 hours. On Tuesday morning local time, DSOT-PHIVOLCS cautioned that activity surrounding the volcano could indicate that further eruptive activity is looming.
"The biggest bang is not always at the beginning of an eruption," Jenni Barclay, a volcanologist at the University of East Anglia, told National Geographic. "On a timescale much longer than the threat of a hurricane, something else could happen that's even bigger."
On Tuesday afternoon, DSOT-PHIVOLCS reported that cracks were observed in four provinces: Batangas, Masbate, Cebu and Pangasinan. In Lemery, a municipality in Batangas, a crack was first noticed on a road on Monday, but it lengthened on Tuesday, damaging at least 20 houses, according to ABS-CBN.
When most people think of a volcano, they picture a stratovolcano, which is a singular dome, such as Mount Rainier. Taal has multiple stratovolcanoes, but NASA said it is more "complex" than a single dome. Taal is also made up of craters and a depression known as a caldera, which occurs when a magma eruption causes the ground to collapse, according to the United States Geological Survey (USGS). This caldera is partially filled by Taal Lake.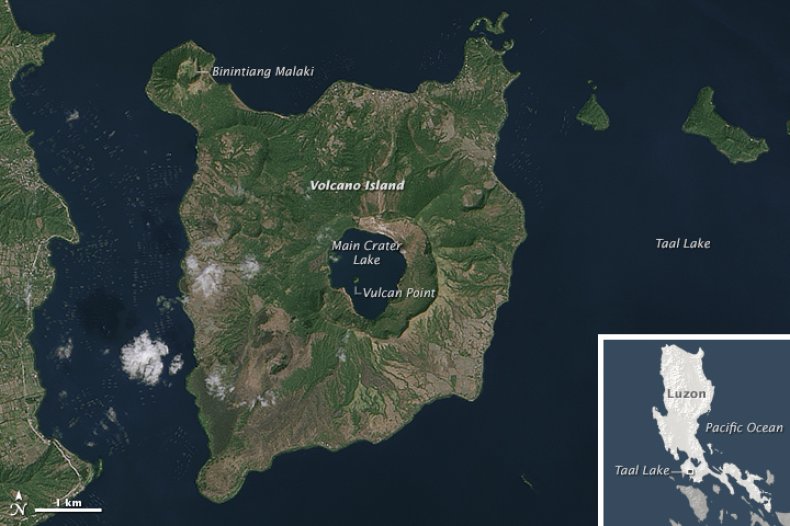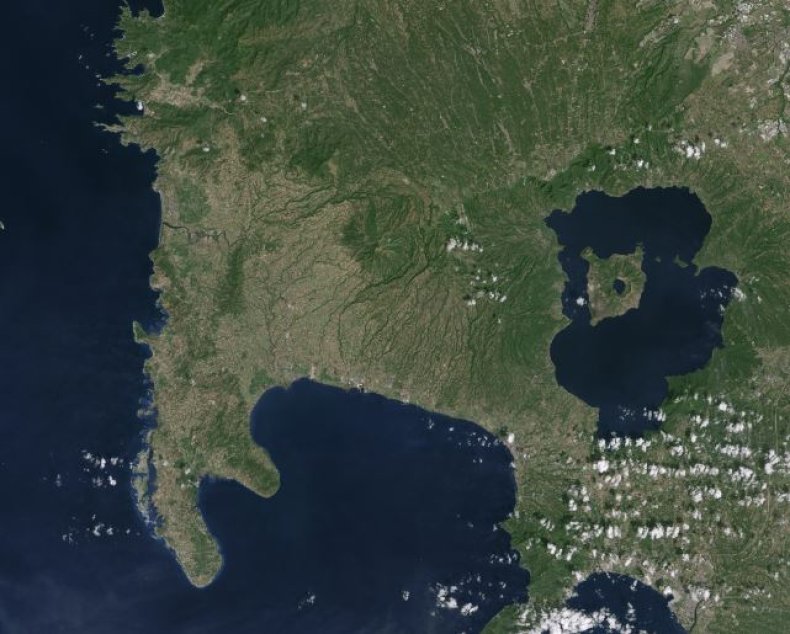 Cracks in the caldera region, along with the 49 volcanic earthquakes the Philippine Seismic Network recorded, signaled there was "continuous magma intrusion" beneath the earth's surface. This raised concerns that further eruptive activity was imminent.
The area around Taal volcano remained on Alert Level 4, meaning a "hazardous explosive eruption" was possible within hours or days. DSOT-PHIVOLCS urged those within a 14-kilometer radius from the main crater to evacuate because pyroclastic flows and volcanic tsunamis could occur.
Taal, according to National Geographic, has produced pyroclastic flows, a mixture of hot lava blocks, ash, rocks and volcanic gas, in the past, and the USGS warned that they "destroy nearly everything in their path." An eruption could also cause tsunamis, posing a threat to those along Taal Lake's shoreline.
Others in the southwest area were told to "guard against" the effects of ashfall, which can cause respiratory health problems and even death if ash is inhaled. At least six people have been taken to a hospital in the Cavite province because of respiratory problems, according to the Associated Press.
Daniel Reyes, the mayor of Agoncillo, a town southwest of the volcano, told radio station DZMM that some buildings collapsed because of the weight of the ash on the roof, according to NPR.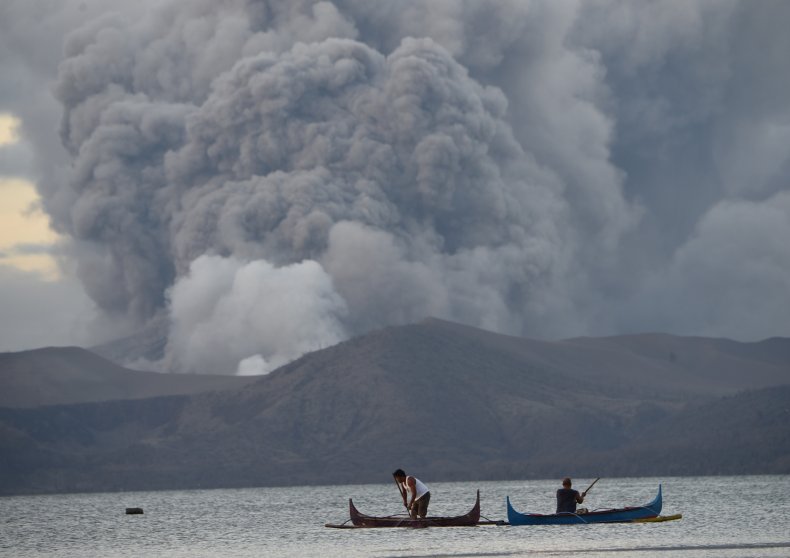 On Monday, the Philippines' Department of Education suspended classes and government work and urged the private sector to follow suit because of ash exposure risk. All flights into and out of Ninoy Aquino International Airport in the nation's capital, Manila, were put on hold, stranding passengers. Tens of thousands of people evacuated their homes.
To accommodate the hundreds of affected flights, when the airport reopened on Tuesday, airport General Manager Ed Monreal suspended the daily maintenance of the main runway so it could remain open. Monreal said in a press release that maintenance would not occur on Wednesday until "airlines are able to fully recover."
Taal's eruption could be devastating to the Philippines, but Ed Venzke, the database manager at the Smithsonian Institution's Global Volcanism Program, told National Geographic that every eruption is different, so there are no guarantees. Amy Donovan, an expert in volcanic risk at the University of Cambridge, explained that it's possible that Taal could go "back to sleep," but she encouraged people to take preventive action in the event the worst-case scenario occurs.
Regardless of the volcano's future activity, people who evacuated their homes could return to find significant damage to their homes and to the animals that are vital for their livelihoods.