Future Tech: Asus Zenbook 17 Fold OLED Laptop Is All Screen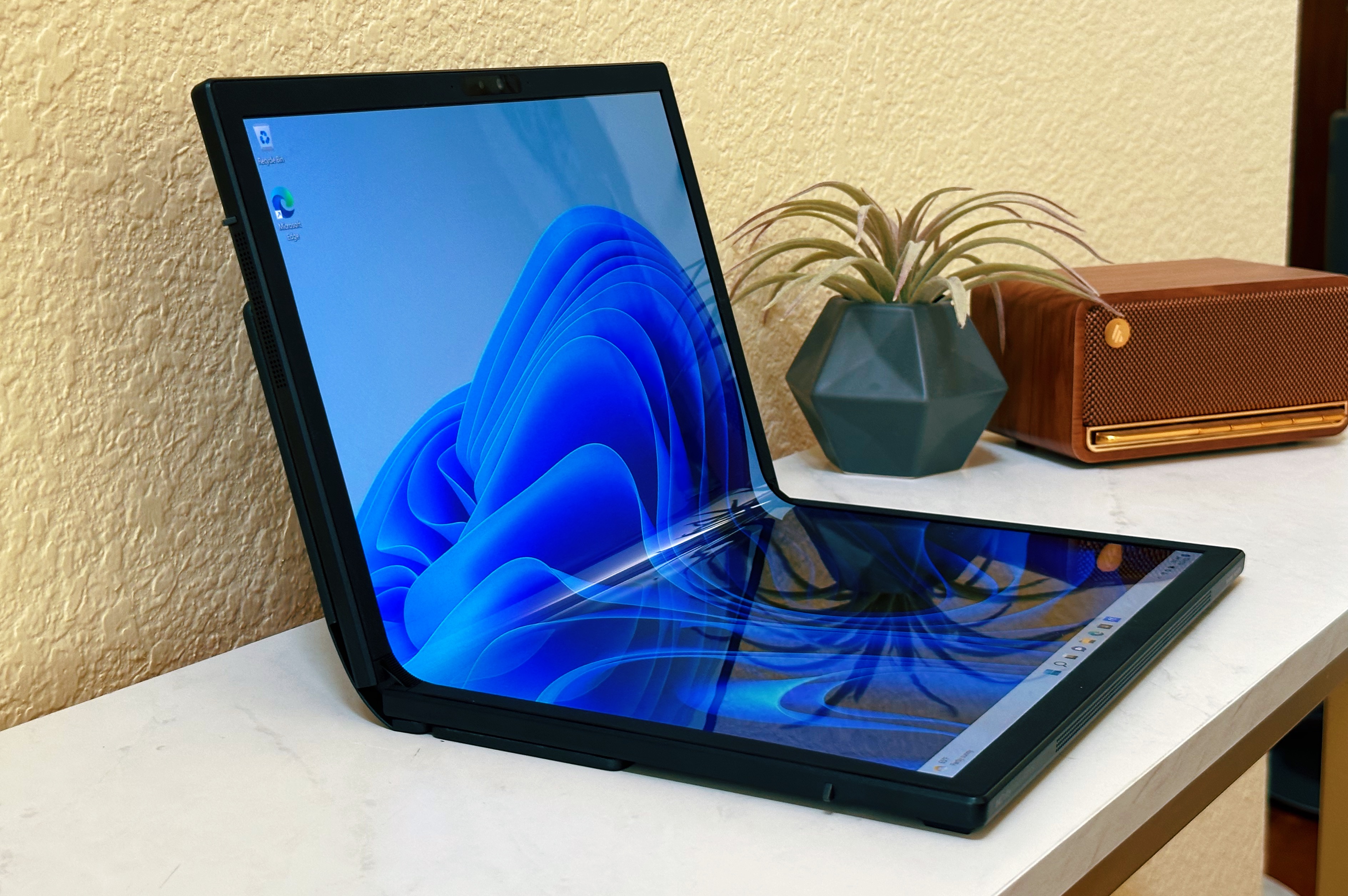 While tablets fulfill the role of all-screen computing devices, laptops continue to cling to their physical keyboards, in some shape or form. The Asus Zenbook 17 Fold OLED, however, asks the question, What if your laptop was simply a big folding display? Personal computers are interested in heading in this direction, but few have dared to jump directly to it.
The Zenbook 17 Fold OLED can be bent with the display divided and a physical keyboard added, or it can be made to look like a 17-inch monitor with the keyboard in front of it. There are several different configurations in which it can be used, including, if you really want to, as a humongous tablet to hold in your hands. Even though Asus is hedging a little bit by including a detachable keyboard with the device, the overall product still remains simply a forward-looking concept.
Microsoft has its Surface Duo, which is a much smaller dual-screen device. Apple dabbled with a display called Touch Bar as its keyboard's function keys row, but it abandoned that idea. Of course, Samsung also has its Fold line of foldable phones. Asus' Zenbook 17 Fold OLED goes to the extreme and is not a laptop beholden to the present. So, what's it like to use it, and will more companies build large foldable screens that people use as their laptops?
Available soon at Asus.
Asus Zenbook 17 Fold Features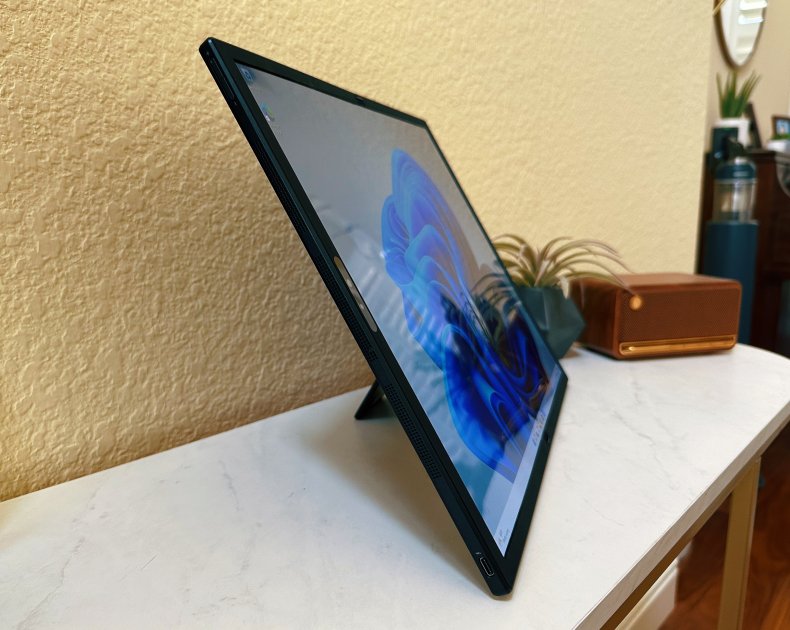 The Asus Zenbook 17 Fold is defined by its screen. The 17-inch OLED looks beautiful in person and was a joy for daily computing tasks. The glossy display exudes color and sharpness, even while in its various folded positions.
This particular computer uses the 12th Gen Intel Core i7 processor with Intel's Iris Xe graphics. It supports Thunderbolt 4 as well as Dolby Atmos, Dolby Vision and Windows Hello to unlock the computer with your face. But this hands-on isn't about evaluating specs or performance. It's about understanding how the unique product functions in typical situations. Will consumers gravitate to this kind of machine, or is it a gimmick?
The Pros and Cons of a Virtual Laptop Keyboard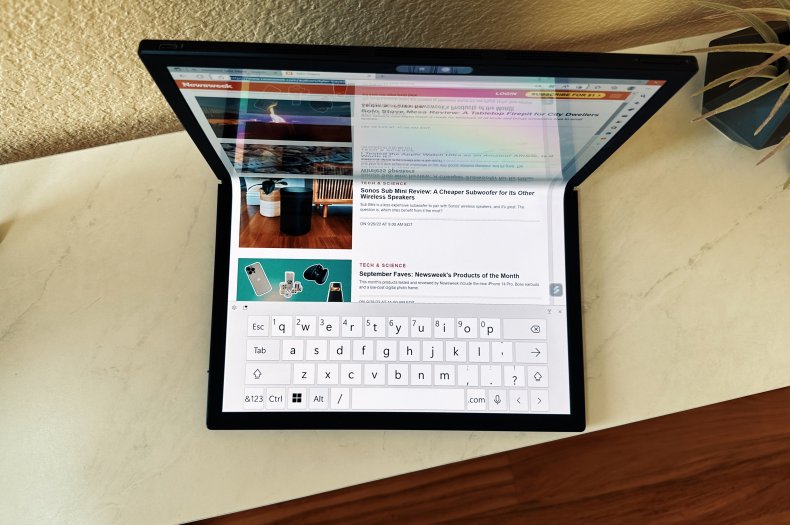 The most interesting position for the Asus Zenbook 17 Fold is in laptop position, with only a virtual keyboard. If companies could scrap physical keyboards for touchscreen ones, then these laptop-esque devices can get thinner and smaller or use the space for other things like larger batteries. The problem is that virtual keyboards aren't anywhere close to being better than physical ones for prolonged typing at this time. Where are the haptics and other sci-fi features for screen typing?
In the case of the Zenbook 17 Fold, it relies on Windows' built-in virtual keyboard for text input when the opportunity arises. Once you leave a text field, the keyboard disappears. This was fine, but not great. It was frustrating to not have some way to pull up the on-screen keyboard at a moment's notice. Asus includes ScreenXpert to configure on-screen windows (and rearrange them), which is helpful, but I would have loved a shortcut to bring up the keyboard without needing to find an input field to tap on.
I really liked the hardware keyboard for this device. It magnetically aligned itself to cover the bottom part of the screen and then automatically turned on and adjusted the on-screen display to recognize it. The physical keyboard was nicely sized and adequately clicky, but I didn't want using it to be mandatory. I wanted the futuristic experience of typing on the touchscreen so that most of the time I could have extra space for content.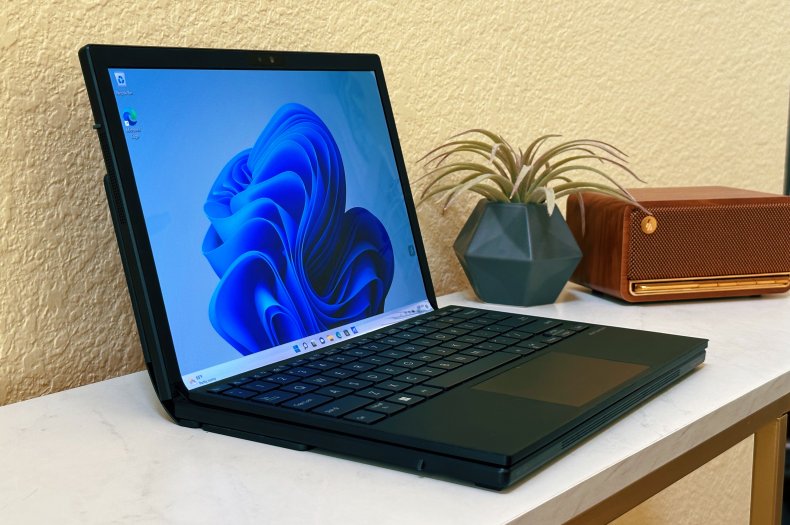 There needs to be a dedicated keyboard app, probably from Asus, on this device that could be swiped onto the screen in any orientation. Hopefully this part of the experience will get more attention going forward.
Is Asus Zenbook 17 Fold the Future of Laptops?
After spending time with the Asus Zenbook 17 Fold OLED, I've been pleasantly surprised by its overall execution. It has plenty of growing pains, but in the abstract, I found it to be a compelling type of device. It can be a desktop-class machine at home when it's unfolded, propped up on a table. It also worked just as well when it had its hardware keyboard attached in its laptop configuration.
In all honesty, I thought I was going to hate using a laptop like this. As amazing as it looked in promotional photos, it seemed too good to be true. Surprisingly, the hype isn't the only thing being sold here. There's plenty of substance to cling to.
I liked the full, 17-inch display spread out for browsing the web and watching videos. In that position, it felt like a computer I could do any type of work on. The machine, positioned as a laptop, was heavy and thick, but it didn't feel unreasonable to use while out of the house.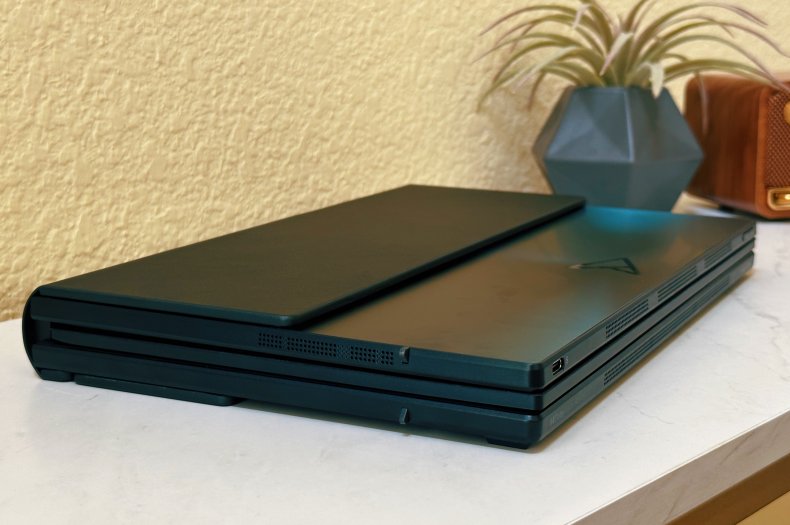 A lot of the shortcomings of the Zenbook Fold 17 OLED I ran into or things I wished were better were a result of software. To really pull off an all-screen laptop, the software experience has to be finely tailored to the hardware. As it is, Windows does an adequate job with minor customization from a manufacturer, but there were plenty of edge cases around app sizing and usability that became annoying the longer I used it.
Part of that is there's not really any innovation around using a virtual keyboard, which I think is the next step for any device like this. Maybe if more manufacturers create these kinds of devices, Microsoft will implement software specifically for foldable displays. Google is moving in that direction with Android. For now, I think the Asus Zenbook 17 Fold OLED is an intriguing look at the future of computing, possibly within the next five years.
Newsweek may earn a commission from links on this page, but we only recommend products we back. We participate in various affiliate marketing programs, which means we may get paid commissions on editorially chosen products purchased through our links to retailer sites.