Future Tech: Hands-On With Unreleased TCL Nxtwear G Video Glasses
The future of technology is personal. That's clear. Watches were the first step in wrapping digital bits around our bodies, but eyeglasses are aiming for a second act, too. Bose is making glasses with speakers. Snap makes glasses with cameras. Google and Magic Leap have tried augmented reality glasses. But now TCL is about to release some personal cinema frames made for, primarily, video watching.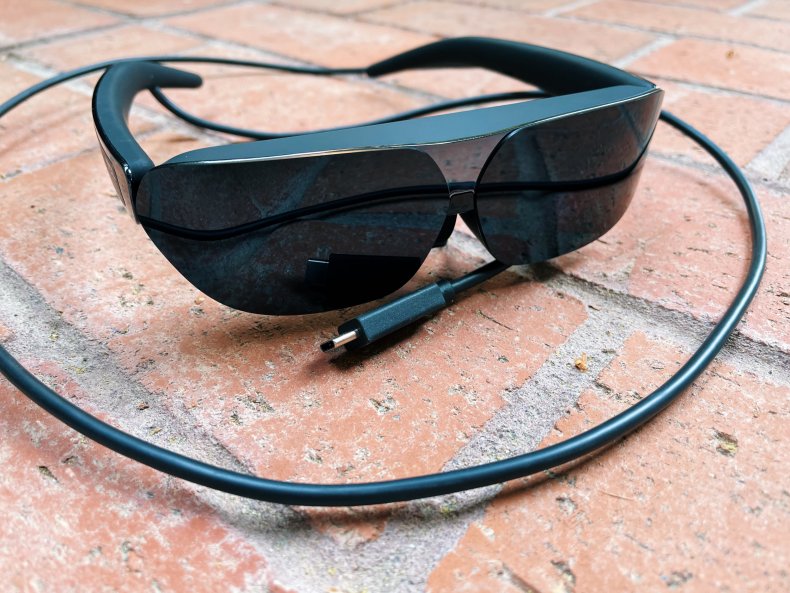 I got some early hands-on time with these unreleased TCL Nxtwear G smart glasses to see what it was like to put a big screen right on your face. The need this product is addressing? To take the screen off the wall or stand and put it directly in front of your eyes. It's also a way to have a touch of privacy to make your screen more personal. There are plenty of uses around personal cinema to dream up, but the most obvious is to make your mobile phone's screen 20 times bigger.
The Look and Fit of Video Glasses
The Nxtwear G looks a bit like overachieving sport shades. While the exterior appearance isn't exactly stylish, the appeal is inside the frames, and these aren't being worn for fashion. The glossy black plastic that covers the glasses is a fingerprint magnet, but, again, the look is more than suitable for its intended purpose. In fact, despite their slight Matrix vibe, I tend to think these fade away and don't draw as much attention as different colors or styles might.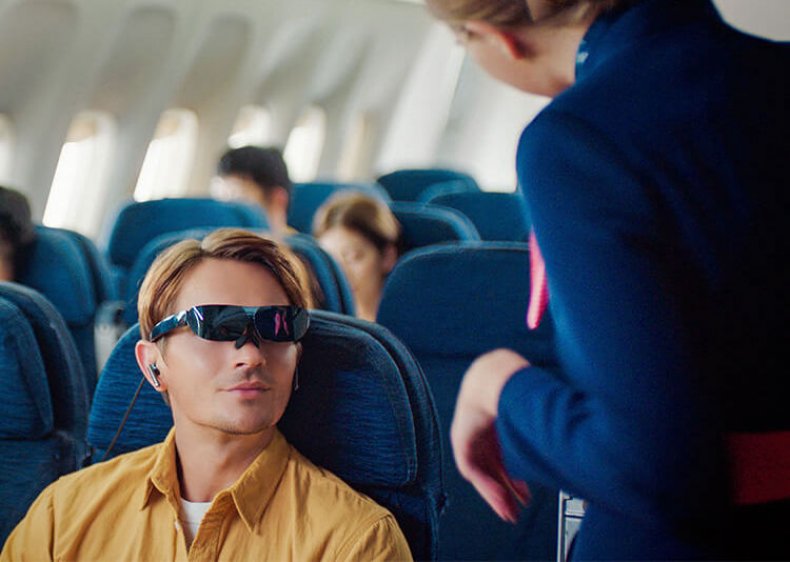 While the look is mostly superfluous to the functionality, the fit is not. The comfort of these types of glasses that are meant to be worn for extended periods of time is crucial. On one hand, the Nxtwear G glasses are fairly comfortable once you get them on your head; on the other hand, the stems have no give like traditional sunglasses', so getting them on your head can be tight and a little painful. I learned right away that the best way to get them on was to pull them down from the top of my head to rest on the top of my ears, instead of trying to pull them straight back toward with my eyes like traditional eyeglasses.
Included in the box are three different size bridges to rest on your nose and ranging from narrow to wide. I needed to slide the bridge down my nose more than I would with eyeglasses to find the right viewing angle. But once I did, the glasses were comfortable and felt secure.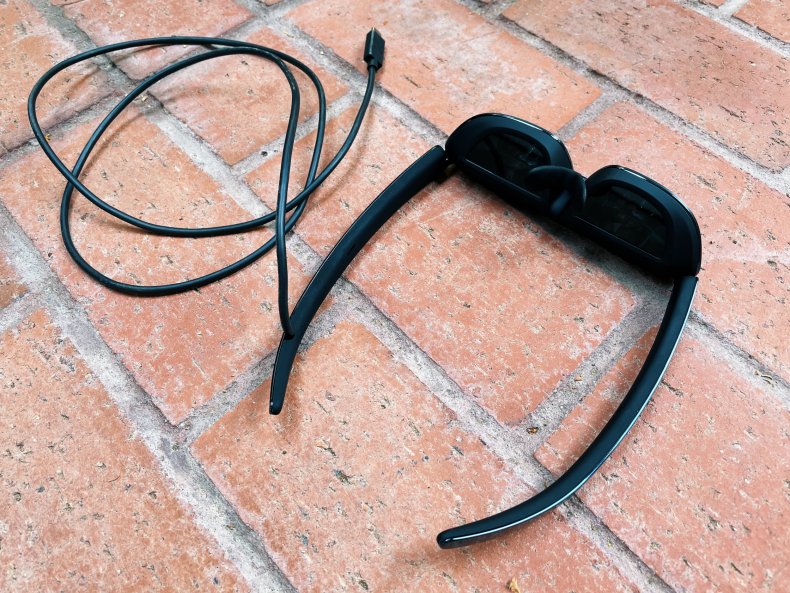 Neither short nor longer viewing times presented a comfort concern around the hardware for me. My bigger concern was eye strain. I don't wear prescription eyeglasses and don't tend to have any issues with vision, but a few times I noticed fatigue from watching a show or viewing web pages. But I also didn't have enough time with the Nxtwear G to come to any conclusions on this. It didn't happen every time, so maybe it's just about getting used to a new gadget with a new screen design.
Using TCL Nxtwear G
I was pleasantly surprised by the ease of getting started with the Nxtwear G. The glasses themselves don't have any batteries and are powered by the cable that connects them to a device. The 20 Pro 5G TCL phone I connected to the glasses already had a needed app installed, and the time from box to seeing the inside pixels light up was a matter of minutes. It was very quick.
More than that, these glasses can function as an external display. I connected them to an M1 MacBook Air and they instantly popped up as a secondary screen. With the computer, no setup or app was needed. So I dragged a Google Doc window over and began typing this story. There are two micro OLED displays inside the frames that are supposedly equivalent to a 140-inch screen. I never felt as though I was looking at a screen that size, but the screen did eclipse my entire field of view.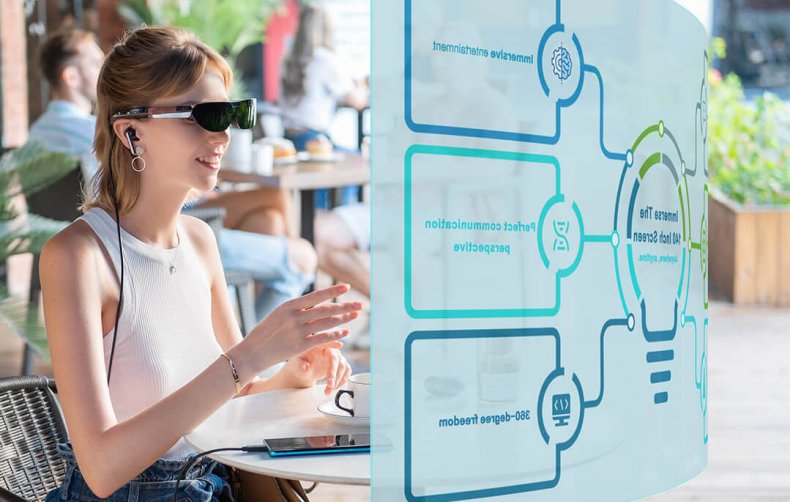 These smart glasses are compatible with phones from Asus, Oppo, Microsoft, LG, OnePlus, Samsung and more. They are compatible with laptops from Apple, Dell, HP, Lenovo and more, too. The compatibility covers a lot of modern devices. You can plug them into an iPad Pro and they work, but there's not much point since it just mirrors what's in front of you.
Connecting the Nxtwear G glasses to a computer was, for me, the most compelling use. If you were ever worried about people sneaking peeks of your screen, this solution would solve that. But, more interesting, and less secretive than that, just having a pocketable secondary display could be amazing for productivity.
The way the glasses rest on your nose means you should still be able to tilt your head up slightly to see your keyboard and primary screen. I never felt as though I was cut off from the world around me even though, technically, my eyes were covered.
The more common use for a lot of people, I suspect, will be connecting these to a phone. It makes a lot of sense as a portable screen that can expand a small mobile phone into a much larger display. It's just a little hard to use this way.
When you connect the Nxtwear G to a 20 Series phone and you use the screen in computer mode, it turns into a touchpad. Using this touchpad to manipulate a keyboard is painful. It was by far the worst part of this experience, because typing on a keyboard this way takes so long. A workaround might be having it mirror the phone and using the phone's keyboard, and then switching into computer mode once apps are downloaded, passwords have been entered and content is ready for viewing. But that's still a roundabout solution.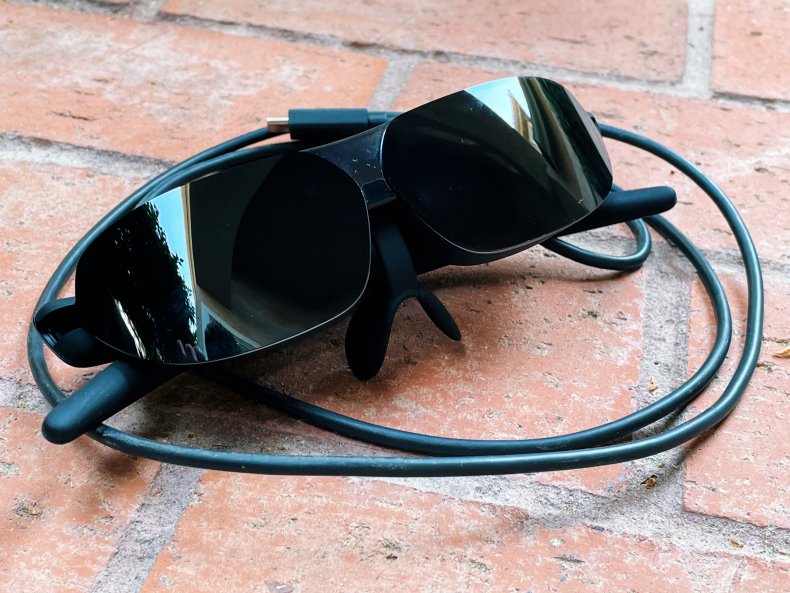 In terms of visual clarity, the micro-OLED screens in the glasses were sharp. The display was vibrant and looked great overall. The edges of the display had a little bit of rounding to them, but the vast majority of the visual area looked wonderful. I'm trying not to grade the screen-viewing on a curve, but it's difficult. Most, if not all, small screen headsets in this category look disappointing. I don't think this one does. But, I don't know if it's actually great or just way better than the others in this space. Or, maybe it doesn't matter as long as it's good enough to watch a 2-hour movie—which it is.
The Future of Smart Glasses
The general idea here is similar to a VR headset. Netflix, MLB and many others, for example, have video apps on Oculus that project a bigger-than-life screen right in front of your eyes.
Unlike a VR headset, the Nxtwear G isn't a fully enclosed design. They cover your eyes, but they don't make you feel cut off from the real world like a VR headset does. There's a lot to like about this style of personal cinema viewing. TCL has done the best job of this type of product to date, so there's hope that products like this will only improve from here.
That said, would I buy this first version of Nxtwear G if it were released in the U.S. today? No. The cord is a little inconvenient, and the comfort could still be dialed in more. But more than anything else, getting a rock-solid way to manipulate items on screen is key. It's not exactly the same as a touchscreen on your phone, and it's not exactly the same as an external monitor. And therein lies the rub.
Newsweek may earn a commission from links on this page, but we only recommend products we back. We participate in various affiliate marketing programs, which means we may get paid commissions on editorially chosen products purchased through our links to retailer sites.