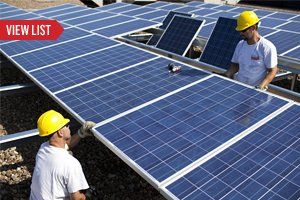 When Emily Birch got dressed for work on a recent Monday morning, she didn't plug in the iron, and she didn't pull out a can of starch. She didn't even scrounge for a lint roller. Birch, 46, hopped out of bed and donned the first thing she could find. "An ancient old tie-dyed T shirt and a pair of army shorts," she says, laughing. "I just sort of threw on clothes." Thusly prepped, she ate breakfast and went into the office—by walking into the next room.
As a Pennsylvania-based editor for a California publishing company, Birch is one of the country's growing number of telecommuters. For her, "going into work" is walking over from her bedroom into her home office, where she sometimes checks e-mail in her pajamas. "I'm spending way less money on clothes, because I'm not dressing up for other people," she says.
Telecommuting is changing our culture—and so are the fields we're choosing to work in, from near or far. The Department of Labor calls computer-systems design and related services "among the fastest growing industries in the economy," and says sectors software engineering and data systems are the most likely to surge over the next five years—jobs you can do from anywhere, no-suit-required.
But what happens when it's time to head back into the office or to a client meeting? With an estimated 2 million American businesses equipped to allow workers to telecommute, possibly in their PJs or T's, will business-casual dress codes devolve into a whatever-goes attitude?
Sartorial strictures have been loosening for decades. The start-up ethos of the '90s dotcom boom meant jeans and T shirts took the place of cuff links and pocket squares. Suits, and being a suit, were out of style. And as tech companies like Apple, Google, and Microsoft helped create a nation of mobile workers, each company helped entrench the notion that looking smart isn't as material as being smart. Google cofounder Sergey Brin, for example, still describes his company's dress code as that of a "disheveled student," and Google's relaxed attitude toward dress and hours (as well as its friendliness toward working remotely) is part of its allure for employees. Those same lax standards have seeped into other sectors: centuries-old American companies like Ford, Procter & Gamble, and General Motors have devolved from Mad Men–sharp to comfy-casual in most departments.
Many company dress codes have been stripped down to a simple "Use good judgment." But such fashion statements aren't one-size-fits-all. New York City–based image consultant and personal stylist Lindsay Weiner advises against going too casual for that reason. Apparel like shorts, athletic gear, and flip-flops, Weiner says, should be avoided for most work occasions, lest we get in the habit of looking sloppy and unprofessional. "Your attire depends on the type of work you do—the rules are a little more lax when it comes to dressing for the workplace in creative fields," says Weiner. "It's business, but casual, and most times, I do think you can wear jeans—but make it dark denim." Yet Weiner, a former stylist on the TLC makeover show What Not to Wear, says that even if you work in a creative industry or telecommute, you should invest in a well-made suit. She says you can still wear it every day by breaking it down: wear the suit jacket with dark jeans, or the suit pants with a more casual top. When a more formal occasion presents itself, you won't have to scramble for the appropriate attire: just put the suit pieces together, she says. And there is one thing—even for those lucky telecommuters like Birch—that Weiner says is never acceptable for work time. "Sometimes, people think sweatpants are OK," she says. "They're never OK."