Future and Young Thug on 'Super Slimey' Is the Collaboration Rap Has Been Waiting For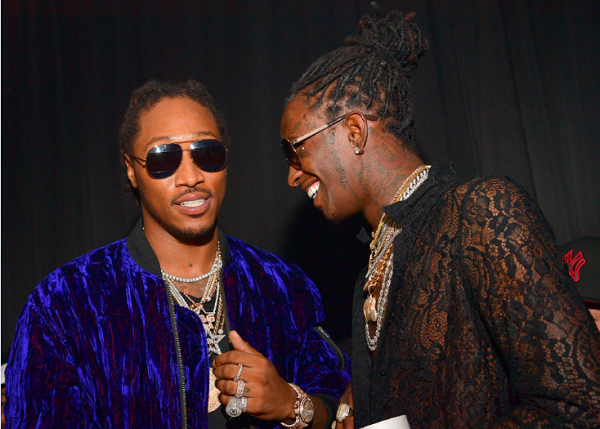 Since emerging from the underground rap scene, Future and Young Thug have both quickly built rabid fan bases with their unique flows and shout-outs to Atlanta and southern hip-hop culture. Now their first joint mixtape, Super Slimey, is here (released at midnight), giving fans the collaboration they've wanted and needed.
Future has been one of rap's most popular MCs since the release of his 2012 mixtape Astronaut Status. The 33-year-old's melodic lyrics and nimble vocal style laced over hard-knocking, techy beats is a feature of notable tracks like "Turn on the Lights," off his first studio album, Pluto, to third album DS2's "F*uck Up Some Commas." This year, Future made history when he became the first artist to ever replace himself in Billboard's number one albums spot. After landing at the top of the list with the debut of his album Future, released on February 17, he topped himself just a week later with the release of his sixth album, HNDRXX.
Meanwhile, 26-year-old Thugger, as he sometimes refers to himself, also has had chart success: His debut single, "Lifestyle," spent 26 weeks on Billboard's Hot R&B/Hip-Hop Songs list. And while Young Thug's head-banging beats and catchy choruses have made his music accessible for the average fan, it's his high-pitched, screeching voice—and the fact that listeners really have no good idea what he's rapping—that makes him one of hip-hop's biggest young stars.
.
The pairing of the unconventional rappers on the 13-track compilation seems almost inevitable. Aside from growing up in the similarly grimy streets of Atlanta's roughest neighborhoods (Thug from the Southside, Future from Zone 6), their uniquely greasy and hypnotizing sounds pair together in perfect harmony. Fans already had a taste of the dynamic collaboration with the few tracks the rappers have both appeared on, like 2014's "Chanel Vintage," 2016's "Who" and 2017's "Relationship."
The rappers also have a similar technique (both utilize Auto-Tune in their music and love to sing their lyrics) and subject matter, rapping about youths spent trapping (selling drugs) in the hood, fashion and a fondness for sipping codeine.
Young Thug and Future also both counter traditional heavy wordplay and punchline-filled rap with an experimental aesthetic that's fast becoming its own hip-hop genre.