Eric Holder Announces Resignation at Press Conference With Obama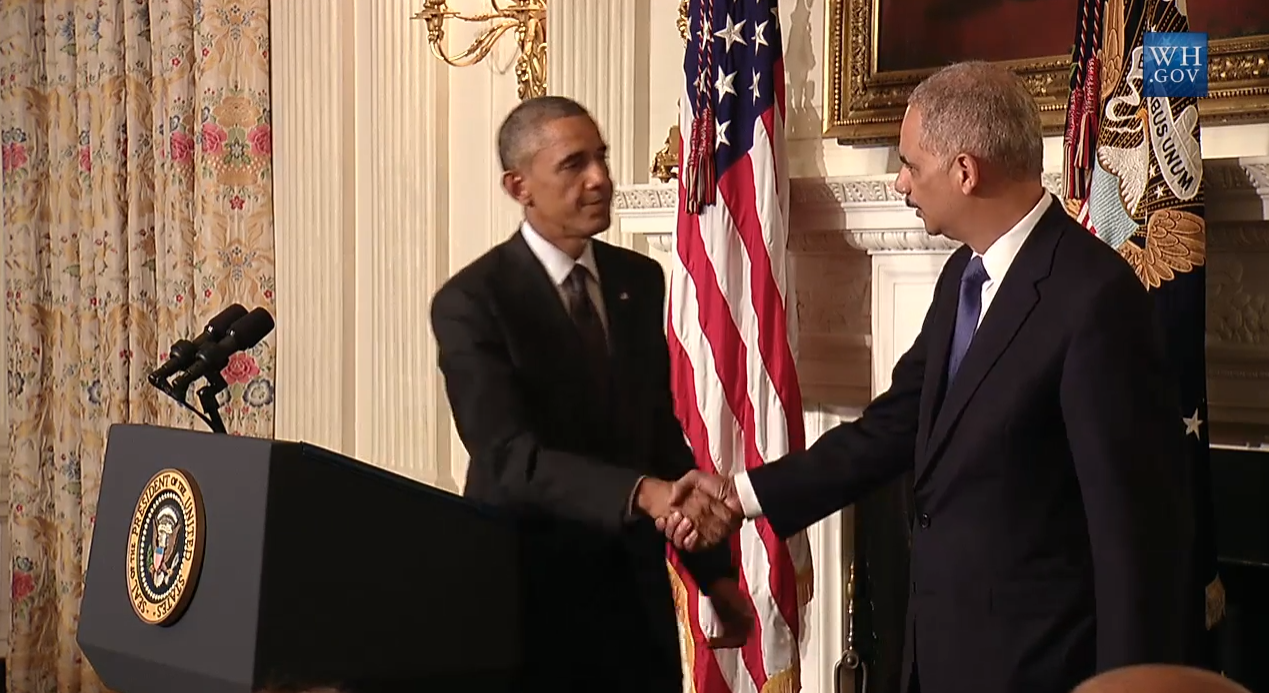 Updated
Eric Holder, a veteran member of President Barack Obama's administration, and the United States's first black attorney general, will step down, President Obama announced today. The announcement confirms earlier media reports.
National Public Radio reported Thursday morning that Holder plans to leave "as soon as his successor is confirmed," a process that could take months. Names that have been floated as potential replacements for Holder over the years include Massachusetts governor Deval Patrick, U.S. Attorney Preet Bharara, senators Amy Klobuchar (D-Minnesota), Sheldon Whitehouse (D-Rhode Island), and Claire McCaskill (D-Missouri), among others. According to NPR, the current top pick for Holder's job is Solicitor General Don Verrilli Jr. But a White House official said Obama "has not decided on a succesor" yet and will not announce one today.
In a press conference this afternoon, the President praised Holder. "From counter-terrorism to civil rights, public corruption, and white collar crime," he said, "Eric has done a superb job."
Holder, a graduate of Columbia University, held positions in the Justice Department, as a superior court judge and as United States deputy attorney general before becoming attorney general on February 2, 2009.
During his tenure as attorney general, Holder ruffled feathers at the White House and among Congress. In a July article for Politico magazine, Glenn Thrush wrote that Holder had several "detractors" who saw the attorney general as a "never-ending source of questionable decisions, tin-eared political missteps and off-the-reservation remarks."
In June 2012, the House of Representatives voted to hold Holder in contempt "for failing to disclose internal Justice Department documents in response to a subpoena" related to a botched investigation into Arizona gun runners, called Operation Fast and Furious. It was the first time that Congress had sanctioned a sitting member of the president's cabinet.
At an event celebrating Black History Month in 2009, Holder also drew ire from the right after he called the U.S. a "nation of cowards" when it comes to talking about race.
The New York Times described Holder as "the most prominent liberal voice of the administration," especially in President Obama's second term.
The choice to leave was "Holder's alone," NPR said.